As if I needed any reminder that Winter is here, an evening spent inside the snow globe that was Rochester's "Frozen Frontier" Field covering the outdoor game between Niagara and Rochester Institute of Technology did the trick.
Christmas is around the corner, and that means a break in the college hockey action for a couple of weeks. It's not exactly the halfway point in the season, but this brief hiatus is a good time to look back on the 2013 portion of the 2013-14 Atlantic Hockey season.
Here's what AHA co-writer Dan Rubin and I think. Feel free to share your thought in the comments.
Breakout team of the first half
Dan — Bentley: The Falcons were selected low in the AHA's preseason coaches poll despite returning a corps predicted to fight for a first-round bye to start last season. After a 1-6 start, they've overwhelmed opponents, and they enter the break on one of the nation's longest undefeated streaks (seven games). Any skepticism about this team's first-half ceiling was eradicated by their thumping of Boston University at Agganis Arena.
Chris — Bentley: Mercyhurst is in first place, but that's where many (including Dan and I) thought the Lakers would be. We also picked Bentley to finish higher (fifth) than the coaches did (ninth), because the Falcons returned almost intact from the 2012-13 season, a campaign that started full of expectation but ended with the talented Falcons going 1-10-2 over their final 13 games. Bentley had already in my mind sewn up the "breakout team of the first half" designation before last Saturday's 4-1 win at Boston University. That was icing on the cake.
Breakout player
Dan — Justin Danforth, Sacred Heart: Danforth has 12 points through the Pioneers' first 10 games, and he's only a freshman. He's part of the reason Sacred Heart isn't a pushover this year. He had two assists in the team's 3-1 win over Bentley, and he had a four-point weekend in Sacred Heart's four-point weekend against Army. Although the Pioneers aren't a top-tier team yet, Danforth is providing the centerpiece C.J. Marottolo can build around.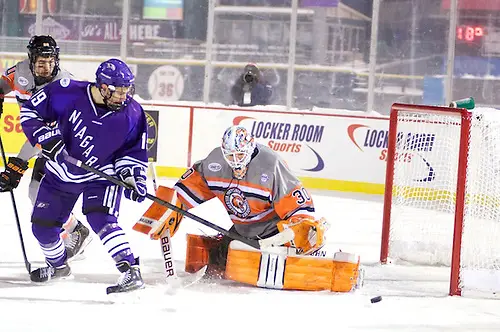 Chris — Mike Rotolo, RIT: When the local product made his first start on Nov. 23 against St. Lawrence, the Tigers were 1-7-2. They're 5-0-1 since. The freshman has just enough minutes in net to qualify for league/national statistical ranking, and his 1.97 GAA is tops in the league and 11th nationally. He's been named both rookie and goalie of the week in the AHA over the last few weeks. It remains to be seen if this is merely a hot start or the beginning of a great career, but for now, Rotolo is making a big impact.
Team most in need of a break
Dan — Robert Morris: With a potentially lethal combination in Zac Lynch and Cody Wydo and a good, solid crop of defensemen, this is a team that has big-game capabilities. But whether it's due to a tough schedule or bad luck, the Colonials are 2-10-2 and tied with Army, Sacred Heart and American International for last place. How bad is their luck? Eight of their losses are by one or two goals.
Chris — American International: The Yellow Jackets had an wildly inconsistent beginning to the season, but got off to their best start ever in league play, opening 3-0 with wins over Sacred Heart, Bentley and Holy Cross. But AIC hasn't won a game since Nov. 9, going 0-9 since then. A sweep at the hands of Maine last weekend where the Jackets were outscored 12-2 needs to be put behind them as the calendar turns to a new year and hopefully a fresh start.
Team poised for a second-half surge
Dan — Connecticut: The Huskies are 3-1-1 in their last five games entering the break, 5-2-1 overall in league play. If not for Bentley's undefeated stretch, they'd be the hottest team in the east. The Huskies are one of the most balanced scoring teams in the league, and goalie Matt Grogan was a force last year. They finished last year's season on a 6-1-1 stretch.
Chris — Connecticut: The Huskies are tied with Air Force for the easiest remaining schedule based on winning percentage (.479) and have a healthy Brant Harris, who missed UConn's first six games due to injury. Coach Mike Cavanaugh brought in a talented group of freshmen with Hockey East in mind, but it's seniors that are leading the way and who will be crucial down the stretch: Harris, Billy Latta, Jordan Sims and goaltender Matt Grogan.
Roughest road ahead
Dan — American International: The Yellow Jackets started the league year 3-0 and were quick darlings. They've since lost nine in a row. They'll open the second half with series against Air Force, Niagara, Robert Morris, UConn and Canisius, with a game against Massachusetts sandwiched in the middle. The first and last series are at home. No esta bueno.
Chris — Army: The Black Knights have played two more league games than most of the other teams but are tied for ninth place and have the lowest winning percentage (.273) in conference play. Army also has the toughest remaining schedule (teams still left to play have an average .571 winning percentage). That's partially due to Army's own record, of course, but after a visit from No. 5 Providence on Friday, the Black Knights get back into action after the holidays with series against Mercyhurst, Air Force and RIT, all teams in the top half of the standings.
First Half all-stars, MVP and coach
Dan's picks:
Forwards: Alex Grieve, Bentley; Alexander MacMillan, AIC; Ryan Misiak, Mercyhurst
Defensemen: Greg Noyes, RIT; Steve Weinstein, Bentley
Goalie: Branden Komm, Bentley
MVP: Branden Komm, Bentley
Coach of the first half: Rick Gotkin, Mercyhurst
Chris' picks:
Forwards: Alex Grieve, Bentley; Cody Wydo, Robert Morris; Matthew Zay, Mercyhurst
Defensemen: Nick Jones, Mercyhurst; Steve Weinstein, Bentley
Goalie: Branden Komm, Bentley
MVP: Branden Komm, G, Bentley
Coach of the first half: Ryan Soderquist, Bentley
USCHO weekly awards
I'm in agreement with the league's picks this week:
Player of the week: Mercyhurst's Daniel O'Donoghue had three assists in a 5-5 tie with Robert Morris on Saturday, making him the 16th player in school history to reach 100 collegiate points.
Goalie of the week: Bentley's Komm set the milestone for career wins at Bentley (36) in style with a 42-save performance in a 4-1 win at Boston University.
Rookie of the week: RIT's Rotolo stopped 34 of 36 shots in rough conditions as the Tigers tied Niagara 2-2 at "Frozen Frontier."
We wish you …
On behalf of Dan Rubin, I wish you happy holidays and a great 2014.