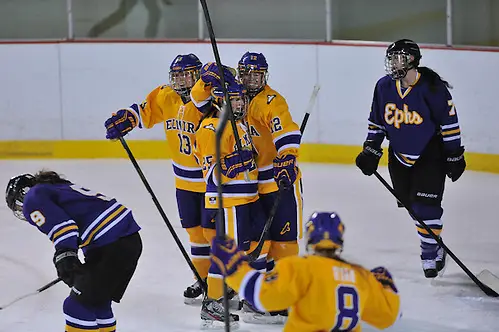 In making a case for the strongest, most competitive conference in the nation, the ECAC West has presented outstanding credentials.
While the initial portion of schedule produced little in the way of surprises for habitual national challengers Plattsburgh and Elmira, the remaining contenders have shown themselves worthy of loftier goals. The top five teams in the ECAC West are a joint 16-4-2 in nonconference action. Potsdam, currently fifth in the circuit, has forged an impressive 4-1-0 slate in that regard.
"At this point, the overall conference picture has been quite consistent with years past," said Potsdam coach Kevin Green in analyzing the first half of the season. "Plattsburgh and Elmira will always be where they are. I believe the next four spots will continue to be up for grabs between Utica, Neumann, Oswego and ourselves. The remaining programs are showing signs of positive growth in terms of being more competitive as evidenced by recent scores this past semester. All coaches are doing a respectable job relative to resources that are available to them."
Plattsburgh seized the top place in the D-III poll at the outset of the season, while Elmira has been within arm's reach throughout.
"Our conference has had a nice first half of the season," said Elmira coach Dean Jackson, whose club went into the semester break riding a three-game win streak. "Five of our teams from our conference are well above .500, along with some big wins against nonconference opponents. Plattsburgh is as strong as ever, and without question are an extremely strong contender for a title this season. Utica College and Oswego State have had themselves a very hot first half of the season, and I anticipate them to continue their success in the second half of the season. The second half of the season will be very exciting."
Utica coach Dave Clausen's take on the overall power of the conference mirrors his colleagues.
"There should be some very interesting battles for playoff position during the second half of the season," Clausen said. He recalled a recent two-game series as an example. "At 8-2-1, Oswego looks to have a strong team. They had a loss and a tie in Potsdam earlier. I think that shows that in our league, anyone can win on any day."
Given the competitive slant of the conference, both Clausen and Green believe that sitting in fourth and fifth place respectively is not a hindrance making their mark on the postseason.
"Our goal is to finish in the number three or four spot, which is attainable provided we play to our level of capability," Green said of his team, which returns to play on Jan. 7 against Castleton on the road. "At this point, I feel we match up very well both in conference and nonconference games that lie ahead. Our biggest obstacle is ourselves. If we can learn how not to do it wrong, in terms of making the common mistakes, we will be in a great spot. However, the games must be played and the efforts on those days will determine our fate."
"I really like where our team is going into the break," said Clausen, who is in his 13th campaign behind the Pioneers bench. "We have three very good lines. Megan Myers (8gp 7-7-14) has continued to produce at a high level, but unlike in past years, we are not as reliant on her production to get scoring. We have had 12 different goal scorers in our first eight games, and that means we don't have to count on one person or one line to do all of our scoring for us."
The Pioneers have also received quality goaltending from senior Jennie Hamel, who is three victories shy of 30 for her career.
"If we can be a little more consistent with execution and effort, I think we can be included as one of the best teams in the country."
Plattsburgh will visit Elmira on the weekend of Feb. 7-8 for a set that will likely decide the enviable playoff hosting rights.
Until that point in the season, Jackson is intent on keeping his charges attuned to what they have accomplished thus far.
"We have many positives that we can continue to feed off of going into the second half of the season," he said. "There is no question moving forward we need to improve in certain areas of our game, but I am confident in our women and staff that we will be focused and ready upon the team's return from the holiday break."