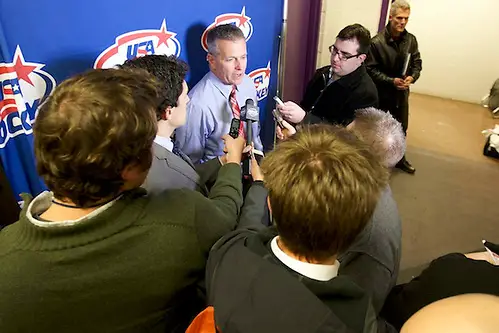 For years, the IIHF World Under-20 Ice Hockey Championship, better known as the World Juniors, didn't mean much in the United States.
A lack of success for Team USA combined with little publicity in the country meant most years few hockey fans even knew the tournament existed.
2014 World Junior Championship
Dec. 26-Jan. 5, Malmo, Sweden
All U.S. games on NHL Network; times Eastern
Dec. 26: U.S. 5, Czech Republic 1
Dec. 28: U.S. 6, Slovakia 3
Dec. 29: U.S. 8, Germany 0
Dec. 31: Canada 3, U.S. 2
Jan. 2: Quarterfinal — Russia 5, U.S. 3
• Preliminary U.S. World Junior roster boasts 19 NCAA players
• After golden World Juniors apprenticeship, Providence's Gillies ready for leadership role
• Miami's Barber named U.S. World Junior captain, Compher and Fitzgerald among cuts
But thanks to the NHL Network broadcasting many of the tournament's games — including live coverage of all games for Team USA — to go along with the Americans' recent success in the event (Team USA has medalled three of the last four years, two of those medals being gold), the World Juniors have taken on a new role on the hockey landscape in the U.S.
Thus, as Team USA is about the embark on its title defense, having beat Sweden 3-1 in last year's gold medal game, many eyes — and expectations — are on the Americans.
This year's team, which will begin its title defense in Malmo, Sweden, on Dec. 26, has a different look from a year ago. Just three players return from last year's gold-medal squad, meaning a new identity will need to form for a club that will play together for only three weeks.
"Putting a team together is a new challenge every year," said Jim Johannson, Team USA's general manager for this year's tournament. "In general it's a different pool of players, though you're hoping to have a few guys returning.
"What ends up happening in my mind each year is that each team carves out its own identity."
For leadership, the team will turn to its three returning players in forwards Riley Barber of Miami and Ryan Hartman of the OHL's Plymouth Whalers as well as Providence goaltender Jon Gillies.
Barber and Hartman will be among the forwards, along with Wisconsin's Nic Kerdiles, that Johannson hopes can provide a portion of the offense. Gillies is likely to be the go-to goaltender in net for the Americans.
In talking about this year's team, however, Johannson focuses most on the balance and depth he believes exists, particularly up front.
"We really feel like teams are not going to be able to say, 'If we shut down this line, we'll win the game,'" said Johannson. "We are going to have 13 forwards who can all play in any situation and our depth and energy level is going to have to be the key for us."
One late addition to the American roster was Notre Dame forward Vince Hinostroza. A standout early as a freshman for the Irish, Hinostroza suffered a leg injury in November that was a cause for concern. But his ability to come back for Notre Dame before the break and look 100 percent made him an easy, albeit late, selection for Johannson.
"He got off to a great start," Johannson said of Hinostroza. "He's a kid we had in our [selection] camp in Lake Placid and a guy I actually saw quite a bit. I was at the game he was injured in back in November. The lateness with him being named to the camp was making sure he was OK."
As much as the roster has a new look, so too will the head coaching position. Minnesota coach Don Lucia will lead his first international squad for Team USA, a selection that opened a number of eyes given his lack of experience behind the bench in international competition.
"Don is a guy I've known for a long time but also a guy I've talked to about this opportunity for a while," Johannson said of Lucia.
Johannson said part of the reason for selecting Lucia is his experience coaching on the oversized Olympic ice sheet on which Team USA will compete in Malmo. Add to that Lucia's track record for winning and there is a strong confidence for Johannson in Lucia's ability.
"The reality is we were trying to find a [coach] who made sense for everybody," said Johannson. "I think that this group of players on the big ice in Malmo and the connectivity that Don has to this level of player, it really made sense."
The one thing that Johannson and Team USA understand well is that success is hardly a given in this tournament. After medalling in 2010 and 2011, the Americans finished seventh two years ago despite having a team many thought could be dominant.
This year, Team USA's pool will include the Czech Republic, Slovakia, Germany and Canada. And while last year's team lost twice in the first three games before rallying for gold, Johannson understands a slow start can't be a blueprint in this event.
"Our guys understand you have to play complete games over here," said Johannson. "You can't be close.
"This group has to create their identity and create their history. I think that's the exciting part of the tournament."