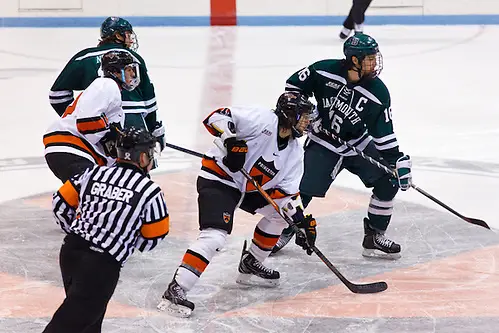 My New Year's resolution: No cheesy tropes in the column. On to the totally novel content format.
The past is present
Let's take a look at how last year's trends may influence ECAC Hockey's future.
Brown is 1-5 on the road this year — all on one long road trip — but is 2-1-1 at home and 2-0 at neutral sites (the Prudential Center for both). Five of the Bears' next seven games are on the road, and the home dates aren't exactly cute 'n fluffy, either. A deuce at Denver and Colorado College loom, followed by a visit from powerhouse Boston College in two weeks. Brown then takes another road trip, this time to the North Country, then plays a home-and-home with Yale. By the end of the month, we should have a much better perspective of exactly what kind of animal Brown really is.
Clarkson is 12-5-1, which is quite good. Looking closer, however, 11 of the Golden Knights' wins — along with two losses and their sole tie — have come against teams that currently have .500 records or worse. That leaves Clarkson with … umm … oh, right, math … a 1-3 record against winning teams, with the lone win being a 3-2 home result against Cornell. This makes me worry that Clarkson may be more paper tiger than a surprise success; we'll find out shortly, as the Knights face five winning teams and four losing ones before the month is out.
Colgate is 6-3 in one-goal games (including two-goal games borne of empty-net goals), but 7-9-2 overall. As investigated and dissected previously by yours truly, the Raiders are unlikely to keep up the winning string of tight games considering their 1-6 record otherwise. That said, Colgate is 4-2-2 away from home with four road games in five coming up, so who knows. Statistics!
Cornell is cleaning up at home (4-1-1) and against nonconference foes (also 4-1-1), but struggled on its only road swing of the league schedule (1-2-1). Five of the Big Red's next seven league games are away from Lynah.
Dartmouth has played five home games and five on the road, with a win and four losses per category. Surprisingly, the Big Green have been outscored only 15-13 away from Thompson Arena in league play, but are being shellacked 26-12 by ECAC opponents on ostensibly familiar ice. Sure, there were three blowouts in close succession in early November, but the Green's defensive corps and goalie carousel really seem to shrink under the gaze of friendly eyes (5.2 GAA, .812 save percentage at home versus ECAC Hockey competition).
Harvard has played an awful lot of tight games: The Crimson have scored three or more in a game only four times (3-0-1), and only twice since Halloween. The Crimson have allowed either two or three goals nine times (2-5-2), and have therefore played to seven one-goal games (2-5) and two ties. It's a real testament to goalies Raphael Girard and Steve Michalek that the games have been so close, considering the Crimson give up a league-high 35 shots a game. With nine of Harvard's 13 games going down to the wire, it's tough to get a bead on how fortunate — or unfortunate — the team really is … but at least they're battle-tested.
As noted in the post-holiday predictions post, Princeton is an unknown quantity … unless you're trying to quantify man-games lost, which would nonetheless require an advanced degree in … addition, I suppose. One big issue regardless of manpower is Princeton's inability to get a lead: The Tigers have scored first only three times in 17 games, and managed to take a lead into an intermission only once.
Quinnipiac is holding opponents to under 20 shots a game overall, by far the best mark in the league. Harvard (33 shots in a 3-2 QU win) and Union (30 shots in a 6-4 Dutchmen victory) are the only two teams — league or otherwise — to hit the 30-SOG mark against the Bobcats.
Rensselaer has outscored opponents 28-5 in first periods thus far and has been outscored 40-34 the rest of the way (including overtime). The Engineers have scored first a dozen times and held the lead at the first intermission 12 times as well; they have been in the hole only once after 20 minutes. Clearly, fast starts are no problem for the Engineers … the focus now must divert to the finish.
St. Lawrence has given up three goals or more in 14 of its last 16 games. The Saints were able to gloss over their defensive woes with big offensive numbers in the fall, but the liability has been brought into the light in four straight losses. SLU surrendered 44 goals in its nine losses (nearly five goals a game, for the mathematically deficient), while the big guns up front have failed to top three goals themselves a dozen times this season. The team's collective GAA is 3.44 and save percentage is .865, and that's without the four empty-netters against.
Union is blowing away the competition, scoring a full two goals per game more than their league opponents so far (4.11-2.11). The competition has been a reasonable balance of good and bad, but the Dutchmen have demonstrated an ability to play the run-and-gun game and the tight-checking defensive battle with equal aplomb. It's a great time to be a Union fan, and the next month should give everyone a much better idea about the team's national contender status as the Dutchmen play seven of eight games away from Messa Rink. Two of those games are at New Hampshire, one at Quinnipiac, a neutral-site tilt with rival RPI and a trip to the North Country. A Frozen Four-caliber club should secure five or six wins in that stretch.
Yale would be sitting pretty right now, if not for the unsightly blemish that is a home loss and draw against Dartmouth and Harvard, respectively, to close out the first half of the year. Cohesiveness — or maybe a delayed-action dose of Tryptophan — was the problem against the Big Green; Raphael Girard was the problem against Harvard. The Bulldogs are averaging a league-high 36 shots per game in league play, and the biggest difference between a good Yale team and a great one is the chutzpah of the Bulldogs forwards to get to the net and convert on some of the inevitable rebounds borne of those three-dozen shots. Only two of Yale's next six games are against teams with a winning record, so January looks like prime real estate for the Bulldogs to lay some tracks.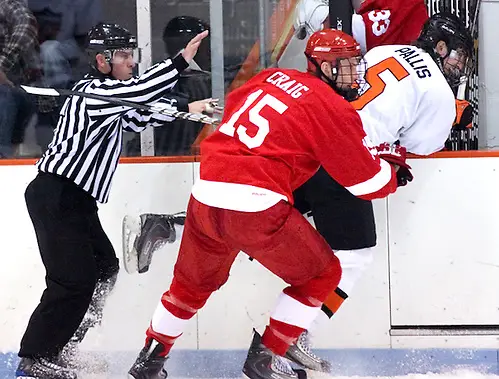 Big Red literally go the distance
Cornell pulled off another Florida College Hockey Classic championship last week, going more than 2,700 miles, six periods, one overtime and nine shootout rounds to do the deed.
"It was what you'd expect off of Christmas: We did some good things and we did some poor things," said coach Mike Schafer. "In both nights we gave up the first goal, then we came back in both situations to get a win."
Following the break, Schafer emphasized getting back to basics, and working the team back into shape after what tends to be a habit-shedding hiatus.
"It's almost like another training camp," he said, as the coaches add further nuances and wrinkles to the team's systems as the players work back into playing form.
Cornell's only true win of the weekend came in Game 1, when the Red fought out from under heavy New Hampshire pressure in the first period to ultimately shut down the Wildcats 4-2. Andy Iles stopped 44 shots, including 16 of 17 in the first frame to bolster his stunned support while it found its collective legs.
The tournament finale against Maine officially ended as a 1-1 draw, but with hardware on the line, the Black Bears and Big Red settled their claims with a shootout. Schafer was honest; he said he and his staff had no plan in advance for the shootout option.
"Uhh, none," he grinned. "We did it on the bench [on the fly]. It was a collective effort on the bench, by goaltenders, other guys on the bench, and we had fun with it."
The mano-a-mano exhibition went nine rounds deep, with the first players from each team scoring, then seven more rounds of saves and misses. Iles stopped Maine's Josh Henke in the top of the ninth, as it were, before Rodger Craig salted the trophy away for the Red. Per Schafer, Craig demonstrates an affinity for the shootout after every practice, so it was only fitting that he shot the title-winner.
"It was good to see him get that opportunity to do it, and have success with it," the coach said.