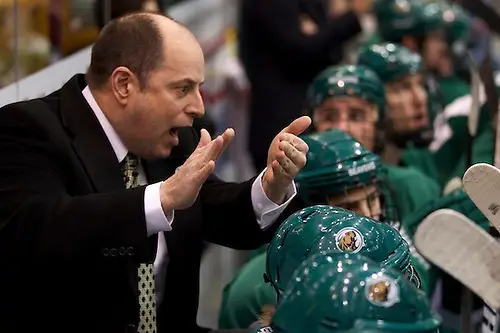 The WCHA has put together a five-member search committee and hired Parker Executive Search out of Atlanta to find a replacement for commissioner Bruce McLeod, who is retiring at the end of his contract on June 30.
The committee — which according to McLeod was initially established over the summer during meetings in Bemidji — includes Minnesota State president Richard Davenport, Ferris State president David Eisler, Michigan Tech athletic director Suzanne Sanregret, Bemidji State coach Tom Serratore and Alaska faculty athletic representative Dani Sheppard.
Davenport, who has been president at Minnesota State since 2002, is the chair of the WCHA board of directors. Eisler has been at FSU since 2003 and was appointed in June 2012 to the league's steering committee, which was set up at the time to handle major issues.
Sanregret has been AD at Tech since 2005 and is the current chair of the WCHA management council. She was also the chair of the NCAA Division II Great Lakes Intercollegiate Athletic Conference Management Council.
Serratore, who has been with the Beavers since 2001, represents the coaches.
Sheppard, an associate professor of psychology at Alaska-Fairbanks, has been at UAF for 15 years and was involved in the Nanooks' move from the CCHA to the WCHA.
The position description for the next WCHA commissioner is posted online at ParkerSearch.com.
One person who will not be a member of the search for the next WCHA commissioner is McLeod, though the outgoing commish was not shy last month in an interview with USCHO about what the league should be looking for, even criticizing the NCHC's initial hire of former U.S. Olympic Committee CEO Jim Scherr, who left before the league's inaugural season.
"I would hope the person has some hockey background," McLeod said.
"You have to wear a lot of hats. Nowadays it's business, it's marketing, it's contracts. There's a lot to it, but during the year, it's about hockey stuff. You have to have a feel for hockey. I guess you could do it another way, but I handle all the discipline. How do you handle the discipline if you don't have any background in it? There's just a lot of hats to wear."
Northern Michigan athletic director Forrest Karr echoed McLeod's sentiments about the league needing to hire someone with a hockey background, but also touched on what made other college hockey commissioners so successful.
As the athletic director at Alaska from 2005 to 2012 and now as AD at NMU, Karr has worked with three different commissioners — Tom Anastos and Fred Pletsch in the CCHA and McLeod in the WCHA. In an interview with The Mining Journal, Karr highlighted an attribute of each that he'd like to see in the next commissioner.
"Tom had the unique ability to command a room and he created a great business plan for the CCHA," Karr said. "Fred was great at getting the word out about the league and the accomplishments of our student-athletes.
"Bruce was great with relationships and he's been fiscally sound," Karr continued. "He was able to build relationships with other leagues that helped with scheduling and officiating."
Michigan's U.P. has rough December
Marquette, Houghton and Sault Ste. Marie got plenty of snow in December, but what hockey fans at Northern Michigan, Michigan Tech and Lake Superior State didn't get were wins.
The Wildcats, Huskies and Lakers finished a combined 1-9-4 in the month of December, with LSSU's 3-1 victory at Alaska-Anchorage being the lone triumph. The Lakers went 1-3 in December.
Northern finished 0-4 and is winless in its last six games at 0-5-1 heading into January. The Wildcats last win came Nov. 23 at home against Alabama-Huntsville. The skid coincides with the loss of senior defenseman and captain C.J. Ludwig, who was lost for the year in a Nov. 29 loss to No. 2 Ferris State.
Tech is also winless in its last six, having gone 0-2-4 in December, though it did score an unofficial shootout win over Michigan State in the Great Lakes Invitational semifinals before falling to Western Michigan in overtime of the GLI championship. Tech's last win came Nov. 30 at Alaska.
Around the WCHA
• No. 2 Ferris State plays in the Mariucci Classic on Friday and Saturday in Minneapolis, hosted by No. 1 Minnesota. The Bulldogs open against Rensselaer on Friday while the Gophers play Colgate, leaving the door open for a matchup between the top two teams in the country on Saturday. The Bulldogs bring a nation-leading 15-game unbeaten streak to the Twin Cities. It also ties a school record.
• Bowling Green coach Chris Bergeron said Tuesday during his weekly news conference the chance of junior forward Ryan Carpenter playing this weekend at Alabama-Huntsville was "not great." Carpenter broke his foot on Nov. 15 and while he was able to skate Monday, he missed Tuesday's practice with soreness. After picking up a win and tie in Houghton against Michigan Tech before Christmas, Bergeron said he hoped to have Carpenter back after the break, but now the Falcons will have to wait and see if he's ready to play at home against Alaska Jan. 10-11.
• Bergeron said on Tuesday that third-year sophomore forward Dajon Mingo is expected to return to the Falcons hockey program next season. Mingo, who redshirted his freshman year because he didn't meet NCAA academic standards, is academically ineligible again this semester. He can practice but not play in games. Mingo had three goals and eight assists this season in 18 games.
• Northern Michigan senior forward Erik Higby is on track to return from a wrist injury this weekend when the Wildcats travel to Bemidji State. NMU also will add a pair of true freshman forwards in John Siemer and Gerard Hanson, who were both ineligible the first semester. Siemer played limited minutes for NMU on Dec. 14 at North Dakota. Hanson is the younger brother of former Wildcats forward Greger Hanson, both of Sweden.
• Minnesota State left Mankato on Wednesday for a 12-day trip to Alaska where they will play Alaska and Alaska-Anchorage on back-to-back weekends. The Mavericks, winners of seven games in a row after the holiday break, are much healthier for the second half. Senior defenseman Josh Nelson and freshman forward Michael Huntebrinker have been cleared to play, and sophomore defenseman Blake Thompson is eligible after sitting out a year after transferring from Minnesota. Freshman forward Zach Stepan will miss the Alaska series while playing for Team USA at the World Junior Championship and is scheduled to join the team in Anchorage on Monday.
• Bemidji State's 3-3 tie with Alaska on Dec. 13 was its third consecutive draw, the first time that has happened in the program's 58-year history (1,660 games). Six of the Beavers' last nine games have gone into overtime, and they are 1-0-5 in those games (they've lost the three other games in that nine-game stretch). The program's record for overtime games in a season is 15, set in 2002-03. The Beavers played in 12 overtime games a year ago, tying eight times.
• Alaska-Anchorage's 8-8-2 record marks the program's best 18-game start since it started 10-8 in 1999-2000. The Seawolves are 7-2-1 at home and 1-6-1 away from Anchorage. Coach Matt Thomas has the best 18-game start to a coaching stint at UAA in its Division I era. John Hill was 6-9-3, Dean Talafous was 5-11-2 and Dave Shyiak was 5-12-1.
• Stuck at just one win, Alabama-Huntsville is finding small victories. In a pair of nonconference losses at Wisconsin last weekend, the Chargers were a perfect 10-for-10 on the penalty kill. Goaltender Carmine Guerriero stopped 42 of 45 shots in Saturday's 3-2 loss, marking the third time this season he has stopped more than 40 shots in a game.
• After dropping five games in a row and seven of eight between Nov. 2 and Dec. 6, Alaska is unbeaten in its last three (2-0-1) and will open the second half of the season with a home series against Minnesota State. The Nanooks will play 10 of their final 16 games at home.
• WCHA players of the week: Michigan Tech sophomore forward Alex Petan (offensive), Michigan Tech sophomore goaltender Pheonix Copley (defensive) and Bowling Green freshman goaltender Tomas Sholl (rookie).