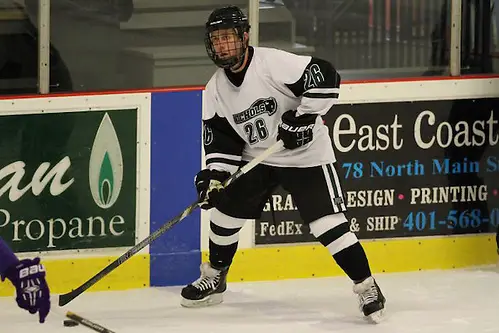 Nichols coach Kevin Swallow has big expectations for his sophomore class.
And that's saying a lot with a slew of leadership in the junior and senior classes.
"Our sophomores are looked at as leaders on our team," Swallow said. "They are definitely our go-to guys and guys to rely on to put the puck into the net.
"We have great leadership from our older guys. Both of our captains are seniors and some of our juniors are leaders on this team. I think it's a great thing when you have sophomores who you can look at as leaders. I definitely see Tyler Beasley as a leader, I think Paul Prescott and Frank Butler are looked upon as leaders as well."
One of the reasons for those expectations is because the sophomores were Swallow's first recruiting class with Nichols and have answered the bell.
"We all came in and it was Coach Swallow's first class that he was going to have for all four years [and] he put a lot of pressure on us," Beasley said.
The dreaded sophomore slump was talked about by Swallow and his players, but not much stock has gone into proving the issue.
"Everyone has been warning of us of a sophomore slump," said goaltender Alex Larson. "Maybe we had an overachieving year a little bit last year [where] not a lot was expected of us as freshman or the team in general."
Swallow met with Beasley, Prescott, Butler and Larson before they left school last summer to tell them the first year was a success, but that it won't get any easier going forward.
"I spoke with all those guys and I was pretty hard on them," Swallow said. "I expected a lot out of them over the summer and to come in, in good shape and elevate their games. I challenged all of them and all four of them accepted the challenge."
Swallow believes his words stuck with the players because he's a young coach and saw first-hand in his playing days at Dartmouth and Maine of players not backing up a good season the following fall.
This year, Beasley leads the team in points with seven goals and 10 assists. His linemates, Prescott and Butler, have 10 points and 14 points, respectively.
Swallow said Beasley came back to school in great shape and put on some muscle over the summer and that has allowed him to be stronger on the puck this year.
All three players complement each other as well.
"Frank Butler just has the knack of scoring goals," Swallow stated. "He's probably one of the more complete players I have coached in my career. He's a guy that kills penalties for us and plays on the power play. Paul Prescott is a very skilled kid and he's more of the playmaker out of the three as he looks to pass more than anything. He has great hands and great vision out there."
All that said, the biggest reason to the Bisons' 8-2-2 record this season could be Larson. The Madison, Ala., native is 7-2-2 with a 2.39 GAA and a .926 save percentage.
The numbers are very similar to his freshman campaign where he was 10-7-1 with a 2.32 GAA and a .928 save percentage.
"For me it wasn't being content where we were at," Larson said. "Coming into this year, people were talking about Wentworth – the defending [ECAC Northeast] champion – everyone was talking about Salve [Regina] and the team they have. We felt like a lot of people weren't respecting up as a team or as a group."
Larson also said he didn't feel any extra pressure to repeat the numbers he put as freshman this season. He knew he could trust his teammates as they only lost two players from last year's squad. He said he knows if he can make the first save that his defensemen will clear the pucks away from the crease.
"He's the backbone of our team, I would say," Swallow said of his goaltender. "He was our team MVP, First Team All-Conference, All-Rookie Team, goalie of the year for us last year. He was definitely a huge part of our success last year and this year has been no different."
On top of all that, forward Sean Flemming has been the most improved sophomore this season, according to Swallow, and has three goals and six assists in 11 games.
"He was a guy last year that came in and didn't play a whole lot the first half of the year," said Swallow. "Down the stretch run last year, he played every game for us and found a role on our third line blocking shots and doing a lot of little things. He came back this year, didn't play the first game this year and ever since then, he's been a go-to guy for us."