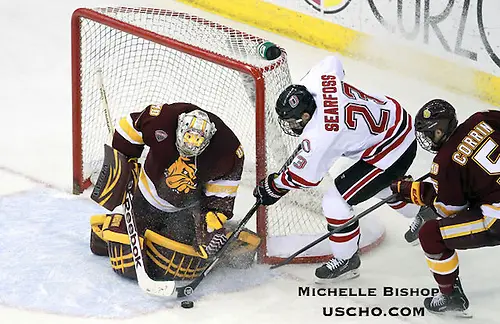 Through the first half of the year, Minnesota-Duluth established itself as a .500 team, getting some good wins, but playing inconsistent hockey. In my second-half preview, I wrote that the Bulldogs would need better goaltending to have success.
Evidently, the coaches felt that same way, as coach Scott Sandelin challenged not only his goalies, but his entire team, to play better defensively. It was a message the team seemed to take to heart last weekend.
Goalie Aaron Crandall made 38 saves on Friday and 52 on Saturday in leading the Bulldogs to their first series sweep of the year, a six-point weekend against Nebraska-Omaha on the road.
Asked about the first series sweep, Sandelin chuckled.
"I can mention one guy: It was our goalie, Mr. Crandall," he said. "He played awesome. He played great for us all weekend, and really was the difference I thought, especially on Saturday, but both nights he made some really key saves and was really solid in the net, which gave our team some confidence."
Of course, a goalie alone can do only so much, and while Crandall made some key saves, Sandelin stressed that his entire team needs to be better defensively in the second half.
"I thought the last month, we didn't play very well defensively from our goalies on out," said Sandelin. "In turn, we only got one win out of four games. We talked at the break to the team and certainly the goalies that we had to challenge everybody to be better defensively, and we started this year with the exhibition game and these two games as an indicator, but again, it's something we will see all the time. It's a big part of the game. I think everyone knows a good goalie can make a coach look really good."
Part of the challenge for Duluth has been its youth. The Bulldogs have seven freshmen and nine sophomores. Only four players, including Crandall, are seniors, and only one, Joe Basaraba, is scoring much for the Bulldogs. In fact, freshman Alex Iafallo is Duluth's leading scorer, and freshman Kyle Osterberg is the fourth-leading scorer. While Iafallo was expected to lead the way for Duluth, Osterberg has been the revelation.
"I think Kyle has kind of surprised more production-wise than Alex," said Sandelin. "I think Alex came in here, he'd played a couple of years of junior hockey, a little bit older, had a good year in Fargo. So we were expecting him to be a big contributor, along with him and Dom [Toninato], because they had that chemistry and had played together. Kyle's a little bit younger, but he's very tenacious. I think he plays the game hard every shift. He's been a real pleasant surprise offensively.
"You need those guys every year. You need some young guys to come in and contribute. Our teams over the years, we've had those guys every year, two or three guys come in as freshmen and be an impact or key contributors. Last year it was [Tony] Cameranesi and [Austin] Farley, and this year it seems to be those two."
It's not just the forwards where young players are leading the Bulldogs. Sophomore Andy Welinski is the leader at the blue line, and Sandelin believes Welinski's play last weekend in Omaha points toward his continued growth.
"I think he's gotten better through the year, and if last weekend is any indication, obviously it's great for us," Sandelin said. "It's weird to think that he is a sophomore and he's kind of the leader back there, but he really is, and he's got to play that way."
While the sweep of UNO was a good first step, Sandelin and his team know that the second half will be a continual challenge, starting this weekend against Denver.
"As I keep reminding them, though, it gets tougher in the second half," said Sandelin. "They're prepared for it. … I think playing good teams keeps your kids focused on the weekend. We have to put last weekend behind us and move on. It was one weekend; we got six points, but we talked as a team about trying to put a run together, and we came back from break and tried to move on.
"We accomplished one of those last weekend; now it's about trying to see if we can get points this weekend at home against a team that hasn't lost much over the last 12, 13 games."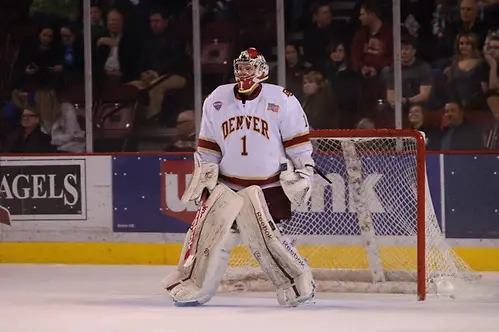 Denver responds to challenge
While Minnesota-Duluth finally got a taste last weekend of how much a goaltender can contribute to a team's success, the No. 16 Denver Pioneers, who face the Bulldogs in Duluth this weekend, have experienced it all season, with senior Sam Brittain leading the way.
Entering the second half, he led the country in goaltending. However, he struggled in the first two games back, a 3-3 tie with Brown and then a 6-2 thumping at the hands of St. Cloud State last Friday. It was the most goals Brittain, who has played every game but one for Denver this season, had ever given up in a game in his college career.
Brittain responded well on Saturday, holding St. Cloud to two goals while making 35 saves.
"It was definitely a frustrating night Friday," said Brittain. "The team played well, but I kind of let them down and didn't play the way I've been playing all season and know I'm capable of, so it was just forgetting about it and sticking to my game on Saturday, and I did that and we played great and got the win."
Rookie coach Jim Montgomery also had faith in Brittain, knowing he would respond, and seems to believe Brittain can continue to play strong in the second half.
"I think he takes great care of himself," Montgomery said when questioned about whether Brittain can continue to log the extensive minutes he has to date. "He's extremely mature, and really mentally tough. He has the option on Mondays of if he wants to be on the ice or not, but I just think he takes care of himself like a pro, and that's why he's going to be a pro."
Brittain said he believes the break will help him in the stretch run, which will be important if Denver is to make it back to the NCAA tournament.
"I think that big break at Christmas was nice to get some time off and regroup, and the coaching staff is good at managing everybody's time from practices and workouts," said Brittain. "It's also getting enough sleep and making sure you are ready to go on the weekends and fresh."
Like the Bulldogs, the Pioneers are young, sporting 11 freshmen, and like the Bulldogs, a freshman is leading the team in scoring. Trevor Moore began a surge in late November, and he scored a key goal in Saturday's win over St. Cloud.
Denver also gets a lot of contributions from its defensemen. Joey LaLeggia is second on the team in scoring, and David Makowski and Nolan Zajac are fourth and sixth, respectively. Moore said that helps the forwards to do their job.
"I think it starts in the defensive end, just being sharp there," he said. "And our line has really been able to break out easy, and that leads to good offense. … I think our forward group thinks we should be able to contribute more, but I think we are lucky to have those guys back at the point who can produce like that. Good offense comes from defense, and it's working for us."
Another similarity between Duluth and Denver comes in having a more mature freshman class, something Moore points to as a way the Pioneers can improve.
"We have a lot of older freshmen, which is good," Moore said. "I think we're coming in as freshmen, but we're a little more mature than freshmen."
While the defensive scoring has been important to the Pioneers' success so far, Montgomery knows the forwards need to step up. After Friday's bad loss, he challenged five skaters in particular, and they responded.
Quentin Shore had perhaps his best game of the year on Saturday, scoring a goal and two assists.
"I thought our forwards won us the game with their work ethic and how hard they competed all over the ice," said Montgomery. "Because of that, we got a lot of five-on-five goals."
Denver is 26th in the PairWise Rankings and has dug itself a deep hole as far as qualifying for the NCAA tournament is concerned. The team is aware of its PairWise placement but is trying to limit its focus.
"Obviously for us, we want to look big picture, but the important thing is to take it one game at a time," said Brittain. "If we do that, we will have success and move up the standings. And if we look too far ahead, we won't be focused and we won't be successful."
Heading into this key series with Minnesota-Duluth, over which Denver holds a two-point lead in the NCHC standings, Montgomery is expecting a defensive battle, especially between Brittain and Crandall.
"He's playing great, and he's seeing the puck like a beach ball," Montgomery said of Crandall. "But our guy has been seeing the puck like a beach ball all season long. We know that the majority of our games are going to be tight, one-goal games, and we prepare and fight in practice that way so that we are used to it."
NCHC players of the week
Offensive player of the week — Chase Balisy, Western Michigan: Balisy led Western Michigan to its first weekend sweep of Miami since 2003 by recording five points on the weekend — three of which were short-handed — scoring two goals and adding three assists. He also finished plus-5 on the weekend. On Friday, he scored a short-handed goal to tie the game at 3-3 and then set up the game-winning, short-handed goal at the end of the game. On Saturday, he scored an early short-handed goal and then assisted on the game-winner in the third period.
Defensive player of the week — Dillon Simpson, North Dakota: Simpson was a big reason that North Dakota swept Colorado College and moved into second place in the NCHC. In the two-game set, he notched a goal and two assists, assisting on the first goal and scoring the game-winner in Friday's 5-3 win. Simpson finished even in plus/minus for the series and leads all NCHC defensemen in scoring with 11 points in league play. Simpson previously won NCHC defensive player of the week honors for the week of Nov. 11.
Rookie of the week — Jaccob Slavin, Colorado College: Slavin scored three goals and blocked six shots, establishing himself as a force on the ice against North Dakota though his team dropped both games. On Friday, Slavin, a draft pick of the Carolina Hurricanes, scored two goals in a 2:13 span in the third to get the Tigers to within a goal at 4-3. It was Slavin's first collegiate multi-goal game, and the first multi-goal game by a CC player this season. On Saturday, Slavin scored in the third to put CC up 2-1 before North Dakota rallied. Slavin previously earned NCHC defenseman of the week honors for the week of Oct. 14.
Goaltender of the week — Aaron Crandall, Minnesota-Duluth: Crandall's stellar netminding was a big reason Minnesota-Duluth earned its first series sweep of the year. In a two-game set at Nebraska-Omaha, Crandall stopped 90 of 93 shots for a .968 save percentage and 1.50 GAA. On Friday, he set a career mark for saves in game with 38 while allowing only two goals, one of which was a power-play tally. On Saturday, he shattered his Friday mark by making 52 saves and giving up only one goal in a 3-1 win. That was the most saves by a Bulldogs goalie since 2007, and the first time a Bulldogs goalie stopped more than 50 in regulation since Bill Perkl did so on Nov. 9, 1979.