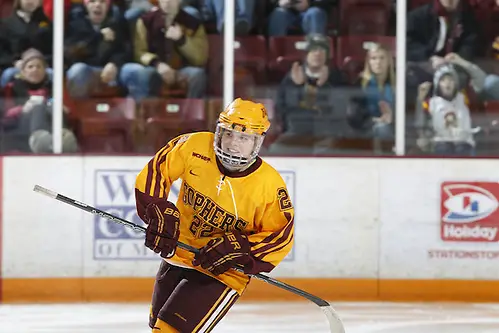 What has allowed Minnesota to ascend to a two-year reign atop the game with a possibility of extending that run come March? Many of the answers from the past couple of seasons are gone, but others are obvious.
In Hannah Brandt, the Gophers possess someone who has eclipsed 80 points in a season, a rare commodity in an Olympic year. The list of current college players who have reached even 50 is rather brief: Christine Bestland (career high of 72 points); Michelle Karvinen (61); Kelly Babstock (59); Haley Skarupa (53); and Jillian Saulnier (52).
Minnesota still has Canadian U-22 veterans Sarah Davis and Kelly Terry to anchor its other top lines. Each demonstrated in a postseason overtime that stopping Brandt's line doesn't mean an opponent is safe. The Gophers can turn to other scoring threats like Rachael Bona, fourth in points per game, and defensemen Milica McMillen and Rachel Ramsey, fourth and sixth in scoring average from the blue line. All contribute to the country's top scoring offense.
It's impossible to overstate the value of goaltender Amanda Leveille. She has started every game, and ranks in the top five in goaltending leaders, beyond ranking sixth in goals against average.
While there are untold factors in why a given team is successful or not, the following have played a vital role in putting the Gophers on top.
Staff stability
Through Brad Frost's first four seasons as coach, his assistants might just as well have been on a carousel. He started with Laura Slominski and hired Tom Osiecki on an interim basis. After the season, Slominski left to become a high school teacher and coach, Osiecki became coach of the U.S. residency program in Blaine, and Jamie Wood and Natalie Darwitz were hired. The next season, Darwitz took a leave to train and play in the Olympics and Osiecki returned, again on an interim basis. Following year three, Wood left for New Hampshire, Osiecki's stint was up, Darwitz returned, and Joel Johnson was hired to replace Wood. In the wake of Frost's year four, Darwitz also left for a high school gig. Nadine Muzerall joined Frost and Johnson a month into the 2011-12 campaign. That year, Andy Kent became the goaltending coach, a spot that had been similarly in flux in recent years.
With a staff of Frost, Johnson, Muzerall and Kent for the last two and a half seasons, Minnesota has done little but win.
"I think Joel, when I brought him back to the university with our staff, he obviously had that familiarity with the university already, but with him and I being best mates in college allowed me to know that his values and his perspective are in line with mine and my philosophy, and because of that, we're on the same page the majority of the time," Frost said.
Frost and Johnson were teammates at Bethel, and coached together on Laura Halldorson's staff at Minnesota.
"I think there's a trust factor that has to be established in any coaching staff," Johnson said. "The longer the relationship, and in particular, the deeper the relationship, where you've known each other as long as we have, and played together, been friends off the ice, and coached together, I think you develop a certain trust level. He knows that there's never going to be anything that I do that takes away from our best opportunity to be on the same page as a staff, and ultimately, do what's best for the program under his guidance."
Having been coach of the men's hockey team at Bethel during three of the years between his stints at Minnesota, Johnson has an appreciation for Frost's position.
"It's a lot easier to offer suggestions at times as an assistant because the head coach is the one that has to deal with the repercussions of whatever we do as a staff," Johnson said. "I try to give different synopsis or different suggestions, while also maintaining the sense that, 'Hey, whatever you decide, Brad, that's what we're going to decide; we're going to go at it together.'"
Because Johnson is now in his fourth season on Frost's staff, there has been consistency.
"I think the thing that I've been able to do is help stabilize, because I know him so well, and say here's what we want to do," Johnson said. "Let's make these the standards in our program and put some words and some ideas to things I already know he agrees with."
That forms the foundation of what the Gophers have accomplished under Frost.
"To me, it just goes back to our culture, our values, and the type of kids and players that we recruit," Frost said. "We recruit great people that happen to be really good hockey players, and we expect them to fall in line with the goals that we have as a staff for them and the expectations that we have in regards to our culture being nonnegotiable."
Leadership and effort
Bethany Brausen isn't exactly a household name outside of Minnesota. She garners a bit more name recognition in her home state, having been named Minnesota's Ms. Hockey as a senior at Roseville Area High School.
"She was a captain in high school, and often times in high school, the captains are just the most popular kids or the best players," Frost said. "Bethany is someone who just oozes leadership."
Along with Megan Bozek, Brausen was a co-captain on last year's squad. This season as a senior, she's again wearing the "C," with classmates Davis, Terry, and Baylee Gillanders as assistants. Over her tenure as captain, Minnesota has compiled a record of 61-1-1.
"She has never played above a third-line role, necessarily, for us, never been on the power play, doesn't kill a ton of penalties, but is somebody who has accepted her role," Frost said. "I think she shows her leadership through her acceptance of her role, and how hard she works, and how much she cares about the team."
That effort isn't confined to Brausen.
"Very rarely do I have to say, 'We have to work harder,' or after a game say that, 'We got outworked,'" Frost said. "I think that's a credit to the culture of our team, but also, a huge credit to our players."
Brausen, Davis, and Terry set an example by their willingness to skate back in defense of their own net with the same zeal that they show in attacking the opponent.
"That back pressure is a huge reason for our success," Frost said.
Junior Meghan Lorence has skated on a line centered by Davis for much of the last couple of years.
"Every day [Davis] comes to practice and just outworks everybody," Lorence said. "She gives 100 percent every time she hits the ice. I think if you do that and you have that kind of attitude every single day, it's bound to pay off. She's become a big leader on our team. We rely on her a lot, on and off the ice."
As the only senior on the blue line, Gillanders leads in a different way, as her position doesn't allow for the frenetic energy that the forwards bring.
"I think Baylee first and foremost is one of the most caring and compassionate people that you'll meet, and I say that as an utmost compliment," Johnson said. "She's able to also be a very competitive and tough, hard-nosed hockey player. But certainly, the care and concern that she has for her teammates is second to none, and that's why she is a great leader."
The leadership goes beyond the senior class.
"We lost a lot of key players with [Amanda] Kessel, and Bozek, and Noora [Räty] being gone," Lorence said. "So us coming in, the upperclassmen, I think we just had to step up and put ourselves in different roles, and even though we're not captains, become leaders on the team and help the younger ones along the way."
Placing the team first
A key for the Gophers heading into the season was how their retooled blue line would hold up. Three of the mainstays from last year's unit are preparing to play in the Olympics next month, Mira Jalosuo for Finland, and Bozek and Lee Stecklein for the United States.
Along with Ramsey and McMillen, Gillanders was asked to carry more.
"Her role has expanded, and the key for Baylee, as it is for every player, is to find out what is it that [she is] expected to do, and then do that to the best of her ability," said Johnson, who coaches the defensemen. "I think over this season, on the ice and off the ice, those roles are still being sorted out."
Gillanders has made her presence known to a greater extent on the offensive end; her four goals are more than she tallied in her previous three seasons combined, and include a power-play goal in her team's most recent game to erase a third-period deficit.
"She made a great play for us on that first goal, where last year she probably doesn't get put into that spot," Johnson said.
Heading into the season, she knew that an increase in both opportunity and responsibility was likely.
"Every year we want to develop our game a little bit better," Gillanders said. "Be stronger in the D-zone and then again in the offensive zone. That's something that I focused on, but at the same time, I don't want to get too far away from my defensive abilities and all that. That's kind of my role."
Even with expanded roles for the three returnees, more defensemen were needed because the Gophers typically give a regular shift to six. Candidates included incoming freshmen Paige Haley and Kelsey Cline. Junior Jordyn Burns had previous experience on defense, although not as a Gopher. In part because Haley is the only right-handed shot in the mix, the staff decided to also try moving a couple of right-handed forwards back to defense in sophomore Brook Garzone and rookie Megan Wolfe.
"If you've got a kid who's potentially your 11th, or 12th, or 13th best player, if she doesn't have a spot as a forward, then you've got to insert her as a 'D' or move somebody around so that you're getting your very best players out on a regular shift," Johnson said.
In recent weeks, Wolfe has been part of the defensive rotation on a full-time basis.
"She's made a great jump," Johnson said. "She simplifies the game and makes a good breakout pass. I know she probably in her heart of hearts wants to jump into the offense a little more and see what she could do as a forward, but she's accepted that role and done a great job."
Burns, Cline, Garzone and Haley have continued to alternate, playing one game each series on defense and one as a forward on the fourth line.
"Players like Brook Garzone have settled down and just tried to make a simple play," Johnson said. "Jordyn Burns, who played forward last year, trying to just do things within their skill set and not anything more. I think that's really a testament to them, and also to us hopefully putting them in the right positions."
In part because she is left-handed, Lorence was spared such a move.
"I did play defense a little in the summer, but I'm happy where I am right now and playing forward," she said. "That's kind of a lot of pressure to change positions like that and I give credit to Megan Wolfe and Brook Garzone, the ones who do move back, because they took a big one for the team and they're adjusting really nicely back there."
However, Minnesota players don't know what sacrifice may be asked of them, next season or next week.
"We're recruiting often times the best players off their high school teams, and we have high expectations for each of the players that we recruit to fulfill a role and to put the team above themselves," Frost said. "This is another team that has done that, and I think you can see by the way they play, they really do play for the person next to them. And that's critical for us to be successful."