COLUMBUS, Ohio — The last two months between the pipes for Ohio State has been a whirlwind. As coach Steve Rohlik put it, there is not a page in the coaching manual for this situation.
The Buckeyes have had six goaltenders this season, four of whom have seen playing time. At the end of the day, Rohlik said he has a group of goalies he feels confident in and more importantly, knows that can win games.
Getting to that point hasn't been easy.
Going into the season, NHL-drafted goalies Collin Olson and Matt Tomkins were battling for the starting job, with walk-on Logan Davis serving as a third-stringer.
A month into this season, Olson left school to get more playing time in the USHL. The move left the Buckeyes with two goalies, and Tomkins won the starting job.
"Just when you think you have seen everything, you haven't. It has been a great learning experience. I think our guys have been better for it."
— Ohio State coach Steve Rohlik
Having a go-to NHL prospect between the pipes gave Rohlik no reason to panic. Tomkins is a prototypical professional goalie, standing 6-foot-3.
Tomkins won five of his first eight games as a freshman and things appeared to be going well for the young goalie.
Less than a week after Olson left Ohio State, however, a freak injury changed everything.
Minutes after the puck dropped on Nov. 9 versus Niagara, Tomkins went to play the puck behind his net — a routine play goalies make thousands of times in a season. But this time was different.
"It was really weird," Tomkins said. "I was just skating out of the net and caught an edge and just tweaked my ankle a little bit. No one knew what happened. I didn't really know what happened. Just caught a rut in the ice and next thing I knew, I couldn't put weight on it."
At the next timeout, Tomkins skated on one leg to the bench. Rohlik was thinking his goalie needed help with a strap. It was not an ordinary visit to the bench.
"When he skated by [equipment manager] Timmy [Adams] and skated to where [athletic trainer] Jeff Deits was, I thought that is the wrong guy to go to right now," Rohlik said. "Literally, I didn't know and he skated off and there is no time to discuss anything because he went off. So I turned to Logan and I said, 'you're out.'"
For a time, Tomkins was unsure how serious the injury was before figuring out the ankle tweak was severe but not a career-threatening injury.
"It was scary especially not knowing what it is," he said. "I was obviously glad to have the staff that we have here that took care of it. I had the best care available. … It was pretty scary, especially with our goalie situation at the time. It added a little scare as to how long I was going to be out."
With Tomkins heading to the locker room, Davis skated to the crease on the east side of the arena not knowing what to expect after making a huge jump from the junior AAA level to Division I hockey. As it turned out, his defense made it as easy as possible.
The final 16 minutes of the first period, he saw only one shot.
"It was uneasy. All I wanted to do was get a shot and I couldn't get one because the D was blocking so many," Davis said. "I don't think I got a shot the first 15 minutes. It was wild but they made it as easy it could have been on me."
Rallying around walk-on
That uneasiness was felt on the bench as well. However, rather than giving up on the game, the Buckeyes rallied around their teenage walk-on.
"It was the only option. He was there and you're in the net and the team went, wait a minute here," Rohlik said. "It was almost like, we have to play as a team. It was not a panic, just a sense of urgency.
"That sense of urgency is the thing that we're learning that if we play like that every night with whoever in the net, we're a pretty good team."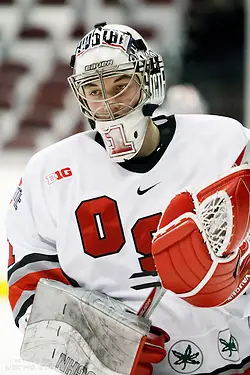 Davis, a native of Upper Arlington, Ohio — just blocks from Ohio State's campus — said he was happy to be in the third-string role. But he was even happier three weeks after taking the starting job to play in the first Big Ten hockey game in Yost Ice Arena.
Despite Ohio State losing its conference opener in overtime versus Michigan on Big Ten Network, Davis showed the college hockey world he is capable of doing more than sit on the bench. He made a number of impressive saves that kept his squad in the game.
"It was crazy, their fans, everything about the atmosphere was amazing," Davis said. "I think I liked being booed more than I would have ever guessed."
Davis' father, Mike Davis, has been on television in Columbus longer than Logan has been alive. The elder Davis has been a television meteorologist since 1987 on Columbus' CBS affiliate WBNS. After the Michigan game, it was the younger Davis who was recognized in public.
"At a restaurant, someone recognized me before they recognized my dad," Davis said. "I never thought I would see that day come. I think he was a little bit like, 'What happened?' because he is so used to it."
Going to the bullpen
Though Davis was playing well, with Tomkins' status uncertain, Rohlik knew he had to look at other options.
"Just when you think you have seen everything, you haven't," Rohlik said. "It has been a great learning experience. I think our guys have been better for it."
To plug the gap, Rohlik added a pair of walk-ons in November. He called upon Ohio State club hockey goalie Aaron Kahn and baseball catcher Aaron Gretz. The two dressed but did not play in the Buckeyes' first two Big Ten contests versus Michigan.
Gretz has since rejoined the baseball team but Kahn will stick around and compete for playing time with Ohio State's other goalies. Before being plucked from the club level, Kahn had a team-best 4-0 record with a 2.25 GAA.
Kahn, a native of Berkley, Calif., played for the AAA San Jose Sharks junior squad. Though AAA hockey is not a direct pipeline for Division I talent, it was a good springboard for Davis and Kahn.
Kahn is embracing the opportunity, even if it means not getting to play in as many games as he did at the club level.
"When you grow up, you dream of playing Division I hockey," Kahn said. "I was excited to help any way I could. There was a point it was down to just me and Logan on the ice. You would be facing every shot in practice."
Calling in reinforcement
Knowing that Gretz was not a long-term solution as a backup and not wanting to take any chances, Rohlik and his staff went back to the recruiting trail. Instead of recruiting goalies and skaters for 2016 and 2017, the Buckeyes coaching staff went looking for a goalie to finish 2013.
Rohlik turned to goaltending coach Joe Exter to see who might be available. They quickly found USHL goalie Christian Frey, who was off to a good start in his final junior season at Dubuque.
Frey had been in contact with a few colleges but he said there were not any offers he wanted to jump at. And then Ohio State called.
"It was an untraditional route I took to get here," Frey said. "I was playing juniors, waiting for a college commitment. When Ohio State contacted me saying they had a goalie spot open, it was tough to leave in the middle of the year but it was an opportunity I couldn't pass up."
Frey played his final game for Dubuque on Dec. 13 and then joined the Buckeyes over Christmas break.
"We obviously needed a goalie and we had a couple of weeks to find the right kid, find the right culture kid, find the kid with the academics," Rohlik said. "And to do that and then to have to deal with a junior coach in Dubuque, that is not an easy situation, either. I think there was a lot of people affected by it, not just us."
After three practices with the Buckeyes, Rohlik opted to start Frey two weeks before he took his first class at Ohio State.
Frey won both games in a home series against Mercyhurst on Dec. 28-29, then took the loss at Minnesota last Saturday.
"It was insane, honestly," Frey said. "The team has been unbelievable to me and really accepted me. It is funny how we're on the ice all battling for each other and I didn't even know half their first names that first game."
With Tomkins back in the lineup (he won his first game back over Michigan State on Jan. 10), Rohlik said he hopes his goaltending situation has stabilized. But he knows he has multiple goaltenders worthy of playing at the Division I level.