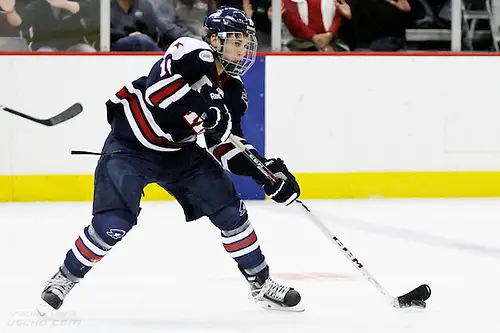 Last year, the Three Rivers Classic was the jump start to a stretch run where Robert Morris was a bubble team on the cusp of the PairWise Rankings.
It was something of a turning point for Pittsburgh as a college hockey city, as nearly 12,000 fans watched the Colonials smash Penn State. The next day, close to 11,000 watched RMU win the inaugural tournament over Miami.
This year, the tournament once again served as a crossroads for the Colonials season, but it stood for completely different reasons. Robert Morris lost a pair of one-goal games to go from first to worst, finishing fourth to Bowling Green while Boston College defeated rival Penn State in the title game.
It was the fifth and sixth times RMU lost by a single goal, accounting for half of their 12 losses to that point.
"We really struggled in those one-goal games," said coach Derek Schooley, "and things really came to a head in the Three Rivers Classic. In the week leading up to the next games at Sacred Heart, we sat down as a team and said, 'Let's forget about 2013. Let's forget about our failures, and let's start to look forward.'"
At that point, the 2-12-2 Colonials stood dead last in Atlantic Hockey. But the change in mind-set soon became evident, and since losing 10 games by one or two goals, RMU is 4-1-1 and has climbed to .500 in league play at 6-6-3.
"We made up our mind to focus on an 18-game schedule in 2014," said Schooley. "We reset our record in our mind to 0-0-0 and decided to not look back at what had happened. But at the same time, we decided to not look forward, either, and take it one game at a time with whoever we were playing."
It started with the games against the Pioneers and a four-point weekend featuring (what else?) a pair of one-goal wins. They followed that up with a split at Connecticut and a three-point weekend at home against American International.
That breakout has them well out of the AHA basement and into a sixth-place tie with Rochester Institute of Technology. The Colonials, one of the hottest teams in the league, are four points back of fourth-place Connecticut for the last first-round bye.
"I think it really started with our mind-set," said Schooley. "We had success last year with so many young kids that we had to realize that it wasn't just going to happen [for us]. Since the start of '14, our work ethic has really been great, and with each game, we started to gain more confidence.
"This past weekend, we trailed AIC [on Friday, by scores of 2-0, 3-2 and 4-3] and tied the game in the third. We outshot them 3-0 in overtime and you could see that we were working to do what we needed to [to win the game]."
The mind-set change has come with staggering results up front. Since the Three Rivers Classic losses, Robert Morris has scored 20 goals while allowing only 14. Leading the way is its top line of left wing Matt Cope, center Greg Gibson and right wing Brandon Denham. They accounted for three goals and seven points last weekend.
"We've put them back together [lately]," said Schooley, "and you can really see the results. They bring a great line of energy and that sense of urgency each time they're out on the ice."
Robert Morris is in the middle of a six-game home stretch. The Colonials will face arguably their toughest test of the second half of the year when they entertain Air Force this weekend, then host Army next week.
Ready, aim, FIRE!
If the American International Yellow Jackets are at home in the first round of the playoffs, their entire team should pool money and buy the goaltending crew dinner at a Ruth's Chris Steakhouse.
The Yellow Jackets have allowed an average of 40.2 shots on goal per game while averaging 23.2 shots per game for themselves. They've allowed 40 shots or more 13 times, and four of those times were over 50. They've allowed 59 shots twice against Hockey East opponents.
Yet despite being outscored this year by nearly a two-to-one margin, the Yellow Jackets are 5-9-1 in conference play. While that has them in 10th place, they're only one point out of ninth and two points behind eighth-place Niagara as intradivisional play gets set to resume.
With six games left against three teams joining them in the bottom four, AIC stands poised to potentially control its destiny for a run at a home series. Despite finishing in ninth last season, AIC has never hosted a first-round series, having finished higher than last place only twice.
What's even more amazing is that the Yellow Jackets are picking up wins against some of the better teams in the AHA. They have a win over Bentley, a split with Air Force and a split with Niagara. They led Robert Morris but had to settle for a tie.
A team capable of beating any opponent, AIC is shaping up like a team we all need to at least keep an eye on as the year winds down.
AIC plays a home-and-home series with Connecticut this week.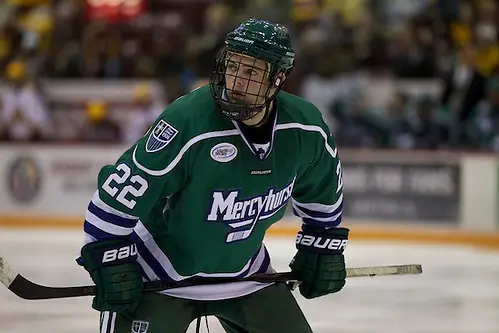 Partying like it's 2011
In 2011, Atlantic Hockey experimented with a playoff format based on divisional alignments. The top two teams in each division received automatic byes into the quarterfinal round, leaving the rest of the AHA to play off in single-elimination games. The winners then reseeded with the teams that received a bye.
It was somewhat controversial because Niagara didn't receive a bye despite finishing fourth overall. Neither did Robert Morris, which finished fifth. But Connecticut passed through to the round of eight by finishing as the second place eastern team despite being in sixth place overall.
Both Niagara and Robert Morris were eliminated in the first round, putting UConn at home in the second round when the teams reseeded. It also left the Huskies as the fourth-best team in the second round despite not playing a first-round game. The next year, the league went to a traditional 12-team format which remains through to today.
If the playoffs started today, however, the standings would end with the best two western teams occupying the first and third seeds (Mercyhurst and Air Force), while the east would occupy the second and fourth (Bentley and UConn). The four eastern schools would cross over and head to the four remaining western schools because of the way the standings lined up.
So for what it's worth, we'd have the 2011 playoffs with divisional leaders getting byes. It would just have a new wrinkle where it would result with a perfect first-round crossover of east heading west for the first round.
One more weird number
Air Force is the top-ranked AHA team in the PairWise Rankings, tied for 28th with Ohio State. But Air Force is in third place in the AHA standings and it has gone 0-2-1 against the two teams in front of it.
The Falcons lost to Mercyhurst earlier in the year, and they lost and tied Bentley. But the Lakers and Falcons are 37th and 39th, respectively, in the PWR.
Air Force beat Northeastern earlier this year while going 5-3-1 in nonconference play. Mercyhurst went 2-8-1 and Bentley went 2-5.
Once again, welcome to Atlantic Hockey.
USCHO weekly awards
I'll highlight a total sweep by RIT this week. The league chose Air Force's Cole Gunnar as its top offensive player, but I'll dissent there. Otherwise, I agree with the choices uptown.
Player of the week — RIT's Michael Colavecchia: Colavecchia is my choice for player of the week because of three goals, including two game-winners in different styles. He had the game-winner on Friday early in the first period, then scored his second late in the third period. RIT picked up four points over Army and broke a four-game losing streak.
Goalie of the week — RIT's Jordan Ruby: Ruby amassed a .960 save percentage in the weekend sweep of Army, including his first collegiate shutout as the Tigers swept the Black Knights. He stopped 72 of 75 shots and is starting to put his hold on the top goalie slot for a team that appeared reeling after its recent losses.
Rookie of the Week — RIT's Danny Smith: Smith scored three points and was plus-3 in the Tigers' 6-0 win on Friday, including a highlight-reel assist on a goal scored in the first period. He nearly doubled his season point total from four to seven with his output, and he and Alexander Kuqali traded goals and assists. It was a breakout performance for the Edmonton, Alberta, native, who's appeared in every game for the Tigers this season.