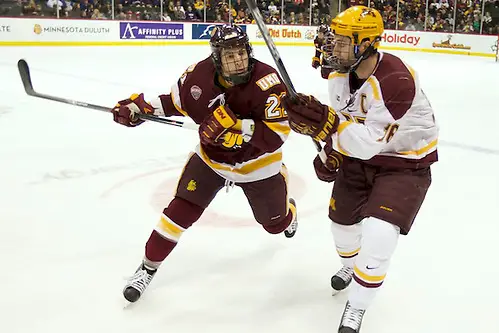 Geography dictates that it's tough for western college hockey teams to put on something similar to the Beanpot, the tournament that brings together Boston's four big men's – and women's for their own annual version – college hockey programs to determine local bragging rights.
That said, Minnesota's five Division I programs seem to be onto a winner with what they've created for themselves.
Last weekend gave us the first edition of the North Star College Cup, a four-team tournament that will be held once a year at the Xcel Energy Center in St. Paul, Minn. It's unfortunate Minnesota's D-I fivesome isn't all in the same league as it was even a year ago, but the NSCC allows the state's Big Ten, NCHC and WCHA teams to keep battling for a claim to supremacy in the Land of 10,000 Lakes.
Until next season's edition of the tournament, that claim belongs to the top-ranked Golden Gophers of Minnesota. The evergreen host of the NSCC – the other four teams will rotate in and out of the tournament – came out on top after brushing aside No. 5 St. Cloud State 4-1 Friday before beating Minnesota-Duluth in an overtime shootout in the final Saturday night after drawing 4-4 with the Bulldogs through 65 minutes.
The Big Ten laid claim to the title, then, but the two NCHC teams in this year's edition of the NSCC held up well with UMD and SCSU both finishing with 1-1 records in tournament play.
None of the four teams had a very easy ride in a tournament in which 32 goals were scored over the four games, and UMD had a particularly bumpy ride. In order to get to the final, the Bulldogs were made to outlast Minnesota State 5-4 in overtime Friday, with UMD forward Alex Iafallo scoring the game-winning goal on a power play 4:33 into the extra session.
SCSU recovered well enough from its semifinal loss to the Gophers to outlast former WCHA rival Minnesota State 6-4 in Saturday's third-place game. Three power play goals on four such opportunities helped the Huskies' cause, as did 37 saves from SCSU goaltender Ryan Faragher.
DU, UND renew acquaintances at Magness
SCSU and UMD both had to make do with a win and a loss from last weekend, and two other teams in the hunt for the NCHC's regular season championship had to do the same.
No. 16 Denver and No. 18 North Dakota met at Magness Arena for the 266th and 267th all-time meetings in a rivalry that dates back to the 1949-50 season. Both teams had to settle for three of the six points on offer last weekend, however, as they split their only two-game regular-season set together in the current campaign.
UND pleased the large contingent of fans in green and white Friday at DU's Magness Arena as the visitors came away 4-2 winners in the series opener. Two first-period goals got the proverbial ball rolling for UND, and senior goaltender Clarke Saunders made 29 saves in his first start since a 5-2 home loss to St. Lawrence Nov. 29.
So it was, then, that DU faced being swept at home by UND for the first time in a decade. That didn't end up happening, though, as the Pioneers won 3-0 Saturday to end UND's 10-game unbeaten streak at 9-0-1.
CC-Miami series also ends in a split
Colorado College and Miami went along with a national trend of teams splitting their series last weekend, as the Tigers and RedHawks were made to share the spoils of a two-game set featuring the NCHC's bottom two teams.
CC has had D-I's second-worst team offense this season (1.83 goals per game), but you wouldn't have known it early on Friday night. Three first-period goals proved more than enough for the Tigers in the series-opener, with CC eventually running out 4-1 winners in the Tigers' first regulation victory since downing Nebraska-Omaha 4-2 at home Dec. 6.
The following night's game, however, was a much different story with Miami putting on a goal-scoring clinic that RedHawks fans would undoubtedly love to see more of as their team enters this season's home stretch.
CC inflicted itself with some wounds in the series finale by allowing Miami to go 4-for-5 on the power play, but the RedHawks were ruthless in winning 6-1. That victory was enough to keep Miami (14 points) above the Tigers (13) at the bottom of the NCHC table by one point.