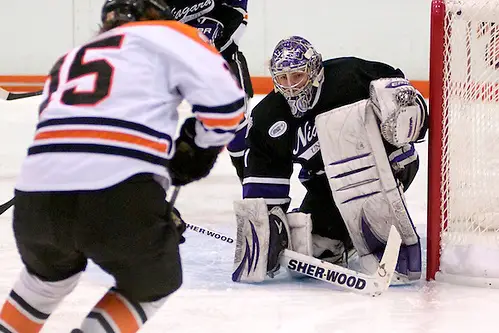 Despite a prediction to repeat as Atlantic Hockey regular season champions in the league's preseason poll, Niagara coach Dave Burkholder knew his team was facing an uphill battle.
The Purple Eagles lost Hobey Baker Award finalist Carsen Chubak to the professional ranks at the end of last season when the goaltender decided to forgo his last year of eligibility.
Lost to graduation were two of the Purple Eagles' top three scorers: Marc Zanette and Giancarlo Iuorio, a first-team AHA all-star.
A trio of senior defensemen, including second-team all-star Dan Weiss, also moved on.
And then, shortly before the beginning of the season, Ryan Murphy, who led Niagara in scoring last season with 36 points, was suspended for the first half of the season after a DWI arrest. Murphy has since been removed from the roster.
It's taken time for Burkholder to fill those gaps, but a convincing sweep of Rochester Institute of Technology last weekend may signal a corner turned for Niagara. The Purple Eagles played a near-flawless 120 minutes of hockey, getting timely goals, winning the special teams battle, and benefiting from solid, often spectacular goaltending by freshman Adrian Ignagni.
For 120 minutes, at least, everything came together.
"It's been a natural progression of hard work," said Burkholder. "The team that got on the bus [after the game] on Saturday was a pretty giddy bunch, players and coaches. They're starting to believe in the locker room.
"I really can't find fault with anything, other than some untimely penalties on Saturday. Other than that, we executed the way we thought we could in practice."
Ignagni stopped all 29 shots he faced on Friday for his first collegiate shutout. He followed up by making 40 saves the following evening in a 5-1 win.
Junior Isaac Kohls, the Purple Eagles' leading scorer this season, added to his totals with three goals in the series. Kohls had a total of 12 goals over his first two seasons, but already has 10 so far this year.
Freshmen also made big contributions. Rookie Pat Conte had a pair of tallies on Saturday, and classmate TJ Sarcona had a breakaway goal on Friday and Saturday.
But Burkholder emphasized the sweep of RIT was a total team effort.
"I point to our team's passion and commitment," he said. "Our goaltending has kept us in games but we didn't win a lot of those games. [Last weekend] we had great backchecking and pressure. RIT is a team that likes to come at you, and we knew we needed to be ready for that."
The Purple Eagles dominated in blocked shots, a key to keeping the Tigers to a single goal on the weekend.
"We know [RIT] has a top-ranked power play and it was important to get in their way," said Burkholder. "Frankly, we had an alum comment after last weekend [when Niagara was swept at home by Holy Cross] that we weren't blocking a lot of shots. We took that to heart and tried to emphasize it in practice. Last Monday we got all the chuck-a-pucks out and did drills blocking shots."
Everything indeed came together for Niagara last weekend. Will this be the start of a run leading back to the top of the standings? The Purple Eagles are four points from a top-four finish with 10 games to play. They travel to Sacred Heart this weekend.
"We need to remember the good things we did and build on it," said Burkholder. "We need to keep focused."
Thanks for the memories
On Saturday, RIT continued the countdown to its final game at Frank Ritter Arena, home of the team since 1968. The Tigers will move to the Gene Polisseni Center, which is currently under construction, next season.
Ceremonies on Saturday included recognition of RIT's 1983 Division II national championship, its 1985 Division III title and the 2012 national championship won by RIT's women's team in its final season at the Division III level.
Members of those squads were on hand to be honored. Included was Burkholder, the goalie on the 1983 title team. While the other former players were introduced on the ice, Burkholder made a brief appearance at the glass outside of the Niagara dressing room.
"[Former teammate] Gump Whiteside was waving for me to come [out]", said Burkholder. "But I had a chance to talk to him and the other players before the game. It was a special moment and those are great memories."
Hot and cold
In eight seasons of covering Atlantic Hockey, I can't recall so many teams going through lengthy streaks of both the winning and losing variety. Just about everyone's been on and off:
• Mercyhurst had just one win in its first eight games to open the season, but has feasted on conference play, going 12-2-3 so far. The Lakers were undefeated in 2014 (5-0-2) before a 7-4 loss to Canisius last Saturday.
• Bentley also opened the season ice cold, with just one win in its first six games. But since then the Falcons are 11-1-3 in their past 15 contests.
• Connecticut had a decent first half of the season at 7-6-2 in the 2013 portion of its schedule. But the New Year has so far seen the Huskies go 5-1-2.
• Air Force went through a 7-1-1 stretch early in the season, then went winless for five straight from Nov. 22 to Dec. 7. The Falcons then righted the ship to the tune of 7-0-1 in their next eight games before being swept last weekend at Robert Morris.
• Speaking of the Colonials, RMU is 6-1-1 its last eight games after going 2-12-2 in its previous 16 contests.
• Canisius is the outlier, consistently inconsistent so far this season. The Golden Griffins haven't been able to string more than three straight wins together, but also haven't lost more than three in a row.
• Niagara has gone on stretches of five and seven games without a victory. The Purple Eagles' sweep of RIT was just the second time this season they have been able to win back-to-back games.
• RIT's bright spot was a six-game unbeaten streak from Nov. 11 to Jan. 14. Since then the Tigers are 2-6.
• Holy Cross opened with five straight losses and was winless for an eight-game stretch from Dec. 6 to Jan. 11. The Crusaders are yet to string two wins together.
• American International was a solid 3-2 to open the season but went through a rough patch (Nov. 23 to Dec. 14) where the Yellow Jackets lost nine games in a row. AIC is 3-5-1 since.
• After 2-1 start, Sacred Heart dropped its next seven games. The Pioneers are just 1-4 so far in 2014.
• Army opened the season with six consecutive losses and is currently riding a seven-game skid. Maybe last Saturday's 5-2 exhibition victory against Royal Military College will get the Black Knights started on a roll of the winning variety.
Better late than never
As if fans didn't have enough reason to be at this weekend's Bentley-Mercyhurst series, a battle between the first- and second-place teams in Atlantic Hockey, the Lakers are expecting an important visitor on Saturday.
The Stanley Cup will be on display at the Mercyhurst Ice Center, thanks to Mike Folga, the trainer/equipment manager for the Lakers. He was on the New York Rangers' staff when they won the cup in 1994. Folga never got his day with the Cup, until now.
Mercyhurst will be accepting donations to the Wounded Warrior Project.
USCHO weekly awards
I'm in agreement with just one of the three candidates selected by the league this week:
Player of the week — Daniel Bahntge, Mercyhurst: The league went with Bahntge's linemate, Matt Zay, who had a goal and four assists in a split with Canisius. But I'm going with Bahntge, who had three goals and an assist, including the tying and winning tallies in a 3-1 come-from-behind win by the Lakers on Thursday.
Goalie of the week — Adrian Ignagni, Niagara: The freshman stopped 70 of 71 shots in a sweep of RIT.
Rookie of the week — Robby Nichols, Connecticut: The freshman improved to 3-0-2 on the season with a career-high 34 saves in a 3-2 win against American International. It was the first conference win for Nichols, who made 18 of his 34 stops in the third period.
The AHA selected Niagara defenseman Joe Muto, who had a trio of assists last weekend. He leads all Lakers defensemen in scoring with 11 points.