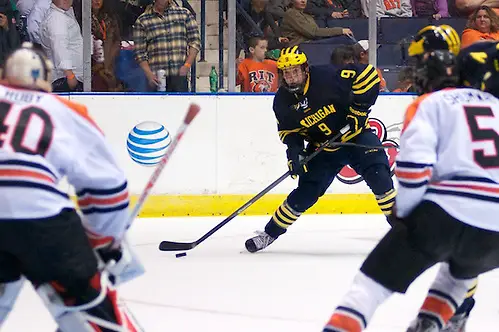 Three weeks after Wisconsin swept Michigan at the Kohl Center, it's time for the rematch between the two teams at Yost Ice Arena.
"That's what the whole idea of the balanced schedule is — you get to play these teams home-and-home," Michigan coach Red Berenson said. "We thought we deserved better in Wisconsin, but we didn't get it and we've got to bounce back against them."
In the two closely contested games between the Wolverines and Badgers earlier this month, Wisconsin was victorious 5-2 and 3-1.
"They had a good string of home games and they had some momentum and some confidence," Berenson said. "They scored timely goals and again the games were close, the first game got out of hand late but it was a close game. We played well enough to win — we just didn't win either game."
Since the two played, Michigan swept Michigan State last weekend and Wisconsin split a series with Ohio State. Wisconsin coach Mike Eaves said that even though the Badgers took the first two from Michigan, wins at Yost are going to be no easy task.
"They come and they play with speed, attitude, tempo and skill," Eaves said. "Red's philosophy hasn't changed that much. I heard him once say that he'll play anybody, anywhere, anytime and any place. That's kind of the mind-set that they have, so we're going right into the hornets' den coming up this week."
Berenson said that he hopes the momentum from the Michigan State sweep will continue. The Wolverines had lost four straight going into last weekend, and the team had a lot of off weekends to think about those losses.
"We played two games in the Great Lakes Invitational and then were off for a week, then we played Wisconsin and were off for another week," Berenson said. "When you look at the calendar you realize, 'Geez, we've only played four games in six weeks.'"
This series will also be important in terms of the Big Ten standings, as Wisconsin and Michigan are second and third behind Minnesota.
"We're just starting to look at the standings because we just really started into the meat and potatoes of the Big Ten conference schedule," Berenson said. "We only played two games in the Big Ten in the first half of the year and now we're playing, recently we've played Michigan State and Wisconsin. So at this point I think we've played the fewest number of conference games, but every weekend from now on will be conference games."
Eaves echoed Berenson and said that the standings were "going to put more emphasis on the series."
For Wisconsin to finish near the top of the conference standings, it will need to perform on the road. The Badgers, who have a 1-5 record away from Kohl Center, will play eight of their final 12 regular season contests on the road.
Eaves saw this as a fun opportunity, because a lot of the games will be in new buildings for his players.
"Every weekend is going to be a challenge, especially going into barns like Michigan," he said. "I've heard great things about the Penn State rink in terms of the atmosphere in there. I watched the Michigan and Michigan State game, and Munn Arena was packed again. Every venue we go into is going to be really fun."
As the Big Ten conference schedule finally gets into gear, it seems the fans are taking to the new conference, and the new foes for their favorite team, fairly well.
A crowd of 15,021 people took in last Saturday's game between Ohio State and Wisconsin.
"We're in Big Ten play right now and it's exciting for our players," Eaves said. "Based on the attendance we've had recently, it looks like the people are enjoying it as well."
When asked if he could see Wisconsin and Michigan becoming rivals in the new conference, Berenson said:
"I think if you ask that question whether a month from now or a year from now or a year from now I could give you a better answer. Let's face it, Wisconsin hasn't even played here yet, either has Minnesota. We've only had one home game against a Big Ten opponent. So I think it will be a good rivalry and I think the fans will embrace it, but right now they haven't had a chance to."
[youtube_sc url=http://www.youtube.com/watch?v=Kfz3eEh53Ug]
Anastos disappointed with Michigan State's performance against Michigan
Heading into a series with No. 1 Minnesota this weekend, it's safe to say that Michigan State probably had a hard week of practice. In this instance, however, that may be because of last weekend and not in anticipation of the Gophers.
The Spartans were swept by Michigan last weekend — the Wolverines won 2-1 at Joe Louis Arena on Thursday and 5-2 at Munn Arena on Friday.
After Friday's game, coach Tom Anastos sounded off with this opening statement to a 10-minute news conference:
"An unacceptable performance tonight. And it wasn't just the third period. It was the whole game," Anastos said after about a 20-second pause.
He then went on to question his players' approach to the game, drive and passion.
"I didn't like our approach to the game. I felt it earlier in the day, I didn't like it," he said. "We have to grow up. You get humbled in your own building. You've got take pride wearing that jersey, representing the people you represent. And it takes 100 percent commitment, 100 percent of the time."
Anastos said he felt like the Spartans took a step forward after Thursday's close loss, but his tune had changed after Michigan took Friday's game on MSU's home ice.
"I know it was 2-2 going into the third period. The game aside, so much of sports is your mental approach," Anastos said. "And when I went to our team meal today, I just had a sense that I wasn't going to be happy with it. And I told the guys that at the time, I said, 'I may be wrong.' But my sense was telling me, 'I don't like where we're at, approaching this game tonight. But I'll judge by our performance.' So, I can now."
Michigan scored three times in the third period in Friday's game; its last goal was short-handed.
Anastos said he was displeased with his team's discipline and frequently used the word "unacceptable" to describe the Spartans' play.
"Discipline isn't a sometimes thing, it's an all-the-time thing," he said. "There's certain components and toughness in our game, and I get all that. And there's way to show toughness and play with toughness and, yet, remained disciplined. And I thought we lost it at the end of the game."
Michigan State's power play lit the lamp twice on Friday, but Anastos said that was overshadowed by everything else in the game.
"They moved the puck around, they created some good scoring chances, and it worked," he said. "But this game is, in some ways, like golf. Special teams have to be good, your team defense has to be good."
The Spartans and Gophers will play Friday and Saturday at Mariucci Arena in Minneapolis. Minnesota swept Michigan State in a two-game home series to open last season and earned a win and a tie at Munn in December.
Three stars of the week
First star — Michigan freshman forward JT Compher: Compher had three goals and two assists in Michigan's sweep of rival Michigan State. He had a career-high four points (two goals and two assists) in Friday's game at Munn Arena. One of those goals was short-handed, his third of the year. This is Compher's second weekly award of the season.
Second star — Ohio State freshman goaltender Christian Frey: Since joining the Buckeyes in the spring semester, Frey has a 3-1 record. Last Saturday he had a possible season-defining game for Ohio State in its 3-1 win over Wisconsin at Kohl Center. In the win, which garnered a series split for the Buckeyes, Frey stopped 36 of the 37 shots he faced. This is his first weekly award of the season.
Third star — Minnesota sophomore goaltender Adam Wilcox: Wilcox recorded 76 saves over the weekend at the inaugural North Star College Cup and was awarded the tournament MVP. Minnesota defeated St. Cloud State 4-1 on Friday and tied Minnesota-Duluth 4-4 on Saturday before winning a shootout to take the tournament title. Wilcox had a career-high 38 saves in Friday's game against the Huskies; he also assisted on one of Minnesota's goals. His 17 victories this season are first in the Big Ten and tied for second nationally. This is his second weekly award of the season.
Big Ten in the poll
Here's how the six Big Ten team stand in this week's USCHO.com Division I Men's Poll:
No. 1 Minnesota (Last week — No. 1)
No. 9 Wisconsin (LW — No. 9)
No. 12 Michigan (LW — No. 14)
This week's matchups
Michigan State at Minnesota (Friday and Saturday, Mariucci Arena)
Wisconsin at Michigan (Friday and Saturday, Yost Ice Arena)
Penn State at Ohio State (Friday and Saturday, Value City Arena)