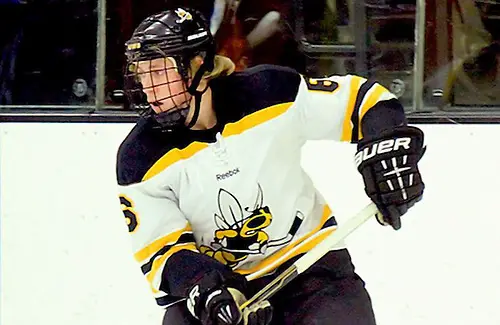 Pat Dalbec admits he hasn't been the most consistent player this season for Wisconsin-Superior.
The senior forward has had his share of up-and-down moments, but lately, he believes he is starting play with more consistency.
"I've been inconsistent at times, but during the second half of the year, I've started to play much better," Dalbec said. "I think part of that comes with the familiarity of playing against league opponents."
Dalbec has certainly had a good season if you look at the stat sheet. He is tied for the team lead in points as he has scored eight goals and dished out eight assists.
A year ago, Dalbec finished with 27 points, finishing with career-bests in goals (15) and assists (12). He still has time to increase this season's numbers as the Yellow Jackets have six games remaining in their WIAC schedule.
Yet, in terms of having the opportunity to play college hockey in his hometown, Dalbec has enjoyed every moment. The former Superior High School star played junior hockey for the Janesville Jets of the North American Hockey League before coming to Superior.
"The four years have gone fast, but it's been a lot of fun," Dalbec said. "It's been a blessing to be able to play in my hometown. I've been watching Yellow Jackets hockey since I was little and it's an honor to be able to play college hockey for them."
Dalbec has the made the most of his time at Superior. As a freshman, he scored eight goals and dished out 11 assists. A year later, he came through with 13 goals and nine assists as he led the team in goals and points.
Last season, Dalbec took his game to another level and even put together a 15-game point streak as he earned first-team All-WIAC honors.
"Looking back from where I was as a junior hockey player to where I am now, I have gone from being more of a playmaker to being more of a shooter," Dalbec said. "I'm happy with the progress I've been able to make."
As a team, Superior has shown signs of promise throughout the year. It earned an impressive win at the PrimeLink Great Northern ShootOut in November, stunning nationally-ranked Norwich 3-0. Dalbec scored two goals in the win and was named to the all-tournament team.
It also earned a 3-2 win over St. Scholastica in November and battled nationally-ranked Wisconsin-Stevens Point to a 4-4 tie in Friday's series opener against the Pointers.
Superior is 6-10-3 overall and 1-3-2 in the WIAC.
"We've shown how good we can be at times, but at other times we've been inconsistent," Dalbec said. "If we can play the way we are capable of playing, and be consistent every night, we have a chance to finish strong. The conference is still wide open."
Superior has had several players step up this season. Michael Rey has tallied eight goals and eight assists, while Cody Hotckin has come through with five goals and 10 assists.
Jeff Forsythe has racked up four goals and seven assists and Eric Shand has come through with one goal and 10 assists.
Drew Strandberg and Dayn Belfour have split time in goal. Strandburg has played in 12 games and has racked up 261 saves while Belfour has tallied 158 saves in eight games.
As for Dalbec, he said his focus is on doing what he can to help the team play at its best down the stretch.
"I just want to continue to work hard and be as consistent as I can in every game," Dalbec said. "If I do that, hopefully that will help inspire my teammates and we can be successful in these last six games."
Streaks End: Wisconsin-Eau Claire had a pair of streaks end over the weekend, including an impressive five-game shutout streak on Friday night against Wisconsin-River Falls.
But the Blugolds still managed to win Friday's game, taking down the Falcons 8-3. On Saturday, their eight-game unbeaten streak, which included seven consecutive wins, also came to an end in a 3-1 loss to River Falls. It was the first loss for Eau Claire since Dec. 7.
David Donnellan scored the only goal for the defending national champions in the loss.
Blake Huppert, Jeff Bergh and Ryan Doner all scored goals for the Falcons, who improved to 11-5-2 overall and to 4-2 in the WIAC. Eau Claire is 12-4-1 overall and 1-2-1 in the conference.
Near Comeback: Stout's final nonconference game of the season was a thriller as it nearly rallied from a three-goal deficit in a 4-3 loss to St. John's on Saturday.
The Blue Devils, who were tied at 1-1 at the end of the first period and down 4-1 after two, battled back in the third behind goals from Zach Vierling and Logan Maly.
Chase Hollender stepped in at goal with the Blue Devils down 4-1 and did not allow a goal as he racked up 21 saves, including 12 in the third.
Stout fell to 6-11 on the season and the loss was its fifth of the season by one goal.