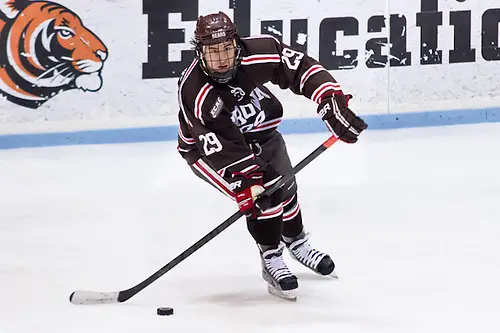 What with all the hullabaloo (yes, I had to spell-check that) in ECAC Hockey last weekend, this seems like a perfect opportunity to find out what really goes on in the mind of a coach when everything is spiraling out of control. Let's listen in, shall we?
"It was not smart hockey. We've got to understand that there's a time and a place, and that was not intelligent."
Those two sentences could have come out of any coach's lips, but in this case, those lips were owned by Brown coach Brendan Whittet, and the sentences were spoken shortly after Yale's 6-0 erasure of his Bears in New Haven, Conn., on Saturday. Yale earned 11 power plays — scoring on four of them, including two five-on-three goals in the first period, plus another first-frame two-man advantage that went unconverted by the Bulldogs.
Yale was up 3-0 after four shots and 5:03 of game time; the Bulldogs tacked on a fourth goal before 15 minutes had run off the clock. By that time Brown was not only down four on the scoreboard, but also two on the bench. Freshman forward Zack Pryzbek took an early shower just 86 seconds in following a major hitting-from-behind penalty and a game misconduct. Junior forward Massimo Lamacchia followed the rookie to the locker room 13 minutes later, saddled with a major and disqualification for slew-footing.
This is where things get tricky behind the short bench.
"It's hard, because you're down to 10 forwards. You've gotta mix and match and just try to get something going on the offensive side," Whittet said, gesticulating. "We didn't give up — their goalie actually made some really good saves as the game went on — but it makes it hard."
"It's not unbelievably complicated. You have to be thinking, you've got to be really locked in as a coach on not only who's playing well, but also who's up," Rensselaer coach Seth Appert explained, "because instead of saying 'Mike Zalewski's line's up,' or 'Milos Bubela's line's up,' you have to call all three positions every time, alerting the guys — including the guys on the ice — who's playing [which position] next shift."
Whittet noted that special-teams players had to pull double duty, suddenly having no one to spell them. Players who weren't used to playing often, have to play often … and the top-line guys are in for a long night.
"We're going to roll out [the top line of Mark] Naclerio, [Matt] Lorito and [Nick] Lappin as much as we can, and [beyond that] you just try to find complements for each other," Whittet said. "Everyone's gonna play. It's not like you've still got a fourth line that's getting out there a few shifts a game."
For Appert, "in terms of who's playing, it's really more based on their performance." RPI's helmsman admitted that on-the-fly combinations are equally dependent on "hunch, [player] compatibility and luck".
To be sure, Whittet was visibly displeased with the 13-4 penalty disparity during the game — Brown was whistled for the first eight infractions of the game — but he refused to blame the officials for the outcome, or even for their judgment. While you see it on regrettable occasion, the fiery Whittet sees no value in showing up the officials by, say, emptying the bench onto the ice.
"Chucking water bottles just does no good. Absolutely no good," he said. "The calls are the calls, and what we've got to do is respond and either kill a penalty or execute on the power play. We did neither and just compounded it."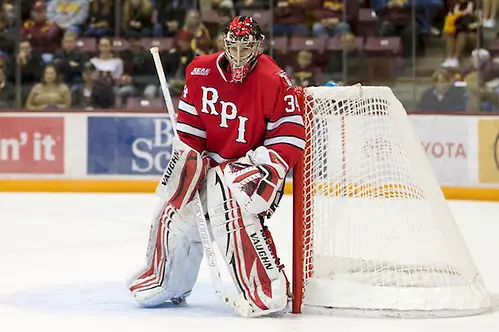 Engineers manufacture key four-point effort
The first two weekends of 2014 were weekends worth forgetting for RPI. The Engineers dropped four straight against Ferris State, Minnesota, Princeton and Quinnipiac (all away from home) by a 20-7 aggregate score.
The bye week couldn't come soon enough … and, according to Appert, couldn't have been used any better. Per the coach, the Engineers got in two solid weeks of practice and rolled into last Friday's home game against Dartmouth with a confidence that belied their record. RPI dispatched of the Big Green 4-2 and then edged archrival Union for the first time in 11 meetings in Saturday's much-discussed Mayor's Cup match.
To head this query off at the pass: I did not discuss Saturday's post-game brawl with Appert, as I can assure you he has nothing new to say. Furthermore, every previous speck of speculation and information has been published, Tweeted, and YouTube'd to death. There is ample material out there, and once it's exhausted, I doubt there is any more to be unearthed.
Back to the product on the ice. Appert was pleased with junior goaltender Scott Diebold's play last weekend, bouncing back from some seriously lackluster performances.
"[Diebold] struggled against Ferris State. We played a real good game against Ferris, and he struggled," said Appert, himself a former Ferris State goalie.
Diebold fared no better against Minnesota — though RPI did not play well in front of him — and he looked overmatched at Quinnipiac the following weekend as well. The goalie's play to that point led many RPI observers to wonder what might have been had No. 1 Jason Kasdorf not been lost for the year with season-ending surgery.
"Any time you lose a player of [Kasdorf's] caliber, it's a big loss, but that's life. You can't sit around and feel sorry for yourself," Appert said.
Diebold responded with 53 saves on 56 shots in the recent wins, illustrating what Appert calls Diebold's "hyper-competitive spirit."
And while the goaltending improved, so did the offense. Top goal-scorer Ryan Haggerty (19 goals) notched a goal and two assists on the weekend, but his performance may have been eclipsed by some rising stars, or so says the coach.
Sophomore forwards "Mike Zalewski and Milos Bubela really stepped forward and had really strong weekends. They were maybe our two best players over the course of the weekend," Appert said.
"We need those guys. I've always believed that the strength of our team, offensively, would have to be our depth. Through the first half of the season, that was not the case. We were not getting consistent production from too many guys throughout our second through fourth lines. That's not just offense [numbers], it's consistency of play. I think what we've started to see is that certain guys have pulled out of some funks, certain guys are starting to step up and play better, and we're just trying to move forward and play with four lines, because that's the best way to win."
Playing with precedent
Using previously discovered patterns (and you know how much I love patterns), let's take a peek at how far each team has to go to get somewhere desirable in the ECAC first round. For those too lazy/digitally impaired to read the link, here's the pertinent gist:
• Historically, 34 points has been good enough for first place come playoff time.
• Teams that finish with 27 points or more have generally enjoyed a week off before the second round.
• An imaginary line between 19 and 20 points has delineated home teams from visitors in the first round.
Union already has 20 points with 10 league games to play. Not too shabby. Four more wins should secure a bye; seven takes the crown.
Colgate and Quinnipiac each have 19 points with nine games to play. The Bobcats are done with Union for the regular season, but the Raiders still have another shot at the current leaders. If each squad can muster a .500 record the rest of the way, they should be in the clear for a maintenance week.
Clarkson is battling with Cornell for the fourth spot, but the Knights have a game in hand. While they aren't scheduled to face each other again, Clarkson does take on Union and Quinnipiac, twice each; Cornell can make up ground on Colgate, Union and Quinnipiac in single head-to-head meetings.
Yale is barely above .500 with 13 points in 12 games, and will need to turn it up with seven or eight wins in its remaining 10 if the Bulldogs want a bye.
Brown and Rensselaer each have 11 points in 12 games, and are all but out of the running for a bye. Instead, the Bears and Engineers should have their sights set on at least a .500 finish, clearing the teams for a friendly first-round venue.
St. Lawrence, Harvard, Princeton and Dartmouth have their work cut out for them. Each will need to play well above .500 hockey over the last five weeks in order to finish in the middle third of the standings, a benchmark for success that no one in the quartet has come close to exhibiting thus far.
PairWise? PairWise.
Hey, why not? At least it gives us an early indication of who's in good shape and who's not, in a national context.
First off, it's worth noting that this is about the time of year that many pollsters begin to get lazy, ditching their pet matrices and spreadsheets in favor of a simple copy-paste operation. They surf on over to the latest PairWise Rankings, say "Hmm, OK!" and presto, some uncannily similar rankings. There are some anomalies — Wisconsin, Yale and Denver are thought better than their numbers — but you must admit, the similarities are beyond coincidental.
In any case, Quinnipiac and Union occupy top-four spots, putting them in strong contention for an at-large bid, if not a No. 1 regional seed. Cornell is tied for 10th in the PWR — like anyone else, fluctuations beyond the Big Red's control will have a large impact on their final seeding — so the Ithacans still have significant work to do before booking NCAA accommodations.
Colgate and Clarkson are just within the top 16, which is better than being outside the bubble … but it's not worth much right now. It's just fun for Raiders and Golden Knights fans to consider themselves in the running, I imagine; nothing more.
Surprisingly, Yale is outside the bubble at this moment. The Bulldogs can lump themselves with Colgate and Clarkson in knowing that they've got a good shot if they keep winning, but it's not a terribly happy position for the defending champions with February looming.
Remember: Game results from beyond ECAC Hockey action can significantly affect ECAC teams' spots in the PWR, and there are a lot of league games remaining in which conference members will knock each other around in both the standings and the rankings. Don't get too attached to today's PairWise order, is what I'm saying … it'll have a completely new look by Saturday morning, I promise.