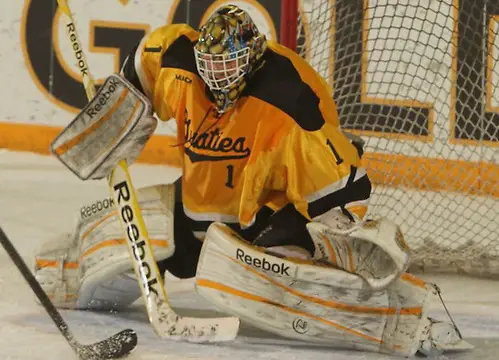 We have reached the stretch run of hockey in the MIAC and the battle for the top spot is tight.
Gustavus Adolphus enters the final week of the month on top of the conference standings. It has 26 points. St. Thomas is second with 22 points and St. Olaf sits in third with 17 points.
It will be interesting to see how things play out over the next few weeks, but one thing is for sure, it should be interesting and a fight to the finish.
Here are some notes from around the league as we head into February.
Record Setter: St. Thomas goalie Drew Fielding broke a 10-year-old conference record over the weekend as he posted two shutouts in the Tommies' sweep of Hamline.
St. Thomas won 8-0 and 2-0, giving Fielding a record seven shutouts this season. Adam Hanna of St. John's tallied six shutouts during the 2004-05 season. Fielding needs only one more shutout to tie Hanna's career record of 14 shutouts.
Fielding leads the nation in shutouts. Notre Dame's Steven Summerhays is second in the country with five. With three more shutouts, Fielding would tie the Division III record of 10 in a season.
Fielding made 35 saves over the weekend and has tallied 403 saves on the season. He has allowed only 22 goals for the Tommies, who are 12-3-2 overall and 6-0-2 in the MIAC.
In the Poll: Gustavus swept St. Mary's over the weekend and broke into the USCHO.com Division III Men's Poll for the first time this season at No. 15.
The Gusties topped the Cardinals 4-1 on Friday and earned a 5-1 win on Saturday as it stretched its win streak to four games.
In Saturday's series finale, Gustav Bengston scored two goals and Gavin Tufte tallied two goals as well to help Gustavus maintain its hold on first place in the standings.
Darren Lapic also scored a goal for the Gusties, who are 11-4-3 overall and 8-1-1 in the MIAC.
John McLean won his 10th game of the season and stretched his unbeaten streak to nine games against MIAC opponents. McLean tallied 25 saves and is 10-3-3 on the year. The sophomore goalie hasn't given up more than two goals in a game since November.
Gustavus was also sharp defending the power play again. It turned away all six of the Cardinals' opportunities on Saturday and have killed 16 consecutive power plays since Jan. 18.
Tough Goalie: John Sellie-Hanson turned in a strong performance despite the fact that Hamline lost 2-0 to St. Thomas on Saturday night.
Sellie-Hanson racked up 23 saves and allowed just one goal until an empty-net goal was scored with nine seconds remaining in the game.
Sellie-Hanson has played in eight games this season and has given up 27 goals. He has racked up 184 saves as well.
The Pipers have had a tough year and sit and are 2-14-1 overall and 1-7 in the conference.
Hamline has lost five games by two goals or less and has lost its last four games. Its last win was on Jan. 11 when it beat Northland 5-4.
Kevin Novakovich has paced Hamline with five goals and six assists. Joe Rubbelke has tallied two goals and nine assists and Brandon Zurn has tallied four goals and four assists.