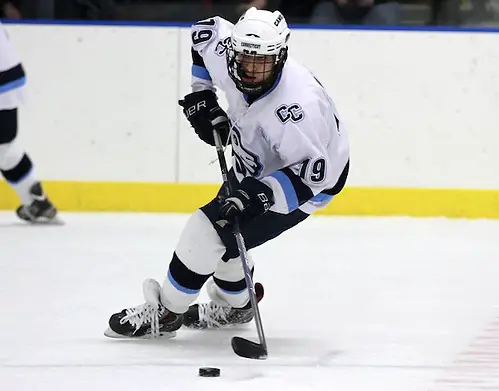 "It's not about how you start – it's about how you finish."
The above quote represents the mantra that is the focus and commitment Connecticut College has adopted forthe second half of the season and the Camels' final regular-season games over the next four weekends.
An 0-7-0 start, including a 6-0 shellacking by Manahattanville, was hardly the start in the first half that coach Jim Ward envisioned for his team, but the improvements and more importantly, the recent results, leave reason for optimism in the February stretch of games and drive for the NESCAC conference tournament.
"It was hardly the start we were looking for," Ward said. "It was tough and we were learning the hard way with key mistakes in each game that led directly to losses. We were hanging our goalies out to dry early on and now, we have the team playing pretty well and learning to win. We have played in seven overtime games and five of those have been in-conference, so the guys are starting to believe in their compete level. The win at Bowdoin was big before the break on the road and even the overtime the next day at Colby showed we can play well with anyone in this conference. This past weekend was a big win for us on Sunday against a really good Wesleyan team, so the things we are focusing on are starting to reap results and we will need to continue to improve over the remaining eight games in the regular-season schedule."
A critical area of focus for a change that would impact the Camels in a favorable way can be found in the recent turnaround in special teams play.
"Both our goals on Sunday came on the man-advantage," explained Ward. "We really struggled on special teams in the early part of the season and have made it a focus in the second half and are seeing some good results. In the conference, our power play is up around 20 percent now and our penalty kill has improved dramatically from somewhere near 68 percent to where it is now, over 80 percent in successfully killing off penalties. It also helps that we are staying out of the box, but improvement in those aspects of our game and overall team defense have us competing at a high level against everyone in this very competitive conference."
Junior forward J.C. Cangelosi leads the team in points and has scored 27 percent of the Camels' total goals so far this season. More balanced scoring in the lineup will be important for Connecticut College moving forward, but Ward likes what the team is doing and believes they are getting their chances and just need to start burying some of them more frequently.
"We just got Tim [DiPretoro] and Adam [Patel] back from injuries recently that have kept them out of almost half of our games," noted Ward. "Tim was our leading goal-scorer last season, so we are getting healthy and improving our game at the right time of the season. Hopefully, they will be able to contribute at the level they have shown in the past and help create some better balance for goals with our team. Other guys who have been struggling offensively haven't dwelled on it, but instead have made sure they are playing solid team defense and contributing in other ways to our success."
Team defense has been a significant improvement for the Camels in the second half of the season. It has been a goal for improved play overall in the second half and even the freshmen have made big strides in this aspect of adjusting to the college game.
One freshman in particular has garnered the attention of the entire Camel coaching staff and has played his way into a top four role on the blue line for the Camels.
"Freshman defenseman Greg Liautaud made the adjustment to the college game almost immediately since he arrived on campus," said Ward. "He has really developed nicely and I would be hard pressed to think of maybe more than one situation where he struggled for any period of time. He has a very good stick and jumps into the play at the right times and can be physical when he needs to be. He is a smart and disciplined hockey player and he continues to do nice things and improve every week while earning quality minutes for our hockey club."
The beneficiaries of all of this improved play and team defense have been the goaltending duo of Mike Petchonka and Tom Conlin. While the numbers haven't been great and no one has really seized the No. 1 job, the Camels are seeing better consistency and some big saves from both guys when they need them most.
"The stats aren't great for either guy," commented Ward. "We thought one guy would assert themselves coming out of the first half and neither really did. They have been better in the second half and we have been better as a team, which has helped them out, too. We aren't hanging them out to dry like we did in the first half and that has made a difference. Mike has played the last three games and I think overall, he has been pretty good. He certainly kept us in the hockey game against Trinity and also gave us a chance to win against Wesleyan. You can't ask your goaltenders to do much more than that every night."
This weekend, the Camels hit the road to face Williams and Middlebury. The earlier matchup with the Panthers ended in an overtime loss, but history has the coach excited about the road trip.
"Historically, we have played pretty well on our past trips to Williamstown and Middlebury," said Ward. "We haven't always got the result we wanted, but we have been very competitive and I like our chances the way we have been playing the last few weeks. They are all like playoff games now, so no reason not to put it all on the ice for the games we have left."
Five of the final eight are on the road for the Camels where they have struggled thus far this season. With a focus on a strong finish, the road trips are just another hurdle Ward is looking for his team to overcome in February.