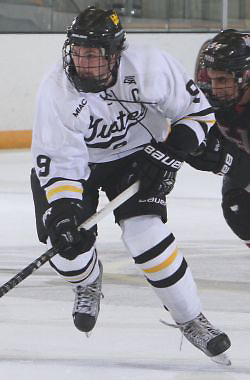 Up is down.
Down is up.
Hard to tell which way was which based on last week's Division III action, such were the number of upsets registered around the rinks.
Scarcely any conference was immune from the toppling of giants, as six of the nine league leaders suffered at least one loss during the weekend.
Here's the blow-by-blow:
ECAC East
For No. 5 Norwich to suffer two conference losses in one weekend is a rarity, yet that is precisely what occurred. The Cadets sustained a 4-3 loss to New England College on Friday (not really an upset), then fell to St. Anselm, 2-1. Conference leader Babson was stung, slightly, when it was tied 3-3 by Castleton on Derek Gingera's extra-attacker goal with 30 seconds remaining.
ECAC Northeast
Conference-leading Nichols was hammered by cellar dweller Becker, 4-1, giving credance to that old chestnut about any given Saturday.
ECAC West
Another last-place squad, Nazareth, continued its impressive late season run with Friday's 4-3 toppling of ECAC West contender Hobart. It followed the Golden Flyers' upsets of nationally-ranked Utica and Geneseo the week previous. Hobart did rebound against Nazareth on Saturday with a 5-1 drubbing.
Meanwhile, two other contenders, Utica and Elmira, split their weekend set.
MACSAC
Salem State was yet another conference leader to be tripped up as it lost to sixth-place Worcester State, 3-2 on Saturday.
MIAC
First-place Gustavus Adolphus, ranked No. 15 in the USCHO.com Division III Men's Poll, was the exception to the rule as the Golden Gusties swept a home-and-home set with St. John's, 2-1 and 4-1. Adam Smyth's tally early in the third proved to be the difference maker in Friday's win.
NCHA
Even the nation's top-ranked team can have a bad day, but few No. 1s within memory were blasted the way Adrian was in its 11-1 rout by No. 2 St. Norbert on Friday.
Tyler Zepeda registered the hattie for the Green Knights. Adrian, however, showed plenty of resilience in the following night's rematch, taking a 4-1 win.
Third-place St. Scholastica, which dropped out of USCHO.com's top 15 last week, may have played its way back in with twin blastings of Northland, 9-2 and 5-0.
NESCAC
First-place Williams piled up wins over Connecticut College and Tufts, while second-place Amherst kept pace with triumphs over Trinity – 3-2 on Erik Williams' goal with 5:10 remaining – and Wesleyan.
SUNYAC
Geneseo had one of the more bizarre weekends, as the Ice Knights outscored No. 4 Plattsburgh, 5-3 on Friday, then was pasted 5-2 by last-place Potsdam the following night.
WIAC
One night after squeaking by Wisconsin-Superior, 2-1, first-place (and 10th-ranked) Wisconsin-River Falls fell to the Yellowjackets in the rematch by the same score.
Two teams behind the Falcons in the standings – but ahead of them in the rankings – both affected weekend sweeps. No. 3 Wisconsin-Stevens Point took its lone contest, a 5-3 nonconference win over Bethel.
Meanwhile, No. 7 Wisconsin-Eau Claire swept its two games with Wisconsin-Stout, 4-0 and 3-1.