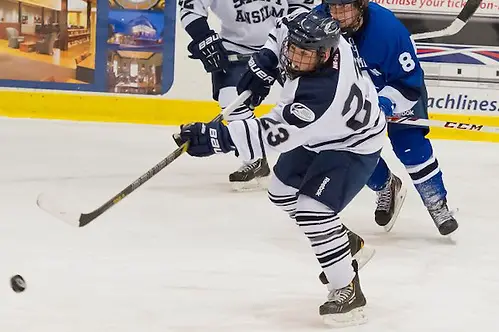 For St. Anselm in 2014, the battle has been to find some level of consistency in the Hawks' level of play not only from one weekend to the next, but from one night to the next.
Case in point is this past weekend where some critical third-period mistakes accounted for a loss against ECAC East and Northeast-10 rival St. Michael's on Friday night and some great team defense, special teams and goaltending accounted for a rare win on Saturday over nationally-ranked Norwich.
"This has been a different year for us," stated Hawks' coach Ed Seney. "We scored 107 goals last year as a team and we had some pretty experienced guys up front that accounted for the primary scoring. We lost 71 of those goals to graduation or transfer, so the guys we have counted on for secondary scoring last year are the same guys we are looking at to be the primary guys this year. We definitely have some talent, but there aren't many snipers out there in the D-III ranks if you look around. We aren't scoring a lot of pretty goals. We need to work hard and go the net and pick up rebounds and loose pucks and take advantage of mistakes and special teams.
"The game has really become a lot about effort, special teams and goaltending. When we get all three like Saturday night, we can play with and beat anyone on our schedule, but we have to do those things consistently every time out on the ice and that has been a challenge for us this season."
Two seniors leading the way offensively have been Johnny Daniels and Joe Tebano, who are tied for the team lead for points so far this season. The offense has been a balanced and "by committee" approach for Seney's team and he is starting to like what he is seeing from some of the younger guys who are now seeing a lot of consistent playing time.
"The guys we have that we need to get some scoring from are doing their part and we have had a lot of different guys on the score sheet this season," said Seney. "Some of the new guys are really getting it going now and it is great to see. Brendon Kerrigan is a freshman who has something like five goals now and is taking advantage of his opportunities lately. He had goals on both nights this past weekend against St. Mike's and Norwich. Brendon's play and productivity are what we need from all of our players, especially heading into a big game on Tuesday night against Southern New Hampshire that can determine if we can stay the top seed for the NE-10 championship tournament we play for at the end of the season."
St. Anselm blanked Southern New Hampshire 2-0 as Nick Dries made 35 saves for the shutout.
While playing in the ECAC East as a Division II school, the Hawks are ineligible to play for the conference title amongst the rest of the D-III institutions. As part of the NE-10 conference, St. Anselm has won the past four tournaments, an accomplishment the coach recognizes as a significant claim for last year's senior class and an opportunity for the current group of Hawks preparing to graduate.
"It is the only real thing we have to play for," noted Seney. "The games with the D-II schools really mean a lot since the change in the tournament format a couple of seasons ago. Only the top four teams qualify for the NE-10 championship, so the games we play with the other D-II schools go a long way in determining our chance to defend our championship run. The seniors last year won the conference tournament each of their four seasons and this year's class has the chance to do the same. That is really something to shoot for. Add in our losing to SNHU at their place last season and I think there should be enough motivation to come out and play a strong game against another good opponent. This one is at home where the students are back and we have had great crowds.
"Hopefully, the momentum from the big win against Norwich can carry forward and we can keep the momentum going for our final few games heading into the NE-10 tournament. We are in first place right now and would like to stay there if we can."
The Hawks are amidst a nice five-game homestand that concludes with a game against travel partner New England College on Friday night. The remaining three games of the regular season takes St. A's to Maine before a finale with D-II rival Stonehill on the road.
"We have a chance to do something special if we can continue to play well and execute in all facets of the game," said Seney. "Our penalty kill has been one of the best elements of our game this season and it has dropped off a little lately, so we need to gain that performance back. I thought the kids did a good job holding down the Norwich power play on Saturday. They did get a lot of shots, but not in real dangerous areas and shots that our goaltender got good looks at and was able to control rebounds. We are looking for a little bounce from the win at home against Norwich. That is something the seniors had never done in their time here at St. Anselm.
"Hopefully, it is a good sign and something we can build on for the remainder of the schedule heading into the postseason."