As I watched the Lombardi Trophy being carried onto the sidelines during the fourth quarter of the Super Bowl (it was more skulked than carried, by a lone white-gloved guy who kept looking over his shoulder like he expected to be mugged), I thought to myself, "Nice try, but that's no Stanley Cup."
The one and only Stanley Cup (OK, there are actually three) spent last weekend in Erie, Pa. It was there for Mercyhurst trainer Mike Folga, who was on the staff of the New York Rangers when they won the Cup in 1994. For whatever reason, Folga never got his day with the hockey's biggest prize. Until last Saturday.
Watching @HurstMensHockey and what shows up? @the_StanleyCup!! Time for a picture. #becauseitsthecup pic.twitter.com/iTIu8lRRV0

— Eric Brookhouser (@ebrook24) February 2, 2014
"They made a wrong a right," said Lakers coach Rick Gotkin. "It took a while, but Mike finally got to lift the Cup."
And share the moment with 1,800 people at the Mercyhurst Ice Center.
"We all had our pictures taken with it," said Gotkin. "Our players, Bentley players, families of players. It was pretty special."
Gotkin said junior defenseman Tyler Shiplo should get a lot of the credit for getting the Cup to Erie.
"Tyler knows people in Toronto associated with the NHL," he said. "He's been working on this for a while."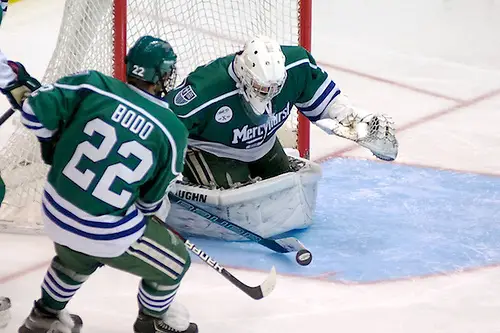 Oh, yeah. There was some hockey, too
Besides Folga, the happiest guy in the building last weekend probably was redshirt junior goaltender Jordan Tibbett. Tibbett was the opening day starter for Mercyhurst, but soon lost the job to Jimmy Sargeant, who was Tibbett's backup last season.
Sargeant was putting up all-conference numbers in net before getting sidelined with a lower-body injury midway through a game with Canisius on Jan. 25. The Lakers were winning 3-1 at the time, and Tibbett, in relief, allowed five consecutive goals by the Golden Griffins and that 3-1 lead turned into a 7-4 loss.
"That was tough on Jordan," said Gotkin. "It was obviously a difficult position to be in. To come in cold, with no expectation of playing because the other guy had played every game for the past couple of months, and boom, now he's in there. It was a rough start. We didn't help Jordan much."
Gotkin, knowing that Sargeant was not going to be able to play for an extended period, stuck with Tibbett despite his struggles.
"We talked about it as a coaching staff, and leaving him in was the decision to get some of that rust off of him. He had a very good week in practice after that."
Tibbett shined in the first-place Lakers' showdown with second-place Bentley last weekend, making 69 saves on 72 shots to lead Mercyhurst to a tie and a win against the Falcons.
"It was really great hockey played by two really good teams," said Gotkin. "It as an unbelievable atmosphere.
"I have to hand it to Jordan. When we needed him most he was at his best."
The Lakers travel to Air Force this weekend. Mercyhurst leads Bentley by four points and fourth-place Air Force by seven points with eight games to play. The Lakers are looking for their first regular season title.
"Like a lot of teams we're just taking it one game at a time," said Gotkin. "We all know how good Air Force is. They're one of, if not the premier team in the league over the years. We don't expect it to be easy."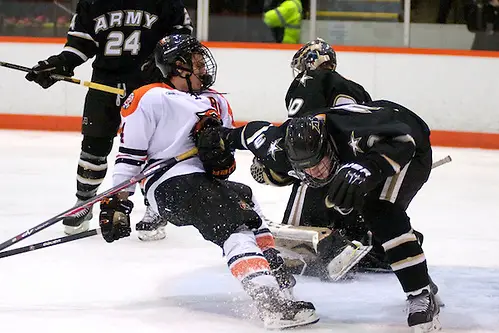 West is (still) best
Last weekend saw the last "crossover" games on the Atlantic Hockey schedule, i.e., pairings between the east and west scheduling pods. The final four weekends of the regular schedule will be made up exclusively of intra-pod play.
The east pod teams (American International, Army, Bentley, Connecticut, Holy Cross and Sacred Heart) had their most successful year against their western counterparts (Air Force, Canisius, Niagara, Mercyhurst, Robert Morris and Rochester Institute of Technology) since the league began employing the current scheduling system back in 2010. But the west teams still held a significant edge.
Here's the breakdown, west vs. east
| Season | West wins | East wins | Ties | West win pct. |
| --- | --- | --- | --- | --- |
| 2013-14 | 39 | 22 | 11 | 0.618 |
| 2012-13 | 44 | 19 | 9 | 0.674 |
| 2011-12 | 46 | 15 | 11 | 0.715 |
| 2010-11 | 41 | 18 | 13 | 0.660 |
With the departure of Connecticut for Hockey East, we'll have a different scheduling system next season.
It's getting to look a lot like award season
With four weeks left in the regular season, the various award committees are beginning to compile their lists of potential recipients.
Out east, Beanpot tournament time also means the release of the list of 16 semifinalists for the Walter Brown Award, given annually to the top American-born college hockey player in New England.
Bentley's senior forward Brett Gensler and sophomore defenseman Steve Weinstein are among the semifinalists, the only two from Atlantic Hockey. Gensler won the Walter Brown in 2012, becoming the only AHA player to do so in the 62-year history of the award.
Fantastic frosh
At this point in the season, rookies almost aren't rookies anymore, with 25 games or so under their belts. Who will be named rookie of the year in the AHA? I think the winner will be among the following:
Justin Danforth (Sacred Heart): Danforth has 20 points to date on three goals and 17 assists.
Max French (Bentley): French is looking to become the third straight Bentley player to win the award. His eight goals lead all AHA freshmen. He has 17 points to date.
Vince Muto (Niagara): Muto's 13 points (three goals, 10 assists) are fourth in the nation for rookie defensemen.
David Norris (American International): Norris leads all AHA rookies with 23 points (three goals, 20 assists).
Todd Skirving (Rochester Institute of Technology): Skirving is second in the league in goals (seven) and points (20) for a freshman.
Am I leaving any strong candidates out? Perhaps one of the four rookie goalies (RIT's Mike Rotolo, Niagara's Adrian Ignagni and Jackson Teichroeb, and Hunter Leisner from AIC) who have played significant time in net? Let me know in the comments.
Upon further review
In this week's blog, I discussed video review and how it's applied (or not) in Atlantic Hockey. The first usage of video review was in last year's Atlantic Hockey semifinals and finals. This season, five schools are employing video review: Air Force, Army, Bentley, Holy Cross and RIT.
I had omitted Holy Cross from my list of schools that are using video review, but the school contacted me this week to let me know it's also employed at the Hart Center. Next season, all 11 AHA schools will have video review.
Milestones
Among the other things you begin to see as the season draws to a close are records set and milestones met.
Last weekend, Bentley's Gensler scored his 150th career point, moving him into second place all-time at the school. He's current at 151, 22 behind all-time leader and Bentley coach Ryan Soderquist, who racked up 173 points during the school's Division II/III era.
Also, Holy Cross senior Adam Schmidt reached the century mark with his second goal of the game in a 4-2 win at RIT. Schmidt became the 11th Holy Cross player to reach 100 career points.
USCHO weekly awards
I'm throwing in one addition to the official awards given out by the league:
Players of the week — Cody Wydo (Robert Morris) and Nardo Nagtzaam (Mercyhurst): Wydo had three goals and two assists to pace the white-hot Colonials in a sweep of Army. My addition is Nagtzaam, who returned from injury to make a major contribution for the Lakers, scoring a goal and adding three assists last weekend.
Goalies of the week — Jordan Tibbett (Mercyhurst) and Terry Shafer (Robert Morris): We've already outlined Tibbett's exploits, and Shafer also turned in a stellar performance, posting a 23-save shutout against Army on Friday.
Rookie of the week — Jackson Teichroeb (Niagara): The rookie posted a 1.58 GAA and .952 save percentage for the Purple Eagles in a split with Sacred Heart.