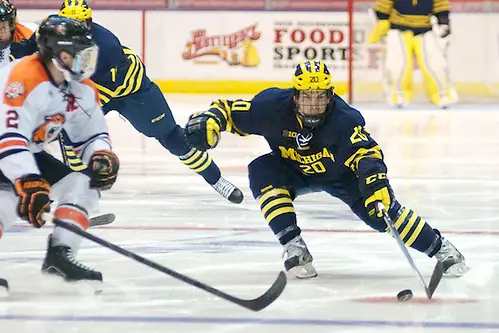 It's February, a month that begins with a holiday that has become synonymous with endless repetition and midway through is punctuated with an annual tribute to romance. In seasons past, I ignored the former and embraced the latter often to reject it — the prerogative of those divorced and bitter. "Phooey!" said I, the refrain of the unrequited. "Pah!" I shouted, a syllable reserved for the disappointed.
This year, however, is different. This year, I am in love. Yeah, I know what you're thinking: Paula, you're so much more entertaining when you're sad. Trust me, that's been noted by many. Another drawback is that my cheeks hurt from smiling nearly nonstop since October. It isn't easy being in love … with the Big Ten.
There! I said it! Yes, I miss the CCHA, the league I dated for 18 seasons, the league that kept me company through nearly two decades of my life — my otherwise useless 30s and 40s — but with six weekends of Big Ten conference play remaining, my feelings for this league have deepened into true love.
I am enjoying the newness of the league, the freshness of the competition in its first year. I am digging the odd scheduling required to accommodate six conference teams and the way league play began in earnest in the second half.
I love the personalities of each of these distinct programs and how the competition seems more intense with the familiarity the schools have with each other because of competing in other sports. While I've never harbored any love for the Big Ten conference itself in any other sport — moving to Ohio from New York state was a shock to my system in 1989 — I have come to appreciate what alignment with that conference means for all the teams involved and their fans.
Granted, not one of the Big Ten teams charms me the way that Ferris State and Lake Superior did when I covered the CCHA — big, corporate collegiate programs don't necessarily lend themselves to "charming" as much as they do to "entertaining" — but given that these six teams are still within the parameters of the boutique sport we all know and love, I am fairly well smitten in a way that surprises me.
As we begin the month of February, here is my first-ever Valentine to Big Ten hockey.
I love a good comeback
No, not the verbal kind — although I enjoy those very much — but the on-ice kind of comeback, whether it's in a single game or in the course of a season.
One team experiencing a comeback after a bit of a slump is Michigan. The Wolverines are 3-0-1 in their last four games, following a five-game winless streak (0-4-1) dating to Dec. 11, a streak that was previewed by an exhibition loss to the U.S. Developmental Team on Dec. 5. Four of those games in that streak went to overtime, including the exhibition contest. Two of them — exhibition included — were at home.
"We were playing pretty well in the first half," said Michigan coach Red Berenson. "Once the exam break came and the GLI break and the Winter Classic break, we had a bit of a slump."
Berenson said that the oddness of the schedule contributed to a lack of consistency that affected his team. "I think we're back in a better routine since the Michigan State weekend," he said.
Michigan has taken 11 of 12 possible Big Ten points in its last four games, having swept Michigan State (Jan. 23-24) in a Joe-and-road series before defeating and tying Wisconsin at home last weekend and taking the extra shootout point.
"These were all close games," said Berenson, who pointed out that the Wolverines' 5-2 win over Michigan State — the win by the biggest margin in that four-game stretch — was a 2-2 tie going into the third period. "We're no better than anyone else. We have to play a consistent game to be successful. I don't think we've played our best hockey yet. We're in the mix."
The Wolverines are in second place in the Big Ten standings with 17 points, nine behind league-leading Minnesota, a point ahead of Wisconsin and four in front of Ohio State; Michigan also has two games in hand on the Gophers, Badgers and Buckeyes.
Michigan played Wisconsin four times in January with the Badgers coming out ahead 2-1-1.
"The two games at Wisconsin were hard fought but they were they were the better team," said Berenson. "Our power play scored in each game. They were on a stretch of 12 consecutive home games and they were finding ways to win most of them, so they had some momentum going when we played them."
The Wolverines' schedule — with just one home game since early December — was something to contend with for such a young team, said Berenson. The Wolverines have just one player with 10 or more goals, sophomore Andrew Copp, and Michigan is led in scoring by freshman JT Compher (9-12–21). Another freshman, Zach Nagelvoort (1.91 GAA, .936 save percentage) has become the starter for the Wolverines.
In addition to returning to familiar scenery these past few weeks — Detroit's Joe Louis Arena, where the Wolverines defeated Michigan State 2-1 on Jan. 23, and Yost Ice Arena, where Michigan is 7-1-2 this season — Berenson said that his team has been bolstered by league play.
"The other thing is the Big Ten conference," said Berenson. "Somehow it's taken on a bigger life than the CCHA games. It just seems like the students and the alumni are talking about the Big Ten conference."
This weekend, the Wolverines are doubly motivated as they head to Penn State's Pegula Ice Arena for the first time. The Nittany Lions have yet to win a conference game and no team in the league wants to earn the distinction of being on the losing end for Penn State's first Big Ten win.
"They're going to beat someone," said Berenson.
While Berenson never underestimates an opponent, he said the travel itself won't present a problem: "We're road tested, so to speak."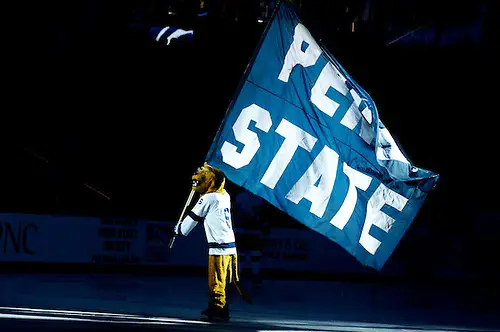 I love an underdog
At some point, as Berenson said, Penn State is going to have to win. Right?
After losing 5-1 and 5-2 to Ohio State on the road last weekend, the Nittany Lions are 0-8 in Big Ten play.
In last Saturday's contest, Penn State led 2-0 after the first period on goals by freshman Dylan Richard (2-3–5) and sophomore Casey Bailey (3-2–5). Sophomore goaltender Matthew Skoff (3.44, .891) played well in the series but got little support from the team in front of him.
After Saturday's loss, coach Guy Gadowsky said that the team "couldn't sustain" the lead and hinted that the Nittany Lions are still negotiating their Division I learning curve.
"We are certainly not naive to how great these programs are," said Gadowsky. "We know it's going to take some time but at the same time, you have a room full of competitive guys that are working extremely hard and results have not been extremely easy to come by."
The Nittany Lions are averaging 2.18 goals per game (53rd nationally) and are allowing 3.91 (55th). Of their four nonconference wins this season, two have come at home in Pegula Arena, where they face Michigan this weekend.
I love a winner
Minnesota is undefeated in Big Ten play (8-0-2) following a tie with and win over Michigan State at home last weekend. All season, Golden Gophers coach Don Lucia has been hedging about his team, warning that it isn't the dominant force that many people think it is.
He's right. Minnesota has looked vulnerable in recent games and did so especially in last Friday's 2-2 tie. After Saturday's 1-0 win, though, the coach sounded encouraged.
"Whatever it takes, we've got to find a way to win," Lucia said. "It's all about how well you play without the puck and defensively, and we did a much better job of that tonight."
I love a good mystery
Wisconsin is 1-6-1 on the road. This is a mystery — or maybe not.
The Badgers had a stretch of 12 consecutive home games (Dec. 6-Jan. 25) before heading to Ann Arbor last weekend to take on the Wolverines, a team they swept in Madison just three weeks prior. Maybe it's no surprise that Wisconsin returned with one point to show for two road games, given how unfamiliar with road play they've been.
In that 12-game home stretch, the Badgers averaged 3.92 goals per game. They scored three against the Wolverines in Ann Arbor and they've netted four in their last three contests, two losses and a tie dating to their 3-1 home loss to Ohio State on Jan. 25.
Wisconsin hosts Minnesota for two games this weekend.
I love a good means to an end
After Michigan State's "unacceptable" performance in a 5-2 loss to Michigan Jan. 24, coach Tom Anastos held little back in his evaluation of the Spartans.
"I didn't like our approach to the game," said Anastos. "I felt it earlier in the day. I didn't like it. We have to grow up. You get humbled in your own building. You've got to take pride wearing that jersey, representing the people you represent. And it takes 100 percent commitment, 100 percent of the time."
I don't know what transpired during practice after Michigan State's series against Michigan, but the Spartans were a different team on the road against the Golden Gophers last weekend. After tying Minnesota 2-2 last Friday night and taking the subsequent shootout point, Anastos said that the Spartans were better prepared than they had been the week before.
"We talked about growing up," said Anastos. "I think we've taken a little step forward in growing up and I liked how we prepared for the week."
I have to say that what's impressed me most about the Spartans this season is how hard they've played, how well prepared and disciplined they've seemed and how much they play as a unit overall. I was surprised by Anastos' comments after that Michigan loss; I didn't see what he did in terms of preparation, nor did I think that Michigan State dogged that game.
What I saw televised from Minneapolis, though, was the Michigan State team I've observed all season. Whatever Anastos and his coaching staff did in the week leading up to the series against the Gophers was exactly what the Spartans needed.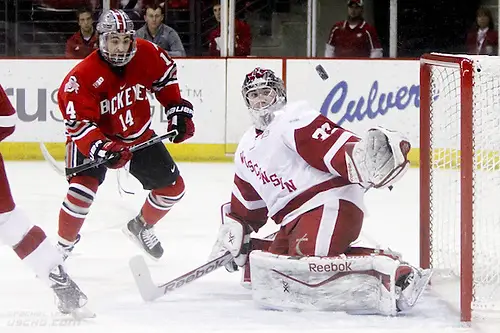 I love a dark horse
Ohio State has the fifth-best scoring offense in the country, averaging 3.62 goals per game, just a hair off the pace of the No. 1 Golden Gophers. The Buckeyes also have the seventh-best power play in the nation (22.7) and the best in the Big Ten.
All of this is due in large part to an incredibly talented and often overlooked junior class, one of the best in the nation. When the Buckeyes were down 2-0 at the start of the second period in their 5-2 win over Penn State on Saturday, they took advantage of two quick penalties to even the score. Junior Tanner Fritz (4-19–23) scored at 2:07 and classmate Ryan Dzingel (17-19–36) scored at 3:36, deflating the Nittany Lions, who had outshot the Buckeyes 13-6 in the first period.
"Coach looks to us, especially our power play, to get the job done," said Dzingel. "We know that we are looked at to put points on the board. I guess when things are going well, you have confidence, so we are trying to keep that going."
"Our power play has been good all year," said first-year coach Steve Rohlik. "You score goals like that to get the game evened up. Again, our team didn't panic."
That's the thing: The Buckeyes don't panic. They seem unflappable. They can score goals, absolutely, and they've weathered an incredible goaltender journey. Now that freshman Matt Tomkins is back in net and is joined by Christian Frey — a midseason acquisition — Ohio State may play the role of dark horse in the Big Ten when all is said and done.
I love living in Michigan
After 18 years in Ohio, I moved to Michigan in 2008. One of the first things I noticed was the increased presence of college hockey on television — games from everywhere, live and delayed! — and it's only gotten better with the addition of the Big Ten Network.
The weather was not conducive to travel last Saturday and for only the second time since moving to Michigan, I had to cancel plans to cover a game because of road conditions. (I am about an hour from Ann Arbor; 45 minutes from East Lansing.) Because of the magic combination of fortunate geography and cable television, I was able to watch all three Big Ten games Saturday without risking my life to do so. It's not the same as being there, but it still amazes me that this is a real thing that can happen.
While I miss my friends in Ohio and the lovely city of Columbus, it is good to be living in a place where hockey is so beloved.
I love the way the Big Ten Network hasn't yet figured out that a tie is a tie
OK, so this just gives me a chance to vent and giggle a little. Twice this season, I've heard announcers from the BTN call shootout wins outright wins — as in, making no distinction between the tie that the NCAA recognizes and the extra point that a Big Ten team gets for prevailing in the shootout.
Any casual observer would have thought, for example, that after the Spartans "won" the shootout against the Golden Gophers after Friday's 2-2 tie that Michigan State had actually won the contest.
It's not merely semantics. I do like an excuse to complain about the shootout, though, a convention I've never learned to love.
And in fairness, the Big Ten Network's Frozen Friday is a winner, without question.
I love a guy who should get credit for his own first assist
Wisconsin senior forward Michael Mersch (15-10–25) scored the prettiest goal I've seen in a long time in the Badgers' 2-2 tie against Michigan last Saturday.
At 1:02 in the second, Mersch victimized one of the best and most underrated defensemen in college hockey — Michigan senior Kevin Clare — by essentially passing the puck around Clare to feed himself and set up the goal.
If you haven't seen it, check it out:
Players of the week
It's two from the Buckeyes and one from the Golden Gophers this week.
First star — Ohio State junior forward Ryan Dzingel:
Dzingel had three goals and three assists as the Buckeyes swept the Nittany Lions at home last weekend. Dzingel leads all Big Ten players with 36 points and is fourth in the nation in points per game, averaging 1.50. In 24 games this season, Dzingel has scored one more goal than he did in 40 games in 2012-13, and he's six goals shy of his previous two-season career total.
Second star — Minnesota sophomore goaltender Adam Wilcox:
Wilcox had a .959 save percentage and 0.96 GAA in the Golden Gophers' four-point weekend against Michigan State. He's unbeaten in his last 14 games (10-0-4), leads all Big Ten goalies in wins this season (18) and recorded his sixth career shutout last Saturday night with Minnesota's 1-0 win. Wilcox is 10th nationally in GAA (1.96) and eighth in save percentage (.931).
Third star — Ohio State freshman goaltender Christian Frey:
Frey joined the Buckeyes at midseason and is 5-1 in six games with a 2.19 GAA and .936 save percentage. Like Wilcox, Frey had a .959 save percentage on the weekend, making 46 saves in Friday's 5-1 win.
My ballot
1. Minnesota
2. Boston College
3. Quinnipiac
4. Union
5. Ferris State
6. St. Cloud State
7. Massachusetts-Lowell
8. Providence
9. Cornell
10. Michigan
11. Yale
12. Wisconsin
13. Northeastern
14. Clarkson
15. North Dakota
16. New Hampshire
17. Maine
18. Denver
19. Minnesota-Duluth
20. Minnesota State