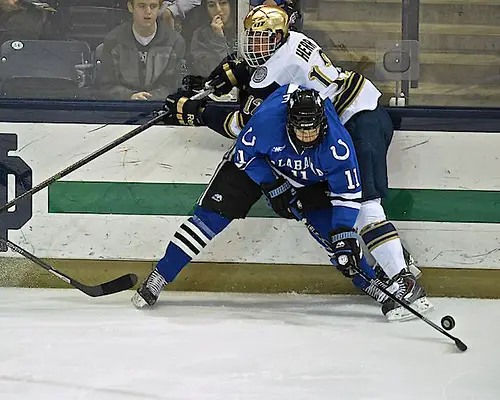 Every once in a while, you need to do a little chest thumping. For Hockey East, that time is now.
With most of the nonleague schedule complete, Hockey East proved a dominating force against other leagues. In a season where league members played more nonconference games than ever (each team was allowed up to 14 out-of-conference games), Hockey East members posted a 72-39-15 record, good for a .631 winning percentage.
Only one league comes close to that winning percentage, the newly created Big Ten, which is 47-30-8 to date for a .600 winning percentage.
Let's not forget that Hockey East dominated the Big Ten in the inaugural Big Ten/Hockey East Challenge and held a 12-7-2 record against Big Ten teams (a .619 winning percentage).
In fact, Hockey East held a winning record against all five of the other conferences. ECAC Hockey has matched up the best against Hockey East, the superior conference holding a slim 22-19-8 record against the conference that produced last year's national champion (Boston University still needs to face Harvard in the consolation game of Monday's Beanpot).
Hockey East's most dominant record was against the new-look WCHA, posting a perfect 12-0.
If there was one "blemish" for Hockey East, it was play against often-overlooked Atlantic Hockey. Hockey East schools went 16-8 against AHA members, which sounds decent until you realize Big Ten schools were 17-2-1 against the AHA.
The end result, as I mentioned briefly a few weeks back, is that Hockey East is currently holding a very advantageous position in the PairWise Rankings.
If the season ended today, Hockey East would place five teams into the 16-team NCAA tournament field (Boston College, Massachusetts-Lowell, Providence, Northeastern and New Hampshire). Additionally, three teams remain on the NCAA bubble, with Notre Dame sitting square on the bubble at No. 16 in the PairWise and Vermont (18th) and Maine (19th) still in the picture.
When I last talked about the PairWise, I mentioned that I thought the amount of league play between Hockey East teams in the coming weeks would help balance things out and allow for more teams from the NCHC and WCHA, both under-represented at this point in the PairWise. To this point, that hasn't happened.
The WCHA's abysmal out-of-conference record of 25-44-12 will make it a challenge for any team besides Ferris State (and maybe the conference champion if Ferris State is upset) to grab an at-large bid (Minnesota State is the next-best hope but sits 24th in the PairWise).
The NCHC is beginning to show more hope with St. Cloud State and Minnesota-Duluth sitting comfortably in the PairWise and North Dakota playing well enough of late to play their way into the top 15.
Still, this to date has been one incredible season for Hockey East. Not only could there be a distinct Hockey East flavor to the NCAA field, there's a chance that the Hobey Baker Award Hat Trick could be comprised of two or three Hockey East players given the strength of BC's top line of Johnny Gaudreau, Bill Arnold and Kevin Hayes.
There's a lot of hockey left to be played, but with the snowy weather outside, I think I'll kick back and enjoy Hockey East's success this season.
Boston College, Northeastern rookies put forth memorable Beanpot efforts
There have been only two games played in the 62nd Beanpot, but the two teams to advance Monday night did so riding some pretty impressive individual efforts, many of which came from young players.
In the opening game, Northeastern routed Harvard 6-0, thanks in large part to the performance of rookie of the year candidate Mike Szmatula. He set up two key goals in the second period that took a 2-0 game and put it out of reach. In the third, he scored one of his own to finish with three points on the night, quite a start to what should be a promising Beanpot career.
The performance, though, was an extension of a successful season for the rookie. Joining last year's Hockey East rookie of the year Kevin Roy and a number of other Huskies players putting forth breakthrough performances, Szmatula's offense has been a welcome addition to this team that is proving to everyone who picked them last in Hockey East that they couldn't have been further off.
"Right from the beginning, not just me but all of the freshman in the class have had such an easy transition," Szmatula said, crediting his teammates and the coaches for making such a transition easier. "I just try to go out every night and help Northeastern win and fortunately good things are happening."
Despite hailing from Michigan, Szmatula said he watched the Beanpot growing up, making playing in the game all that more special.
"It's something really special to be a part of," Szmatula said. "[Monday] we gave ourselves the opportunity to play in the finals. We did that and we can take it one game at a time. We'll come next Monday ready to go."
When Szmatula and the Huskies take the ice on Monday, they'll face a heavily favored Boston College squad looking for its fifth Beanpot title in a row. The Eagles advanced despite the ability of Boston University to hold BC's Gaudreau-Arnold-Hayes line to a single goal for 59-plus minutes before Gaudreau scored into an empty net.
And while that line's ability to finally score can't be overlooked, it was the performance of two freshmen that was a major part of BC's win.
Rookie Ryan Fitzgerald got BC on the board early in the first, sniping a shot near-side post on BU goaltender Matt O'Connor. And while that could've been the most memorable performance on the evening by a rookie, fellow freshman Thatcher Demko stole the show with his performance between the pipes.
Demko finished the game with 27 saves to earn the win. The most memorable likely will be a stop on a redirect by BU's Kevin Duane that appeared headed top corner with 48 seconds remaining. But throughout the night, Demko used his economical motion in net to make the difficult saves look easy.
"He's big, he's square, he makes a great save at the end just because he's in position," BU coach David Quinn said of Demko. "He understands what his strength is. It's his size. He doesn't waste any movement, he doesn't waste any energy."
The victory adds to what has been an impressive freshman year for Demko, who improved to 9-1-2. His 1.90 GAA is fifth nationally and his .930 save percentage ties him for 10th in the nation with Maine's Martin Ouellette.
Placing him on the big stage of the Beanpot wasn't too big of a decision for BC coach Jerry York.
"It means an awful lot to his self-confidence, but he's been a good goaltender for a lot of years, so I don't think it's a surprise that he could handle something like this and play well," York said. "I think Thatcher, as I watch him, he's getting more confident. He handles the puck now, and he reminds me a lot of Cory Schneider at the same age."
Not a bad compliment to be compared to one of the best goaltenders to go through Boston College in the last 15 years. And comparison or not, how big Monday's game was certainly wasn't lost on this rookie netminder.
"Obviously, it's a huge situation. It's my first Beanpot, there's so much hype around the event," said Demko. "Coming in, it didn't take me too much to get into it. To get out there in front of the fans with your team, it felt really good to get the big W."
Around Hockey East …
• Don't look now but the Massachusetts-Lowell River Hawks have, for the second straight year, begun their late-season ascent up the Hockey East standings. Lowell went from sixth place to second in less than a month thanks in part to taking advantage of games in hand. With many teams off or playing just a single game because of the Beanpot, the River Hawks will again have the opportunity to get some separation as they face BU and Massachusetts this weekend.
• Eight Hockey East players were named semifinalists for the Walter Brown Award, the nation's oldest recognized college hockey award given to the top American-born player on a New England team. In addition to the aforementioned trio of Gaudreau, Arnold and Hayes, Lowell's Connor Hellebuyck, Providence's Ross Mauermann, Vermont's Chris McCarthy, BU's Danny O'Regan and Northeastern's Clay Witt also made the list. Finalists for the award will be announced in March following the league tournaments. The winner will be presented at the New England Hockey Writer's Dinner in April.
• As I look at the Hockey East standings, there are a number of things that stand out to me. None, though, has me scratching my head as much as the disparity in Maine's home and road records. The Black Bears are a near-perfect 10-1 at home. But with four road games left, Maine still hasn't won a game away in an opponent's rink (0-8-2). Maybe this is a Maine team deeply impacted by the bus travel involved, but things will need to change soon or the Black Bears will be faced with a single-elimination first-round game that, if won, will result in a quarterfinal series on the road.