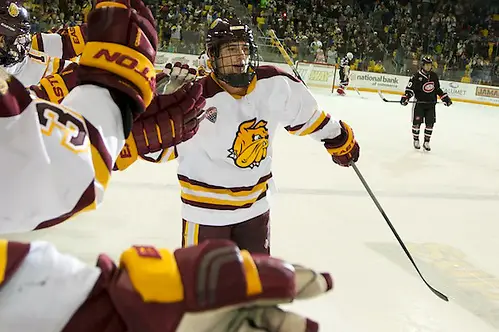 At the onset of the second half of this season, a Minnesota-Duluth team looking to fight its way into contention for a NCAA tournament spot had things that needed fixing.
The Bulldogs' 5-3 loss at home Dec. 13 to Western Michigan, the Broncos' first win over Duluth in five attempts, dropped UMD's record to 6-8 overall and 2-5 in the NCHC.
Four losses in the Bulldogs' last five games wasn't good enough for a program not yet three years removed from a national championship, and changes needed to be made.
Boy, have they ever been.
Since that loss to Western, Minnesota-Duluth has been on a serious tear. It started with a 4-3 win over the Broncos on Dec. 14 in the teams' weekend series finale, and the Bulldogs find themselves on a 6-1-2 run that includes a pair of wins on the road last weekend against that same Broncos team against which Duluth started its spectacular run.
Last Friday's affair in Kalamazoo, Mich., was close through the first 40 minutes, but three unanswered Bulldogs goals in the third period and a four-point night — two of those points coming in the form of goals — from freshman forward Kyle Osterberg propelled the visitors to a 5-2 win.
Duluth then capped off its second road sweep in four weeks — the other coming at Nebraska-Omaha Jan. 10-11 — by downing the Broncos 3-1 the following night. Senior goaltender Aaron Crandall shined in the series finale, stopping 32 Western shots and helping the Bulldogs kill all six of the Broncos' power-play opportunities in the game.
The difference in the Bulldogs' level of performance between the few weeks before that first series of the season against Western and now has almost been like night and day, and Minnesota-Duluth coach Scott Sandelin said his team's current run has surprised him somewhat.
"Prior to Christmas, I didn't think we were playing very well, and I thought we had a pretty good November and a decent October, but we weren't playing well [in December]," Sandelin said. "We got a big win on the Saturday against Western prior to the break, but I thought defensively and goaltending, those types of things, we needed to be better.
"So we talked about that when the guys came back to try and make more of a conscious effort to play better defensively as a team, and our goaltending needed to be better. Obviously, Aaron's certainly been playing very well for us since the break. Defensively, I think we've been better as a team, and some of the guys we've been counting on like [forwards Caleb] Herbert and [Tony] Cameranesi and guys like that that didn't have quite the first-half numbers [we wanted] are playing better for us."
The Bulldogs are looking much better in their own end of the ice, too. Although Duluth still finds itself in fifth place in the NCHC at 12-9-3 and 7-6-1-1 in the league, Crandall (7-3-1, 2.34 GAA, .920 save percentage) has been one of the best goalies in the league this season.
"Whoever's in the pipes is also big to win us a game or two or give us good goaltending to give your whole team some confidence, and I think every coach would say that it starts there," Sandelin said. "You look around the country, and Sam Brittain at Denver has been great for them, Clay Witt at Northeastern, Adam Wilcox at Minnesota, Ryan Faragher was great for St. Cloud [but] he's going through a stretch right now.
"[Goaltending] is such an important part of it. It's not just five-on-five and killing penalties and all those things, so I think that's given us a little bit of a boost, and I think our guys are starting to play better."
Minnesota-Duluth still has a tough remaining schedule: Colorado College at home this weekend, then St. Cloud State away, North Dakota at home, Miami away and Nebraska-Omaha at home.
The good news, though, is that Duluth's entire 2013-14 slate has been treacherous, and Sandelin said the level of competition is something his team has gotten used to.
"Maybe some of [our success is down to] the schedule we've played," Sandelin said. "We've played some really good teams, and we've been in some battles, and maybe we've figured it out a bit."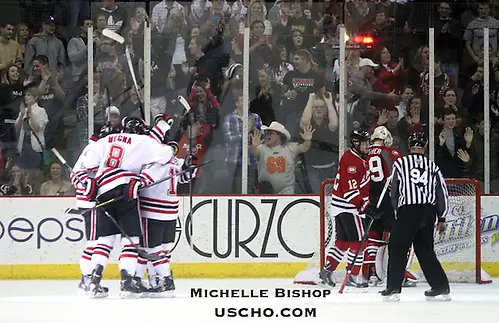 'A lot of questionable goaltending' results in 14-goal game
Decidedly not figuring it out — different "it" this time — last Saturday were the goaltending corps from St. Cloud State and Nebraska-Omaha, and the scoreboard at the end of their game proved it.
I have been writing for USCHO since 2007, starting out as an Arena Reporter, then as a WCHA Columnist and now as a NCHC Columnist, and I feel confident in saying last Saturday's 8-6 Mavericks win was by far the most certifiably bonkers hockey game I have ever covered.
Mavericks coach Dean Blais was in good humor late Saturday after a game that was fun for fans to watch but couldn't have been much fun to coach.
"I love to win those games," Blais said, laughing. "[Former UNO coach Mike Kemp] was saying he likes to win 1-0. I like to win 8-6.
"Well, 8-5. I was pissed that we gave up that sixth goal. [Not giving up the sixth goal] would have been good team defense."
We all have games like that that we remember, one-offs that we don't think can ever be topped. For me, it was a game where the losing team had one player scoring a hat trick while the starting goaltender was pulled and then sent back out later because his backup was pulled, too.
Huskies goaltenders Ryan Faragher (picking up the loss in 40:41 played over two separate stints) and Charlie Lindgren (18:06, no decision) weren't the only goalies having issues in that game, though.
UNO dressed only its two freshmen goaltenders during the series, and Kirk Thompson was pulled after Saturday's first period in which SCSU climbed out of an early 2-0 hole to go back to the Huskies' room ahead 3-2. Reed Peters then came on in relief for UNO and picked up the win through the final 40 minutes of the game.
With Blais deciding to yank Thompson after the first period, plus the fact the game ended up being a 14-goal affair, it seemed inevitable Blais would be asked in his postgame news conference about his goaltending situation.
"That's a good question," Blais said. "I didn't necessarily think Kirk had played all that badly, but I'm disappointed that … he had to make one of those two saves on the second or third goal. Three goals on [10] shots, I'm going to pull anyone [in that situation]. I'm going to pull an NHL goaltender."
SCSU tied the game at 5-5 3:12 into the third period when Huskies forward Kalle Kossila picked up his third goal of the night. But the visitors then found themselves derailed by three consecutive UNO goals from Mavericks forwards Zahn Raubenheimer, Dominic Zombo — for a hat trick of his own — and a second tally of the night from Brock Montpetit.
"There was a lot of questionable goaltending going on, that's for sure," SCSU coach Bob Motzko said.
"You've got to tip your hat to Omaha, because they came out and played really hard, and we weathered the storm in the first and hunkered back in there, [but] in the second period, we just were disinterested. We wanted it to be an easy game, and we came out in the third ready to play. We played hard in the third, but you give up a couple goals like we gave up and that was demoralizing for us."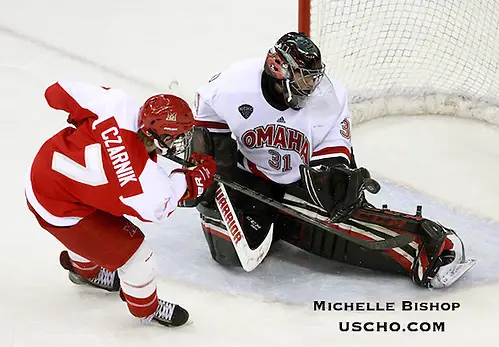 Mavericks missing Massa
Nebraska-Omaha normally dresses all three of its goaltenders for home games, but only Peters and Thompson suited up for last weekend's series with St. Cloud State.
The team's No. 1 goaltender, Ryan Massa, was out with a groin injury and had missed several days of practice in the lead-up to his team's two-game set with the Huskies.
Blais said after Friday's 5-3 loss to SCSU that Massa is questionable for this weekend's series at No. 16 North Dakota.
Blais didn't give a specific timeline regarding Massa's return to play.
"It's just like with anyone else: If you miss one day of practice, it's one day to recover, and he's already missed five days of practice, so he's questionable for North Dakota next week," Blais said.
"I don't want to say 'doubtful' yet, you know, because he doesn't lose his conditioning that much. He's still riding the bike a little bit and whatever that groin will allow him to do."
Much more missed playing time for Massa could prove worrisome for UNO, particularly after Peters and Thompson conceded 11 goals last weekend alone. In truth, though, all three of UNO's goaltenders' numbers are pretty similar: All of them have a save percentage below .900 and they each have a GAA above three goals per game.
With a .887 save percentage and 3.01 GAA, though, Massa's numbers are the best in both categories. Thompson has been second-best at .879 and 3.18, and Peters comes in third at .876 and 3.78.
Players of the week
Offensive player of the week — Kalle Kossila, St. Cloud State: Kossila was a beast for St. Cloud last weekend, opened the Huskies' scoring both nights against Nebraska-Omaha and eventually ending up with four goals — including the sophomore's first collegiate hat trick in the 8-6 loss Saturday — and an assist on the weekend. His shooting success rate Saturday was almost as impressive: On his six shots on goal in the series finale, three found the back of the Mavericks' net.
Defensive player of the week — Willie Corrin, Minnesota-Duluth: The sophomore Bulldogs defenseman probably had the best weekend of his collegiate career to date last weekend at Western Michigan. His three assists in the series and two blocked shots allowed him to play a big part in UMD's road sweep of the then-No. 20 Broncos, thus giving Duluth three wins in a row over Western to close out the teams' four-game regular season series.
Rookie of the week — Kyle Osterberg, Minnesota-Duluth: UMD has been a young team the last couple of seasons, but Osterberg has been a big reason why Duluth has been so successful lately. He was particularly formidable last Friday against Western Michigan, picking up four points in the Bulldogs' 5-2 win at WMU. Osterberg had seven shots in the two games last weekend against the Broncos, and he ended up with a plus-3 rating in the series.
Goaltender of the week — Aaron Crandall, Minnesota-Duluth: The senior has been in good form recently, and he came up big again last weekend against the Broncos. Over the two games, Crandall stopped 49 shots and ended the weekend with a 1.50 GAA and .923 save percentage from the two-game set.