Who needs Punxsutawney Phil when we've got the Harvard Crimson? The men's hockey team is beginning to string together some W's — and there are no leaves on the trees, so it must be mid-February.
Don't believe me? Just look at the records. While the Crimson have lost the Beanpot opener six years running, over the last four seasons the program has finished the regular season 14-4-5 following that Beanpot-opening defeat.
While Harvard and coach Ted Donato hoped to snap the string of consolation game appearances two weeks ago, the club and coach will instead have to focus on the remaining stretch of ECAC track, and redouble efforts ahead of next year's Beanpot tournament.
"It's disappointing," Donato said. "I think that going into Game 1 of the Beanpot, we had beaten Princeton at home and played what we felt was a very good game against Union, so we had a lot of confidence going into the game that we were going to show up and play well, and we didn't.
"We were deficient in a number of areas. Give Northeastern a lot of credit, but we didn't feel we played very well at all."
Semifinal losses aside, this is Harvard's time of year. Donato believes that the Ivies' late starting dates handicap the six member squads in the fall, and perhaps the late-season runs prove a better indication of his team's true competitive ability.
"We benefit from having some time in January to get off on the same foot as everybody else does, from a timing standpoint, as opposed to being a couple weeks behind out of the gate" in the fall, Donato said. "Our focus is on improving so that we're playing our best hockey at the end of the year."
One aspect of the game that does not seem to be any stronger than it was in the fall is the state of Harvard's goaltending. Senior Raphael Girard once boasted one of the nation's top save percentages — as high as .948, as of the holiday break — but that number has tapered off to a rather less astounding .923 following some underwhelming starts.
In Harvard's 10 games played since Christmas, Girard's save percentage is .866. Junior Steve Michalek stepped in with a .928 save percentage and 2.00 GAA in seven appearances over that stretch, and even sophomore Peter Traber was handed a start on Jan. 18 against Colgate. (He allowed three goals on 15 first-period shots; Michalek handled the game's latter 40 minutes.)
"Raph was playing well, his save percentage was up there, but ultimately we're still searching for consistency in that position just as we are in the rest of our team," Donato said. "Raph had the net versus Yale in Madison Square Garden, which was a big game for us, and it didn't go as planned. He had the net in the Beanpot against Northeastern, and that was another game that didn't go as planned. We're still searching; at this point we haven't landed on one guy. Like most teams, we're looking for a guy to take the net over."
Goalie concerns aside, the Crimson are benefiting wildly from the rapid growth and adaptation of their underclassmen.
"We have some crazy percentage, of like 85 percent of our goals in the last couple months have come from underclassmen — freshmen and sophomores," Donato said.
In fact, Harvard's top seven scorers are underclassmen. Sophomores Jimmy Vesey (12 goals, 19 points) and Kyle Criscuolo (11, 19) lead the team in goals, while rookies Sean Malone (10 assists) and Luke Esposito (9) set the pace for helpers.
"I do think we're improving; there's a lot of room to grow," Donato said. "We're extremely young, but at this time of year it's not something that we're focused on. Our guys have seen enough of college hockey. … We're just worried about winning hockey games."
The team showed great growth and ability in its Jan. 24 loss at Union, even though the result itself raised few eyebrows.
"I thought our game against Union, on the road, was one of our best efforts all year," Donato said. "We ended up losing the game 4-3, didn't get a lot of puck luck, had some chances that we didn't finish off, but I think sometimes you hear coaches talk about how the result doesn't end up the way you'd want to, but the team still feels like it's a step forward.
"I felt like we played well in that game. We didn't get rewarded, which was frustrating, but I do see a group that is learning how to win and starting to do the things that give us that opportunity every night."
Harvard didn't do itself any favors with a 2-9-3 ECAC record before the Princeton win, but all things considered, a solid run over the last three weeks could result in a perfectly respectable middle-third finish and a first-round home playoff series.
"We're two points out of eighth with 12 points available," Donato said. "We have games with St. Lawrence, who's above us, and Brown, who's above us, that are vying for the same spots. The nature of this league is that everybody's always looking up. To us, we really just want to take it game by game and get to a point that we feel that we're playing our best hockey."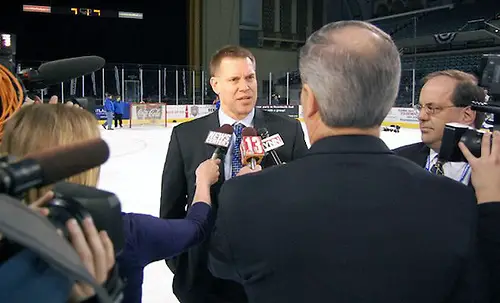 Union restored
Union coach Rick Bennett is relieved to be back behind the bench after serving a four-game suspension following the Mayor's Cup melee.
"To say the least. That would be an understatement," he said.
The Dutchmen stumbled in their first game without Bennett — as well as Eli Lichtenwald, Mat Bodie and Daniel Ciampini, all suspended for their roles in the brawl — losing 2-1 at St. Lawrence.
The club bounced back with a win at Clarkson the following night, and victories over Brown and Yale at home last weekend.
"I thought the coaching staff — Joe Dumais, Jason Tapp and John Ronan — did a great job with the bench, addressing the referees, keeping everything in line, and the players really responded for them," Bennett said.
Thrilled to be serving in his full coaching capacity again, Bennett nonetheless learned a thing or two about his team by taking a step back.
While watching Union's games at home, he said, he "saw a different light, in how you see your players. I guess as a coach, when you're on them every day, you may get a little more negative: You just want to see them thrive all the time, every time, and this way, you kind of take a step back and see some things you didn't see being on top of them all the time. It was really good to step back."
For example, "our defensemen are very offensive, and it's a different corps than what we've had here in the past couple seasons. When you lose what we lost last year with three very good defensemen, they were more defensive defensemen. Now they've been replaced with more offensive defensemen, so it's just a different look and it didn't really dawn on me until I watched those games that they are different. You have to work with them differently, so I'd say that was an eye-opener."
Bennett reiterated his limitless faith in his assistant coaches when discussing junior goalie Colin Stevens, who has played as many games this season as he did in his freshman and sophomore years combined.
"Judged by his games this year, given time off, I think he's handled [the workload] well," Bennett said of Stevens. "I think we've got one of the best — if not the best — goalie coaches/assistant coaches in Jason Tapp, and he has the pulse of it. I trust him an awful lot, and if he tells me that Colin Stevens is ready to go, he's ready to go, and if he feels we need to give him a break then that's what we've done.
"[Stevens] waited two years — now he's in year three — to be where he's at, so even if he is tired, I think he's going to battle through it."
When asked to compare Union's attitude and mentality this year to that of Dutchmen teams past, Bennett noted the intense competition at the top of ECAC Hockey in 2010-11 and 2011-12. Union claimed the Cleary Cup each year.
"A couple years ago, it was an absolute dogfight all the way to the end, and I thought our guys really responded to it," Bennett said. "This year, I feel the same way as a couple years ago, and that you're really going to find out a lot about your team in the next six games."
Heads up!
Keep up with the ECAC Blog for tiebreaker scenarios, playoff postulations, and other timely updates and insights from colleague Nate Owen and myself.
This weekend's most significant matchups:
Friday
Union at Cornell: Each team has its sights set on an aspirational goal — Union aims to clinch the Cleary Cup and the league's top seed, while Cornell is battling for a first-round bye. Points cannot afford to be lost right now in the top half of the standings.
Quinnipiac at Yale: November's meeting in Hamden settled nothing; the 3-3 tie begs for a tiebreaking result between the Frozen Four's last teams standing.
Saturday
Union at Colgate: See the Union-Cornell note, but with a catch — Colgate has more to lose than it has to gain, and psychological research has demonstrated that loss aversion is a significantly more powerful incentive than potential gain.
Harvard at St. Lawrence: These teams are in the thick of a four-team grapple to acquire or maintain a home-ice playoff spot. At worst, they will be four points apart come Saturday night; alternatively, they could be dead even in the standings.