During the first half of the season, Ohio State was forced to scramble to get a club team goaltender and a baseball catcher eligible as potential backup goaltender options.
Enter Christian Frey and those memories sure seem distant.
"It's amazing how things kind of work out," Buckeyes' coach Steve Rohlik said. "You always say things happen for a reason, and I didn't quite know what it was going to be when we were going through six goaltenders."
The Buckeyes were down to one goaltender when Collin Olson left the team and Matt Tomkins got injured; Logan Davis was the only netminder left standing.
Since enrolling at Ohio State and joining the team in December, Frey had stopped Ohio State's game of goaltender roulette. He has a 5-1-2 record in eight starts and has a 2.11 GAA.
"For him to step aboard at Christmas and do what he's doing right now, basically a half a year behind everybody as far as knowing everybody and everything else, it's a credit to how he approaches practice and how he approaches a game," Rohlik said. "He's had the hot hand, but I'm really comfortable with all three of my goalies right now."
Rohlik said that the starting goaltender still will be determined by the week of practice and the first game of a series, and he added that we will definitely see Tomkins in net again down the stretch.
Frey came to Ohio State from the Dubuque Fighting Saints of the USHL, where he had a 10-4 record and a 2.29 GAA.
"[Assistant coaches] Joe Exter and Brett Larson did a heck of a job of going out there and researching and doing the best we can and then obviously dealing with Dubuque," Rohlik said. "We had to bring a kid in, but we also took a kid from away from the USHL and a pretty good hockey team and put them in a situation where they had to find someone else.
"It ended up working out so far for us. I've never been involved with bringing a kid in at Christmas, so it was certainly another new thing for me."
Frey was in net for both of Ohio State's ties last weekend. The Buckeyes defeated Michigan State in a shootout both nights. In Friday's game, OSU scored two goals in the game's final two minutes to force overtime.
"Anytime you can score two goals in the last minute and a half and score with a second left on the clock, it obviously gives you a little confidence," Rohlik said. "Our guys always believed that they were in there and then you get a couple power plays at the end and you can go six on four, it certainly helped us out."
With the points they picked up at Michigan State, the Buckeyes sit fourth in the conference. They are nine points behind leader Minnesota and three behind third-place Michigan.
"Our biggest thing is to keep getting better and trying to get points," Rohlik said. "With six teams in the league, as you can see, one minute people are talking about Minnesota running away with the lead and the next minute Michigan and Wisconsin are on their heels."
The Buckeyes will have plenty of opportunities to get points against teams that are in front of them in the standings during the next three weeks when they play Wisconsin, Michigan and Minnesota.
"Now we're playing another team that's ahead of us and the only way to catch them is to beat them," Rohlik said. "Wisconsin's coming off beating the No. 1 team in the country twice — that shows you how good they are. We're going to have to play our best hockey starting on Friday."
Out of the six games against teams in front of them, five will be played in Columbus (four at Value City Arena and one at Nationwide Arena). The Buckeyes are 12-3-1 on home ice this year.
"Anytime you can get the crowd behind you at home, it's always an advantage," Rohlik said. "So we're looking forward to being back here."
Ohio State is a testament to how quickly things can turn around. Ohio State started 2014 by dropping two close games to Minnesota on the road and then another close one to Wisconsin at the Kohl Center.
The Buckeyes responded by defeating Wisconsin on the second night of that series and are undefeated in the last five games.
"That Saturday game was huge for us to battle to get the lead and hold onto the lead and learn how to win," Rohlik said. "Once you do that, confidence goes a long way."
Ohio State boasts the nation's No. 5 offense by averaging 3.5 goals per game, and junior forward Ryan Dzingel has helped power that offense with 17 goals and 20 assists this season.
However, Rohlik said that Dzingel's improvement this season can't be measured in just goals and assists.
"He's improved in a lot of areas. The one area people are seeing are the goals and points and all that, but he's been more responsible all over the rink," Rohlik said "He's one of our top penalty killers and he takes pride in that and he's working on faceoffs."
Rohlik said that Dzingel would be the first one to tell you that "it's been about the guys around him, too," and he'd be right. Seven players have tallied seven or more goals for Ohio State this season. Nine have 10 or more points.
"We knew coming into the year that we kind of wanted to do it as a group," Rohlik said, citing that the fourth line was responsible for the two goals in last Saturday's game against Michigan State. "People do look at Ryan and see his points, but if you take that away it's always been someone different all the time. That's a credit to our guys and if we can go four lines like that down the stretch with everybody chipping in, it just makes you that much better."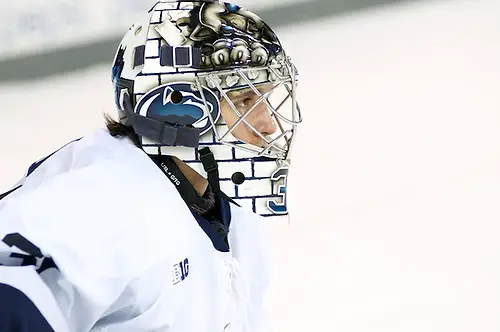 Penn State gets win No. 1
It took until February, but every team in the Big Ten conference has picked up a Big Ten conference point.
Penn State also added a conference shutout to its résumé when it blanked Michigan 4-0 in front of more than 6,000 spectators at Pegula Ice Arena last Saturday night.
"It feels fantastic, not just the win itself but because of the work that we've had to put in to get here," Penn State coach Guy Gadowsky said after the game. "It felt good."
The Nittany Lions scored three goals in the first period and notched another late in the third. Michigan goaltender Zach Nagelvoort was chased after just 13 minutes of action. Penn State netminder Matthew Skoff had 32 saves in the shutout.
"Everybody just pulled together," Skoff said. "There was a sense of urgency before the game for sure."
Penn State will have an opportunity to go on its first Big Ten winning streak this weekend when it hosts Michigan State.
Three stars of the week
First star — Wisconsin junior goaltender Joel Rumpel: Rumpel was huge in the Badgers' sweep of No. 1 Minnesota. He stopped 59 of the 61 shots he faced in the two-game series. The junior from Swift Current, Saskatchewan, leads the Big Ten in winning percentage, GAA and save percentage. This is his second Big Ten weekly award of the season.
Second star — Penn State sophomore goaltender Matthew Skoff: Skoff had 32 saves in Penn State's shutout of Michigan. It was his first shutout of the season and third of this career. The win was Penn State's second over a ranked opponent and first over a top-10 team. This is the first weekly award for Skoff.
Third star — Michigan State senior forward Greg Wolfe: Wolfe played a part in every goal Michigan State scored against Ohio State and finished the weekend with three goals and one assist. This is his first Big Ten weekly award of the season.
Big Ten in the poll
Here's how the six Big Ten teams stand in this week's USCHO.com Division I Men's Poll:
No. 2 Minnesota (Last week — No. 1)
No. 8 Wisconsin (LW — No. 12)
No. 10 Michigan (LW — No. 10)
This week's matchups
Michigan at Minnesota (Friday and Saturday, Mariucci Arena)
Wisconsin at Ohio State (Friday and Saturday, Value City Arena)
Michigan State at Penn State (Friday and Saturday, Pegula Ice Arena)