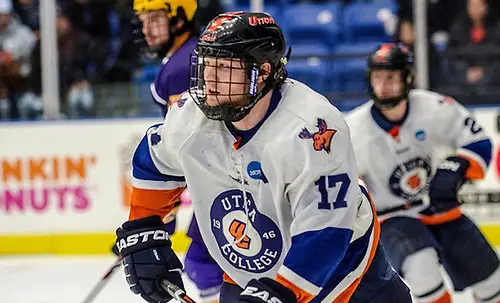 How do you like your finishes?
Down to the wire?
If so, then the race for the ECAC West regular-season championship could be right up your alley.
With two games remaining on the schedule, Elmira and Utica share a top spot tie with identical 9-3-1 conference records.
And although it's a bit of a pity that the two teams won't be facing each other this weekend, fans of each school will simply have to swivel between the Hobart at Elmira and Manhattanville at Utica two-game sets.
Elmira, of course, would like to win another regular-season title. It would be its sixth in seven years.
Utica short-circuited that impressive string last year, winning the league title for the first time since 2004-05, then riding it to a third-place Frozen Four finish.
And if the teams are still tied after the final horns on Saturday, the crown will remain with Utica, thanks to its 2-0-1 edge in head-to-head clashes with Elmira.
How fixed are the Pioneers' sights set on retaining their title?
Not as fixed as they are on simply handling the Valiants this weekend.
"[Our] focus is to win home games," said Utica coach Gary Heenan. "[It's] been our goal all year. Make sure you win your home games."
In other words, take care of one task, the other will take care of itself.
Some thoughts from Elmira coach Aaron Saul on sophomore sniper Jarryd tenVaanholt, whose clutch performances were detailed in this space a week ago.
"He has really turned it on the second half of the season", said Saul. "He is playing with a lot of confidence in his game and always seems to score when we need him to."
Having racked up six points in Elmira's last eight games, ten Vaanholt's skills will be called upon this weekend when the Soaring Eagles, who hope to sew up the league's regular-season title, will finish the schedule with two tilts at home against Hobart.
By the way, Saul reports that those who still wish to purchase items for the Eagles' "Wounded Warrior Project" initiative can still do so by contacting him at [email protected].
Nazareth still battling for postseason
It was a brief respite from the ECAC West cellar for Nazareth, who saw Neumann clamber over them and back into fifth place with a three-point lead.
The teams, who meet twice this weekend to wrap up the regular season, could switch places again, if the Golden Flyers should happen to sweep.
Even so, Nazareth, which has make huge strides in its short, two-year existence, are looking less at pecking order and more at development, of which the young team has shown plenty.
"Obviously we want to improve as a team," said Naz bench boss George Roll. "And with that, I would hope we would continue to improve in league standings. Our primary focus, however, has not been the standings, but rather getting better as we move forward toward the playoffs and we feel we have done that."
Roll doles out plenty of "atta boys" for sophomore goalie Ed Zdolshek, who has helped carry the Flyers during their late season surge.
"Ed has been playing at a high level," Roll said. "Some of that may be attributed to a much-improved team defense, but Ed deserves a lot of the credit for our turnaround. He has may key saves at important junctures of the game and that has allowed us to play with more confidence."