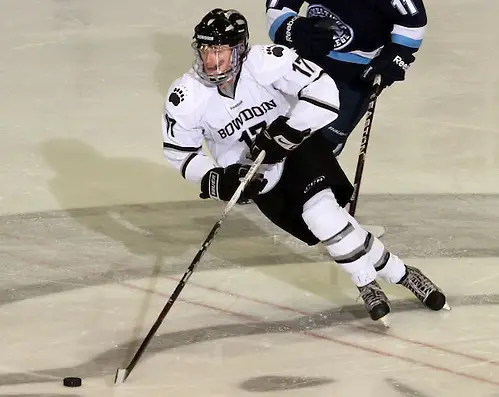 Every year, the last weekend of NESCAC play brings so many scenarios to what the seeding will look like once the final two games of the regular season are completed.
So what do we know heading into the final two games? Not much.
The only confirmed position is Tufts not qualifying for the conference tournament this season, but Amherst found out it's still playing hard and for results having gained a 1-1 tie last weekend that keep the Lord Jeffs two points behind league-leading Trinity.
The Bantams end the season with a home-and-home series with travel partner Wesleyan that means a lot to both teams. For Trinity, staying ahead of Amherst will make them the top seed for the conference tournament, while Wesleyan is battling to move up higher in the standings from their current eight position on the leader board.
In fact, only four points separate fourth-ranked Bowdoin from Wesleyan with Middlebury, Colby and Connecticut College all chasing a potential home-ice berth. Hamilton sits in ninth and is mathematically still alive, but will need to find a way to get points against Williams and Middlebury to keep their playoff hopes above water and get some help from Trinity against Wesleyan.
Virtually everyone has something to play for this weekend and the matchups in the final weekend of the regular season will have everyone playing like it is already the playoffs – fine-tuning the game one last weekend with the hope of finding the consistency that can carry a team to a conference title in just two weeks from now.
So who is hot and who is trying to get back on track?
Trinity enters the weekend having won 11 of its last 12 games and approaching the 100 goals scored mark for the season. They have a 20-point scorer, a 30-point scorer and three, yes three, 40-point scorers. They can beat you with offense or defense and, when on his game, Benjamin Coulthard is about as good as anyone in the conference between the pipes.
Speaking of goaltending, it appears Middlebury might have found its guy at the right time of the season. Liam Moorfield-Yee is just 2-4-1, but has surrendered just a single goal in three of his last four games. Last week's tie at Williams and big overtime win at home the following day may have the Panthers pulling one of their patented tricks of playing their best hockey at the most important part of the season.
Following a 10-game road trip that started in early January with a holiday tournament, Amherst is unbeaten in its last six games and showing that opportunistic style of play that gives opponents lots of difficulties. Trailing Trinity by just two points, the Lord Jeffs have a shot at the top spot, but will need points and quality play back on the road against Middlebury and Williams this weekend.
Look out for the Camels, who have been riding the hot play of goalie Mike Petchonka and are unbeaten in their last five games, including four wins and a tie. They have won at Middlebury and tied Amherst on the road and look forward to Bowdoin and Colby arriving in New London for the weekend's festivities. A hot goalie and timely scoring can take you a long way and right now, coach Jim Ward's team is becoming a very confident bunch and certainly won't be content with being the seventh seed if they can find some key points this weekend against teams perched above them in the standings.
On the flip side, Colby has struggled in its last six games, going just 2-4-0 in that span and have been outscored by a 23-13 margin in those games. The power play has struggled mightily and secondary scoring behind Ben Chwick and Nick Lanza has been difficult to find. The Mules are still very much in the mix, but need to find their game again quickly if they want to have a chance of moving up from the six spot in the standings.
Bowdoin has not won more than two games in a row since mid-January and enter this weekend following a home split with Trinity and Wesleyan where both contests were decided in overtime. The Polar Bears currently have a tenuous hold on the final home-ice berth in the standings, but will need to bring their "A" game on the road against determined teams from Connecticut College and Tufts.
Coaches know to keep their teams focused on the task at hand, but surely will be checking the out-of-town scores frequently to see if anyone is giving their team a little outside help.
It always seems to come down to the final weekend in this conference, so why should this season be any different? There are too many scenarios and tiebreakers to think about right now.
Just expect some great action in these final regular-season games and know that everything will be resolved by the end of the weekend – and who knows what that will look like!