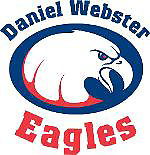 And the Division III college hockey world continues to grow.
Daniel Webster College, located in Nashua, N.H., announced Wednesday that it will add women's hockey for 2014-15 and will elevate it's men's ACHA program to varsity status, also for the '14-15 season.
Wrestling was also added to the school's slate of new programs.
"This is an exciting moment in the history of Daniel Webster College," said school president Dr. Michael Diffily in a statement. "The addition of these three varsity programs exemplifies the college's continued commitment to athletics and provides additional opportunities for student-athletes to compete at the NCAA level."
"This is a major milestone for Eagles athletics," added DWC director of athletics Chris Gilmore. "We look forward to welcoming additional students to our college community in the coming years."
Both hockey programs will compete as NCAA Division III independents next season and will seek affiliations within the ECAC for the 2015-16 school year.
Full-time head coaches are expected to be named in the coming weeks.
Daniel Webster College is a private, co-educational college offering degrees in 17 programs of study that include accounting, business management, health services management, homeland security, sport management, air traffic management, engineering, computer science, game design and psychology.