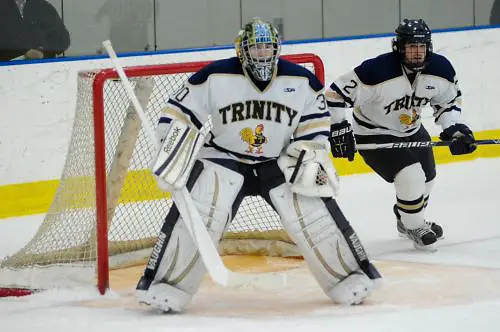 It's time to crown the 2014 Division III conference tournament champions and what better people to prognosticate these important games than our D-III columnists.
The nine teams that take home the titles will have earned them and will taste victory as they never have before.
So who wins? Read on, people. Read on.
ECAC East – Tim Costello
I was all right on the ECAC East playoffs last week, but went wrong on picking their conference partner in the Northeast-10 game over a very deserving Southern New Hampshire team.
The 2-1-0 (.667) pick week assures my finish for the year at 44-24-6 (.635) which is ultimately a miss of my 70 percent target. Just the title game left to pick before resetting for the NCAA tournament.
Here is this week's pick:
Saturday, March 8
No. 2 Babson @ No. 1 Norwich
The Cadets certainly played some of their best hockey in the last meeting of the regular season in Northfield, but still only eked out a 1-0 win. Chris "Czar-nota goal allowed to Babson" will again be looking to outduel the conference goalie and player of the year down at the other end in Jamie Murray. Both teams find the back of the net in this one and the game-winner takes some bonus hockey beyond the 60 minutes of regulation. Norwich 2-1 (OT).
If you can't get there, find the webcast as this game will be sit-on-the-edge-of-your-seat stuff from start to finish – drop the puck!
ECAC Northeast – Nathan Fournier
Saturday, March 8
Wentworth at Nichols
Nichols sophomores have provided the bulk of the scoring this year as Sean Fleming had 12 goals and 20 assists, while Tyler Beasley had 12 goals and 19 assists. Alex Larson was in goal for 14 of their 17 victories. Wentworth has six guys with 10 or more points this season. Both games this season have been competitive and Nichols won both by 5-3 and 4-3 scores. I expect this will be another close game, but I think Nichols comes away with a 5-4 victory.
ECAC West – Dan Hickling
Saturday, March 8
Elmira (15-10-1, 9-5-1) @ No. 13 Utica (16-6-4, 10-4-1) – Elmira 5, Utica 4
Both teams can score like crazy. This one will be likely be decided by a single bounce.
MASCAC – Nathan Fournier
Saturday, March 8
Plymouth State at Salem State
Salem State has won twice this season in the regular season, while the two teams also tied in the other game. Plymouth State is 7-0-2 in their last nine games, while Salem State is 6-2-1 in their last nine. Plymouth State has six guys with 20 or more points this season and Gordon Ceasar has won 10 of the 15 games he has been in net. Salem State has 12 players with 10 or more points. I have Plymouth State coming out on top in a 3-2 game.
MIAC/WIAC – Brian Lester
Two teams are still standing in the MIAC and in the WIAC as well.
On Saturday night, champions in both leagues will be crowned.
St. Thomas and Gustavus Adolphus, the top two teams in the MIAC this season, will square off for the title in their league, while Wisconsin-Eau Claire will take on Wisconsin-Superior in the WIAC championship game. That matchup will feature the third and fourth seeds in the WIAC tournament.
Both games have the potential to go either way and here are some thoughts on both title games, along with my predictions for the weekend.
MIAC
St. Thomas vs. Gustavus Adolphus
For the Tommies, this is their first championship game appearance in four seasons and they are looking to rise to the occasion one more time.
Goalie Drew Fielding has been flat out phenomenal for the Tommies, who are ranked No. 2 in the country, and he will have to be at his best again for St. Thomas to win.
Fielding owns a goals-against average of 1.39 and has allowed only 25 goals all season. He has tallied 583 saves. If he plays at the level he is capable of playing at, the Tommies are going to be tough to stop.
Offensively, the Tommies have a lot of weapons with Alex Altenbernd leading the way with 11 to go along with 13 assists.
Gustavus has a solid goalie as well in John McLean, who has a goals-against average of 1.96. McLean has given up 48 goals and has made 552 saves on the season. He is no doubt capable of getting the job done against the Tommies.
Gustavus has scored 77 goals and Corey Leivermann has racked up 17 goals and 11 assists to pave the way for the Gusties.
Because both teams have such great goalies, this game will be tight. One goal could be the difference in who wins the title. Gustavus is in the championship game for the third consecutive year and I won't be surprised if it wins it. But I'll give the Tommies a slight edge since they are at home. St. Thomas, 2-1.
WIAC
Wisconsin-Eau Claire vs. Wisconsin-Superior
The Blugolds are very good offensively, having tallied 90 goals on the season, and they will go into this matchup as the favorite.
Eau Claire, the defending national champion, went 2-0-1 against the Yellow Jackets this year and will take a lot of confidence into the showdown on Saturday.
Nine players have scored five or more goals, including 11 by Joe Krause, and that balance makes the Blugolds difficult to deal with on the ice.
Eau Claire also has two reliable goalies in Tyler Green (505 saves) and Jay Deo (201 saves) and either one could get the job done in this title game because of how well they play at that position. If the Blugolds get great goaltending again Saturday, they will come out on top.
But you can't discount Superior. The Yellow Jackets swept Wisconsin-River Falls and have some confidence of their own heading into the weekend as they are riding a three-game win streak.
Superior has come through with 70 goals, but has given up 77.
Michael Ray and Pat Dalbec lead the offensive attack with 15 and 12 goals, respectively, and those two will need to step up again for Superior to win the title.
Dayn Belfour continues to improve in goal and has made 357 saves on the season. Superior could also turn to Drew Strandberg if needed.
I won't be stunned if Superior wins the WIAC championship, but I always go with the current champs until proven otherwise. Eau Claire, 4-1.
NCHA – Katie Carito
Saturday, March 8
St. Scholastica at St. Norbert
The Harris Cup trophy is on the line this week as an NCHA playoff champion will be crowned. St. Norbert (24-3-1) downed Lake Forest last weekend in the semifinals with a 6-0 score. St. Scholastica (16-8-4) beat Adrian 4-3. I think it'll be a tight game between the squads, but I think the Green Knights are on a mission and will take the win. St. Norbert 2-1
NESCAC – Tim Costello
What a surprise – not really – that in perhaps the most competitive conference in the country, I go 2-2-0 (.500) in the quarterfinals last weekend.
Those results left my overall season at 47-20-8 (.680), so the semifinals and predicted final result are all I have left to get as close to 70 percent success as possible. Going to be great hockey this weekend in Hartford where Trinity hosts Bowdoin for the very first time on campus.
Here are the picks:
Saturday, March 8, 2014
No. 5 Bowdoin @ No. 1 Trinity
Both games in the regular season went to Trinitym but the last get-together in Brunswick saw bonus hockey, albeit for 24 seconds, in the Bantams' 5-4 win. This game has all the makings of a great, fast-paced offensive showcase and the fans will not be disappointed. Benjamin Coulthard makes one more save than Max Fenkell and an empty-net goal seals the final score for the host Bantams against the defending champions who bring their "A" game. Trinity 5-3.
No. 3 Williams @ No. 2 Amherst
The two teams split in the regular season and both have the ability to grind it out and play it very close. Special teams may actually be the difference in this one as both goaltenders have been outstanding all year and it may take an extra guy on the ice to find some open space for that big goal. I wouldn't tighten the skates too quickly in the Trinity and Bowdoin locker rooms as this one could very well see an overtime session or two. Amherst 2-1.
Sunday, March 9, 2014
No. 2 Amherst @ No. 1 Trinity
Obviously, if I am wrong about Saturday, this preview and prediction won't mean a thing.
But if I am right (there is always hope), the final will be an opportunity for Trinity to avenge two losses in the regular season that represent half of their season total.
It is a classic matchup of offense vs. defense and while I usually believe defense wins out, this one goes to the home team with firepower and the conference player of the year in Jackson Brewer, who is fast approaching the 60-point mark for the season. Trinity gets up early and holds on to win the conference title and likely cements its No. 1 seeding in the East for the NCAA tournament. Trinity 4-2.
Ultimately, this is what the teams play for, a chance to claim a conference championship – drop the puck!
SUNYAC – Dan Hickling
Saturday, March 8
No. 10 Oswego (19-6-2, 10-5-1) @ No. 10 Geneseo (21-5-0, 14-2-0) – Geneseo 4, Oswego 3
Genny has never had a season like this one. Don't expect it to be short-circuited now.