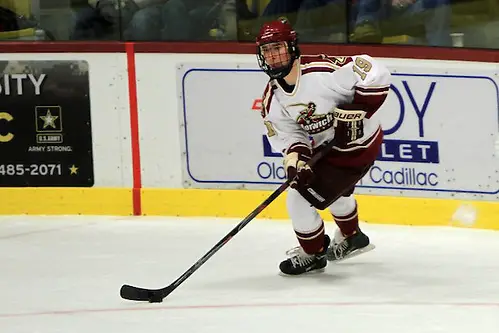 Having been to the last four consecutive Frozen Fours, Norwich is familiar with the challenges that lie ahead in the upcoming NCAA tournament.
That said, this new and younger version from Norwich finds itself with not only an at-large invite, but also a first-round game on Wednesday night against the MASCAC champions from Salem State.
The Vikings are a team the Cadets played regularly in the old ECAC East and interlocking schedule with the NESCAC, but have not seen Bill O'Neill's team since the 2008-09 season and the formation of the MASCAC.
"Yes, it has been awhile since we have seen Salem State," stated Norwich coach Mike McShane. "I watched their game on film and they really have some guys like [Chris] Mastropietro and [Eric] Defelice that really handle the puck very well and have some serious skills. Their goalie [Ryan] Sutliffe has been playing pretty well and they have been a very good team over the last month or so. At this point, everyone is here for a reason, so we aren't going to take anyone lightly. I have known Billy [O'Neill] for a long time and he is a very good coach that will have his guys ready to play. We will be ready for a tough opponent."
Despite Saturday night's tough 2-1 loss to Babson in the ECAC East conference final, McShane thinks his team is playing well and should be confident entering the national tournament this week.
"We just couldn't finish on a number of chances and that came back to bite us in the end," noted McShane. "We had a number of missed opportunities and misses of the net, especially in the second period that hurt us. That second goal would have been big. Territorially, I thought we controlled a lot of the play and did the things we wanted to do except, of course, scoring. If we can keep playing with that level of confidence and get a few pucks to go in, we will be fine on Wednesday. A few years ago we had a play-in game with Wentworth and then went to Plattsburgh for the quarterfinal, so we have been down this road before, but it was a few years ago and this is a different team this year."
Should the Cadets win on Wednesday night, the outcome of the Geneseo-Nichols game will determine their next opponent and of course, the location of the game. All of this activity since the seedings came out late on Sunday night has certainly got people on the go in Northfield preparing for Wednesday night and then mobilizing quickly if they win for whatever needs to happen on Saturday.
"There isn't a lot of time to get ready for the first-round game," McShane said. "We have a lot of people in the athletic department running around getting prepared for the home game on Wednesday night. That is all we are focused on right now from a hockey perspective. They [Salem State] come here with the same expectations we do in trying to win a hockey game, so we aren't going to focus on anything but a good practice today and being ready to go tomorrow night. Whatever happens after that, we will figure out like we have done so far this week."
The Cadets are looking to play in their fifth straight Frozen Four and are going to have to win two games to make that dream and a trip to Maine a reality. The road may not be an all-too-familiar one, but at least it starts at the place they call home in Kreitzberg Arena and that is a great place for the Cadets to start the journey.