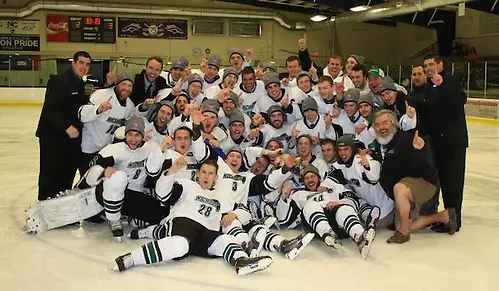 Nichols qualified for the NCAA tournament last weekend, but it wasn't without its share of drama or stress.
Brett Jackson's game-winner 1:41 into overtime lifted the Bison to a 3-2 win over Wentworth in the ECAC Northeast championship game.
The game nearly made Nichols coach Kevin Swallow bald.
"I think had it had gone much deeper into overtime, I would probably pulled all my hair out or it would have fallen out from nerves," Swallow said. "It was intense."
The Bison are 18-6-3 overall this season after going going 16-9-1 last season before falling in the ECAC Northeast semifinals last season.
"Our goal from day one here was to win the league championship," Swallow said. "To accomplish it in my second year in program, I am pretty excited about that and I think it's a sign of things to come for our program."
Nichols will be traveling to Geneseo, who lost in the SUNYAC championship 7-6 against Oswego last Saturday, in the first round on Wednesday.
"It was a long day [last Sunday] trying to guess who we would be playing and seeing who's in and who's out," Swallow said. "It was a long day – a lot of nerves with that as well where we were going where we are traveling on Wednesday."
The last time Nichols was in the NCAA tournament was in the 2008-09 season where the Bison fell 3-0 against Hobart in the first round.
Swallow said Monday was busy and he didn't have too much time to do research on Geneseo. He said he had conferences all day and practice, but did get in touch with a few coaches.
"It's exciting and they are a very good hockey team," he said. "They had a great year winning the SUNYAC in the regular season. It's going to be an absolute battle for us."