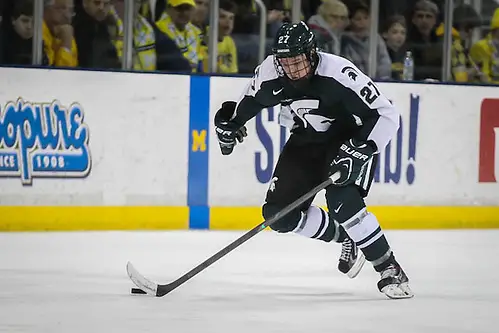 With Minnesota winning the first Big Ten title and the regular season behind us, it's time to head straight to the championship tournament.
And with only six teams in the league, having all six participate without any preliminary playoffs seems like a logical choice for the format. For some teams, the lack of play-in is a distinct advantage.
Big Ten tournament
See the tournament bracket and get links to schedules and stories at Big Ten Playoff Central.
"I think given our team — let me speak very frankly — given our team, if we had to go to Wisconsin and play two out of three, I think it's a bigger challenge than going and playing one-and-done situations," said Michigan State coach Tom Anastos. "It might be advantageous to us."
When the regular season ended for the Spartans with a 4-3 home loss to Wisconsin last Saturday night — an excellent game in which Michigan State battled back after being down 4-0 — Anastos, who served as CCHA commissioner from 1998 to 2011, had some interesting insight regarding an event that has no history.
"I've been really impressed with what the Big Ten's done all season," said Anastos. "I'm anxious to see the event, see how it goes. The competition, I'm sure, will be excellent."
There's no question that the competition will be excellent. When I covered the CCHA, I tired of hearing the word "parity" bandied about, a word so overused that it lost its meaning. While there is no real parity in the Big Ten — there are clear haves and have-nots in this first season — each team brings with it certain advantages to a single-elimination format.
"I think that there's a disparity in skill and talent right now," said Anastos. "We're rebuilding our team. Penn State's a newer program. Ohio State has been emerging a year or so ahead of us, so hopefully that gap will shrink. At the same time, competitively, especially in this kind of format, anybody can beat anybody in this league, without a question. Without a question."
Anastos said that being a favorite in the field — like Minnesota and Wisconsin, who earned first-round byes — is a higher-stakes position than the one that the Spartans hold heading into St. Paul.
"That's what makes it very difficult," said Anastos. "We're going into the tournament [in a lower position] but I can imagine what it feels like if you're a favorite. I've been in positions when we were favored, and there's a certain amount of pressure on you and different teams will feel different sets of pressures."
Different pressures, said Anastos, like those Michigan is facing.
"They're on the bubble right now," he said. "I know in the CCHA, when I wasn't coaching and I was watching, I don't think it was a coincidence that you saw teams that were solidly entrenched in the NCAA tournament at times not playing with the same level of desperation of a team that needed that event to get them in or secure a spot in the tournament. So desperation means a lot."
Given that Penn State, Michigan State and Ohio State absolutely need to win the Big Ten championship to secure a place in the NCAA tournament and Michigan's fortunes are tenuous, Anastos joked that there will be "a lot of desperation" in the Xcel Energy Center this weekend.
In the first round Thursday night, the Spartans face Ohio State, whom they've tied three times and lost to once this season. Buckeyes coach Steve Rohlik was unabashed this week in his enthusiasm for the tournament.
"I think there's a lot of excitement, to be honest with you," he said. "For me, personally, I know what the old WCHA Final Five was over the last 10 years. The atmosphere, the venue, the area — it doesn't get much better.
"I think that a lot of people are anticipating the Big Ten. They know that all six teams are going to be there, they've known that all year, which I think is a good thing. I think it's going to be really exciting. I think people are going to probably walk away from there and kind of understand what this league and what this tournament could mean."
The Xcel Energy Center itself, said Rohlik, adds to the experience for the players.
"You're on a big stage, unbelievable venue, great atmosphere," he said. "It's kind of what you dream of when you're a kid growing up, to lace them up and play on a big stage like this. I know we're real excited to get there."
The No. 5 Spartans and No. 4 Buckeyes face off at 7 p.m. CDT Thursday night after the 2 p.m. game between No. 6 Penn State and No. 3 Michigan. The Nittany Lions and Wolverines split their four-game season series 2-2 with each team taking one game on the road.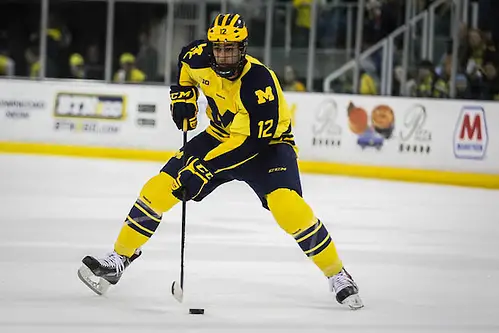 When the Wolverines split with Minnesota last weekend — losing 3-2 in overtime Friday before crushing the Gophers 6-2 Saturday — coach Red Berenson said that his team proved that it could play with the top team in the country, something essential heading into the Big Ten tournament.
"I liked our team," Berenson said after the loss. "If we played like that every night, we wouldn't be sitting where we are."
After Saturday's win, Berenson said: "We proved we aren't out of place with these teams, and I don't know how many of those teams are in that bracket, but everybody is good at this time of year. Whether you are a first-place team or a last-place team, they are all good and particularly going into playoffs, so they are all better than they were at the start of the year."
As their most recent encounter with the Nittany Lions was a home series that included a 5-4 overtime loss on Feb. 21, there's no chance of the Wolverines overlooking a last-place opponent when the puck drops Thursday afternoon.
And the Nittany Lions ended their regular season on a high note, defeating Ohio State 4-2 last Saturday, a win coach Guy Gadowsky called "a fitting ending" given how far his team has come this season.
The winner of the Penn State-Michigan game will advance to play No. 2 Wisconsin at 2 p.m. Friday, and either the Spartans or the Buckeyes will advance to take on No. 1 Minnesota at 7 p.m. Friday.
The Big Ten title game is at 7 p.m. Saturday.
Here's a quick look at each team heading into the tourney.
No. 1 Minnesota
The Golden Gophers needed two points against Michigan last weekend to secure the regular season title, and Minnesota took three points away from Ann Arbor last weekend. The Gophers beat the Wolverines in overtime 3-2 Friday night. Kyle Rau's goal at 2:44 in OT was especially welcome since the Gophers had not been successful once in a Big Ten shootout this season.
• Record: 25-5-6
• Last 10 games: 6-3-1
• Goals scored per game: 3.47, sixth nationally
• Goals allowed per game: 2.00, third
• Power-play percentage: 19.6, t-22nd
• Penalty-kill percentage: 82.6, 28th
• Top scorer: Kyle Rau (11-22–33)
• Top goal scorer: Seth Ambroz (13-8–21)
• Top goaltender: Adam Wilcox (1.91 GAA, .934 save percentage)
The Gophers score by committee, without a go-to player or go-to line all season to help turn a game. That has been both an advantage and a disadvantage; every team wants a reliable standout, but for this Minnesota team, not having a superstar has helped role players develop into solid — if not rotating — game-makers.
Where is Minnesota suspect? Special teams. The Gophers play better when they play five-on-five.
Incidentally, the Gophers lead the nation in the PairWise Rankings heading into the weekend and seem locked into the No. 1 overall seed. Regardless of where they finish in the Big Ten tournament, their season won't be done Saturday.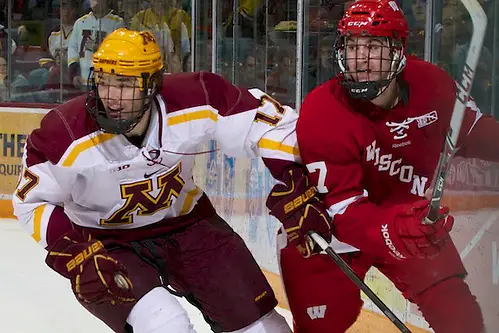 No. 2 Wisconsin
The Badgers finished the regular season with a road split against Michigan State, losing 5-4 in overtime Friday and winning 4-3 Saturday. In Saturday's game, Wisconsin dominated in the first period only to see their four-goal lead evaporate in the final 40 minutes.
The overtime loss to Michigan State marked the second time in as many weekends that the Badgers were played to OT by a team near or at the bottom of the Big Ten standings. While they swept Penn State on the road March 7-8, the Badgers needed overtime for their 3-2 win in the second game.
• Record: 22-10-2
• Last 10 games: 8-2
• Goals scored per game: 3.26, 11th nationally
• Goals allowed per game: 2.50, 17th
• Power-play percentage: 17.5, 32nd
• Penalty-kill percentage: 83.8, 18th
• Top scorer: Mark Zengerle (9-30–39)
• Top goal scorer: Michael Mersch (20-13–33)
• Top goaltender: Joel Rumpel (2.00, .931)
After having to play their way into the NCAA tournament in 2012-13 by winning three games to take the WCHA title, the Badgers are happy to have a first-round bye in this field. Wisconsin was picked in preseason by the Big Ten coaches to finish first in the conference, and for good reason: Of all the teams in the league, the Badgers seem to have all the ingredients necessary to be a top team. Their offense is potentially explosive, their defense is often steady and their goaltending is very, very good.
Wisconsin's downfall this season has been its road play, with just five wins away from home, but that speaks to a lack of overall consistency in play. Regardless, the Badgers seem to have come together well in the second half, peaking at just the right time. Wisconsin sits at No. 5 in the PairWise heading into the Big Ten tournament.
No. 3 Michigan
While this Michigan team is decidedly better than last year's squad, it too has suffered from a lack of consistency, especially in the defensive end. There is some youth there but perhaps, too, a little bit of not playing up to its potential.
The Wolverines are No. 11 in the PairWise Rankings coming into this weekend, a precarious position. One win, at least, would greatly improve their chances.
• Record: 18-12-4
• Last 10 games: 4-5-1
• Goals scored per game: 3.12, 20th nationally
• Goals allowed per game: 2.56, 20th
• Power-play percentage: 20.2, 17th
• Penalty-kill percentage: 81.4, 36th
• Top scorer: JT Compher (11-20–31)
• Top goal scorer: Andrew Copp (15-14–29)
• Top goaltender: Zach Nagelvoort (2.26, .925)
Michigan's inconsistent offense has been perhaps its most disappointing feature this season. Everyone knew that the defense would be young, but there are several forwards on this team that just haven't matched their totals from last season.
That having been said, the Wolverines have scored three or more goals against each of their last seven opponents and have done so against Wisconsin twice.
When Zach Nagelvoort gets the support he needs, these Wolverines are very dangerous.
No. 4 Ohio State
This is a fun team to watch with an offense that can sometimes be dazzling.
• Record: 16-13-5
• Last 10 games: 2-4-4
• Goals scored per game: 3.21, 14th nationally
• Goals allowed per game: 2.74, 30th
• Power-play percentage: 21.5, 10th
• Penalty-kill percentage: 78.0, 50th
• Top scorer: Ryan Dzingel (20-23–43)
• Top goal scorer: Dzingel
• Top goaltender: Christian Frey (2.29, .930)
Last weekend, the Buckeyes split a pair of 4-2 road games with Penn State. In the Saturday loss, the Buckeyes did something they have done too often this season: give up a goal before the game was five minutes old.
They were down 2-0 before the seven-minute mark. In their last four losses dating to Feb. 15 against Wisconsin, the Buckeyes gave up nine first-period goals, two in three games and three against Penn State. A slow start will kill them Thursday.
The good news for Ohio State is the play of freshman goaltender Christian Frey, who joined the team at midseason. In order to make the NCAA tournament, the Buckeyes will need to win the Big Ten tourney.
No. 5 Michigan State
The Spartans have to be the most tenacious team I've seen in years. Last weekend, Michigan State split with Wisconsin, very nearly knotting the second game, a 4-3 loss, with an absolutely stunning performance in the final 40 minutes to come back from a four-goal deficit.
That is Michigan State's secret weapon; what the Spartans may lack in skill, they make up for in grit and discipline.
• Record: 11-17-7
• Last 10 games: 3-4-3
• Goals scored per game: 2.23, 53rd nationally
• Goals allowed per game: 2.60, 22nd
• Power-play percentage: 16.2, 41st
• Penalty-kill percentage: 79.1, 48th
• Top scorer: Greg Wolfe (12-18–30)
• Top goal scorer: Wolfe
• Top goaltender: Jake Hildebrand (2.46, .923)
What the Spartans have lacked for most of the season is an ability to put the puck in the net. While they lost 7-1 to Michigan March 7, they scored 12 goals in three games against Michigan and Wisconsin since then — and that's following a 11-game stretch (counting that 7-1 game) in which the Spartans scored two or fewer goals against their Big Ten opponents in each game.
Low in the PairWise, Michigan State needs to take the Big Ten championship to advance to the NCAA tournament.
No. 6 Penn State
The Nittany Lions may be in last place in the Big Ten, but they will not be taken for granted by anyone they face this weekend, especially their first-round opponent, whom they've beaten twice.
• Record: 7-25-2
• Last 10 games: 2-7-1
• Goals scored per game: 2.26, 51st nationally
• Goals allowed per game: 3.71, 54th
• Power-play percentage: 18.4, 26th
• Penalty-kill percentage: 80.9, 39th
• Top scorer: Eric Scheid (11-9–20)
• Top goal scorer: Scheid
• Top goaltender: Matthew Skoff (3.17, .898)
It would be easy to dismiss a team with three Big Ten wins this season, but as Anastos noted, this is a one-and-done situation and anyone — really, anyone — can beat anyone else on any given night in this league.
Penn State enters this tournament with nothing whatsoever to lose and with plenty of confidence and momentum. The Nittany Lions have shown enormous improvement in their past five or so series, and ending the season with a 4-2 home win over Ohio State — a team that previously had Penn State's number — can only help their determination.
This is not a team with household names, but there is skill here and no one should doubt the ability of goaltender Matthew Skoff, no matter what his numbers say.
Like the Buckeyes and the Spartans, the Nittany Lions need to win this tournament outright to advance to the NCAA tournament.
Players of the week
This week's honors are brought to you by the letter "M."
First star — Michigan State junior forward Matt Berry: Berry had three goals in Michigan State's split with Wisconsin, including two in the Spartans' 5-4 overtime win Friday night. He tied for fourth in the Big Ten with eight goals in conference play. Berry has played in 22 games this season; he had 15 goals in 41 contests in 2012-13.
Second star — Michigan sophomore forward Andrew Copp: Copp had two goals and an assist in Michigan's split with Minnesota, netting one in each game and assisting in Saturday's 6-2 win. Copp is tied for third among Big Ten players with 15 goals in 32 games played, four more goals than he scored in 38 games in 2012-13.
Third star — Minnesota sophomore defenseman Brady Skjei: Skjei had three goals in Minnesota's road split with Michigan, including the first goal in the Golden Gophers' 3-2 overtime win Friday, the game that gave Minnesota the first Big Ten regular season championship. His three-goal performance doubled his season total in the 35 games he's played. Last season, Skjei had a single goal in 36 games.
Honors for the year
The Big Ten this week announced its first postseason honors:
First team
Ryan Dzingel, F, Ohio State
Michael Mersch, F, Wisconsin
Mark Zengerle, F, Wisconsin
Mike Reilly, D, Minnesota
Jake McCabe, D, Wisconsin
Adam Wilcox, G, Minnesota
Second team
JT Compher, F, Michigan
Kyle Rau, F, Minnesota
Nic Kerdiles, F, Wisconsin
Mac Bennett, D, Michigan
Frankie Simonelli, D, Wisconsin
Joel Rumpel, G, Wisconsin
All-freshman team
JT Compher, F, Michigan
Hudson Fasching, F, Minnesota
Nick Schilkey, F, Ohio State
Michael Downing, D, Michigan
Drew Brevig, D, Ohio State
Christian Frey, G, Ohio State
Player of the year Adam Wilcox, G, Minnesota
Defensive player of the year
Mike Reilly, D, Minnesota
Freshman of the year
JT Compher, F, Michigan
Coach of the year
Don Lucia, Minnesota
My ballot
For what it's worth.
1. Minnesota
2. Boston College
3. Union
4. Ferris State
5. Wisconsin
6. Quinnipiac
7. Massachusetts-Lowell
8. St. Cloud State
9. Providence
10. North Dakota
11. Minnesota State
12. Colgate
13. Cornell
14. Michigan
15. Vermont
16. Notre Dame
17. Northeastern
18. New Hampshire
19. Yale
20. Ohio State
And thanks for a great first season
Covering Big Ten hockey in its first season has been more fun than I could have anticipated. Not only have I had the opportunity to meet great hockey fans from three schools I did not previously cover regularly, but I've had the chance to watch the birth of a new league, the rebuilding of two programs with which I was already familiar, the second-year growth of a Division I team led by an old hockey friend and some intense conference hockey in the second half of the season.
I cannot say enough about how well the Big Ten itself has handled this first season of play. The conference is first class, and everyone I've dealt with from the Big Ten has been professional and helpful. A specific thanks goes out to Adam Augustine, associate director of communications for Big Ten ice hockey. Adam's a true pro and a genuinely nice guy.
The six Big Ten coaches have been especially generous with their time this season, too. Each knows the importance of appearance in this inaugural season, but — again — I cannot say enough about how professional, helpful and personable each has been. The same goes for each team's sports information director.
Closer to home, I owe huge thanks to my long-suffering editor, Todd Milewski, who really is the wizard behind the curtain at USCHO.com. Thanks also to my partner-in-writing, Drew Claussen, with whom I've shared Big Ten writing duties this season, and to everyone at USCHO who contributed to recap editing and all else that goes on behind the scenes.
Even closer to home than that, I cannot tell you how thankful I am that I have a hockey-loving significant other. My very understanding beau, RJ, may be the most patient man I've ever met. He never complains about the considerable amount of time that college hockey occupies in my life. That we argue endlessly about the shootout is something we've both come to terms with.
I won't be covering the Big Ten tournament this weekend; USCHO needs me in Grand Rapids to cover the WCHA tourney, which will feel in many ways like old times. With Bowling Green and Ferris State in the field, I will get the opportunity to see familiar faces.
And may I add that I'm delighted that so many former CCHA teams survived their playoff series to advance to conference championships this weekend. With Michigan, Michigan State and Ohio State also playing this coming weekend, there are eight former CCHA teams still alive, playing for four different conference titles. I'll be keeping an eye on every one of them and hoping to see at least a couple down the road in the NCAA tournament.
Thank you all for your company this season. If you see me around the rinks, do say hello.