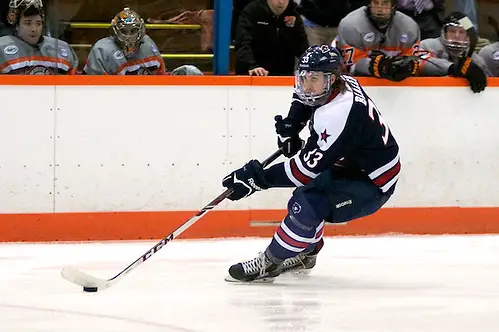 As Chris Lerch pointed out earlier this week, home teams won 28 of the first 29 Atlantic Hockey best-of-three postseason series.
The one outlier became three last season when Canisius and Mercyhurst both advanced through the playoffs, becoming the lowest seeds to ever advance to the AHA championship.
Atlantic Hockey playoffs
See the tournament bracket and get links to schedules and stories at Atlantic Hockey Playoff Central.
If Cinderella's glass slipper fit last year, nearly everybody went to the same cobbler this time around.
Three road teams defeated higher-seeded teams in the quarterfinals, setting up an unlikely championship weekend as the league heads to Rochester, N.Y., for its final three games.
When the dust settles Saturday night, one team will have an automatic bid to the NCAA tournament's field of 16, the lone representative with a chance to advance to Philadelphia.
Among those teams and possibly the least likely is Robert Morris. The Colonials opened the season with a 2-12-2 record through the Christmas break.
Then the calendar switched to 2014 and Robert Morris changed its attitude.
The team ripped off a 15-5-3 record to pull back to .500 at 17-17-5, and after last week's sweep of Connecticut, the Colonials advanced to their first AHA semifinal since joining the league in 2010.
"We really found our way at the start of 2014, and our guys really bought into the new year," Colonials coach Derek Schooley said. "It's paid off, and now they're getting rewarded [with a trip to Rochester]."
Robert Morris is the second-highest remaining seed despite finishing fifth in the league's regular season. It earned its way through by defeating Army in three hard-fought games, then by sweeping the Huskies in Connecticut last weekend.
"This has been a real credit to the players," said Schooley. "They really kept the faith and turned things the right way. After that first half of the year, it would've been easy for them to hang their heads, but we knew we could be better.
"We haven't been .500 all year, and we've clawed back heading to Rochester. But we know it's only one goal to get here. We can't look back at what we've done. We can only look forward to Friday. It's single elimination the rest of the way."
Robert Morris will face former College Hockey America rival Niagara on Friday. The sixth-seeded Purple Eagles upset third-seeded Air Force on Sunday with an overtime winner.
The other game will feature top-seeded Mercyhurst, which advanced by sweeping Holy Cross, against seventh-seeded Canisius in a rematch of last year's AHA championship game. Canisius beat Bentley in three games to advance.
"We're all so familiar with one another," said Schooley. "There were no nights off down the stretch, and that's something that can give us some type of advantage. We know we played some really challenging teams, and we had to battle every night.
"The Eastern teams were much better this year in the interdivisional games, and it taught us the right frame of mind to approach the top teams."
Mercyhurst and Canisius face off at 4:05 p.m. EDT, while Robert Morris and Niagara are slated for 7:35 p.m. from the Blue Cross Arena in Rochester.
Semifinals scouting report
No. 7 Canisius vs. No. 1 Mercyhurst
The question of who would be "this year's Canisius" was answered this past weekend — by Canisius. The defending league postseason champions executed strong defense and team resolve in coming back to defeat the second-seeded Bentley Falcons in Massachusetts last weekend.
The series featured two overtime games: Canisius blew a one-goal lead with 26 seconds left in Game 1, then lost 40 seconds into overtime; Bentley blew a 4-1 lead after two periods in Game 2, then watched a grueling night at Ryan Arena turn to the Griffins, who won at 6:59 of the second overtime (exactly one second short of tying their program's longest game). Canisius then rallied from down 2-1 to win the third and decisive game 3-2 on Sunday.
Compare that to the Lakers, a team on a mission this year after losing 7-2 in the AHA championship to the Griffs. The Lakers won 19 regular season games and pulled away with the league's regular season championship with a 17-4-6 league record.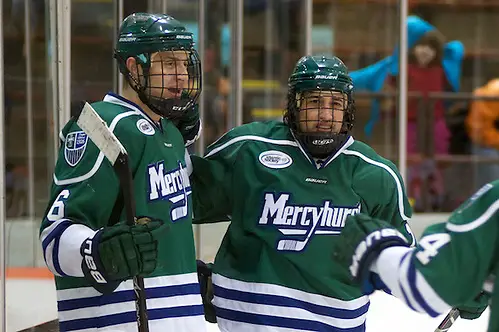 They, too, rallied in overtime last weekend, scoring in the last minute of the third and first minute of extra time to beat Holy Cross in the first game of their series. Mercyhurst dispatched the Crusaders on Saturday with a 4-1 victory.
This is one of those heated AHA rivalries that will reach an inferno level in Rochester. They've played 56 times, with the Lakers holding a slim 27-21-8 edge. But Canisius won the last three postseason meetings, sweeping the Lakers at Mercyhurst in the 2009-10 season before last year's title game blowout.
It'll be a great display of goaltending with the Lakers sending first team all-AHA netminder Jimmy Sarjeant against playoff hero and battle-tested Canisius goalie Tony Capobianco.
Sarjeant has a .923 save percentage on the season, while Capobianco made 80 saves in the Griffs' two wins over Bentley.
But in terms of being tested, it'll be a stark contrast in the offenses facing those goalies. Mercyhurst averages 3.6 goals per game, including 3.96 in conference play. Canisius averages 3.0 goals per game, but it averages under 30 shots per game.
If this game is tight in the third period, it'll be advantage Griffins — Canisius is minus-3 in scoring margin on the season but plus-8 in the third period, while the Lakers are just plus-3 in the same period. That said, Mercyhurst played only three one-goal games and went 15-3 in games decided by two goals or more.
No. 6 Niagara vs. No. 5 Robert Morris
The Colonials and Purple Eagles joined Atlantic Hockey four years ago after College Hockey America disbanded. They met in their second year in the league together, in 2012, with Niagara sweeping RMU in western New York.
They were the fourth and fifth times the Purple Eagles beat the Colonials in postseason play overall, having eliminated them in single-elimination games in 2005, 2006 and 2008. Robert Morris' only playoff win against Niagara came in 2009.
But if there's one year for Robert Morris to reverse history's trend, it's this year. The Colonials are the hottest team in Atlantic Hockey, having won 15 games in the second half of the year to draw back to .500 overall. In the process, they swept the league's best defense out of Atlantic Hockey altogether, defeating Connecticut in the final games the Huskies played before departing for Hockey East.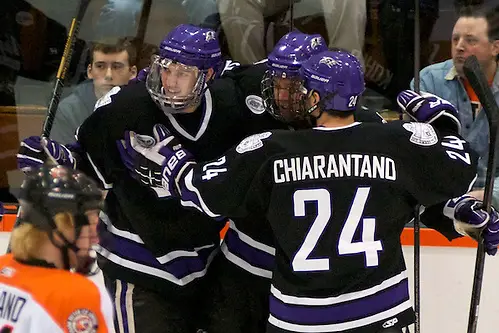 These are two teams that consistently pull the trigger. The Colonials average 35.4 shots per game; Niagara shoots an average of 33.5 times per game. The difference is in their success rate: Robert Morris ranks third in the league with 3.33 goals per game while Niagara ranks sixth at 2.79.
The Colonials have two of the more dynamic players in the league in Cody Wydo (26 goals and 47 points) and Zac Lynch (18 goals and 41 points). Hugo Turcotte is the leading scorer for Niagara, but his 27 points would rank fourth among Colonials players.
In terms of defense, the two teams are virtual doppelgangers. They rank next to each other in terms of team defense in league play, and both have young goalies being tested in the postseason for the first time (sophomore Terry Shafer for Robert Morris and freshman Jackson Teichroeb for Niagara).
If there's a hole to watch, it's on special teams. Niagara's penalty kill struggled this year, killing at a rate just under 80 percent overall and just over that mark in AHA play. Robert Morris is in the same boat, though: The Colonials once ranked dead last in penalty kill to start the year, and their 75 percent PK unit ranked 56th out of 59 teams in Division I.
One is the loneliest number
With Robert Morris advancing to the AHA's final four, only one team is left having never advanced to the AHA's final weekend: American International.
The Yellow Jackets won single-elimination games to advance to the quarterfinals during the 2004 and 2007 postseasons, but they lost in both those rounds. They've never won a best-of-three series in the AHA, and they never qualified for the playoffs in the league's MAAC era.
If nothing else, that puts an even larger point of emphasis on their recent growth, but it highlights something they still have to overcome.
Beyond AIC, the longest final four drought is owned by the Army Black Knights, who haven't qualified since 2008, and Bentley, who last made it in 2009. In contrast, Mercyhurst advanced to four of the five MAAC championship weekends, and it has missed only three AHA final weekends.
What does making it mean to a school? "I know it's pretty big for our university," Schooley said. "We had a great turnout of [Robert Morris] students in Connecticut, and our band came and showed up. We'll have a good amount of people traveling this weekend, and that pumps up our guys."
Players of the week
Offensive player of the week — Mitch McCrank, Canisius: Give credit where credit is due: McCrank stepped up in a big way and scored all three goals to send the seventh-seeded Griffs through to their second straight AHA semifinal round. He potted two assists in the double-overtime Game 2 victory.
Goalie and rookie of the week — Dalton Izyk, Robert Morris: Izyk was forced into duty when Shafer was injured against Army. Shafer was listed as day-to-day throughout the week, but Schooley made the decision to go to his freshman backstop for a quarterfinal series, on the road, against the league's incumbent best goalie. Izyk responded with a 33-save shutout in Game 1. He then made 16 third-period saves to preserve a one-goal win as UConn outshot the Colonials 16-7 in a frantic attempt to avoid being swept. Suffice to say that'll keep his coach happy heading into Rochester.
And the winner is …
As is tradition with the final column of the year, Chris and I are handing out our awards for the best players in Atlantic Hockey. The league handed out its all-rookie and all-conference teams last week, so the drama of this is stifled a bit.
Despite this, Chris and I devised our own. We're similar in some regards, different in others. The toughest part of this was noting whether certain players who didn't play every game but were dominant over stretches of time were more deserving than players who started more frequently.
The argument at hand is the case of goalies Robby Nichols of Connecticut and Chris Truehl of Air Force against Mike Rotolo of Rochester Institute of Technology.
Note that we never talked to each other during this whole process.
All-AHA first team
Dan:
F Brett Gensler, jr., Bentley
F Alex Grieve, jr., Bentley
F Cody Wydo, jr., Robert Morris
D Steve Weinstein, jr., Bentley
D Nick Jones, sr., Mercyhurst
G Jimmy Sarjeant, jr., Mercyhurst
Chris:
F Brett Gensler, sr., Bentley
F Alex Grieve, jr., Bentley
F Cody Wydo, jr., Robert Morris
D Steve Weinstein, jr., Bentley
D Nick Jones, sr., Mercyhurst
G Jimmy Sarjeant, jr., Mercyhurst
All-AHA second team
Dan:
F Cole Gunnar, jr., Air Force
F Andrew Gladiuk, so., Bentley
F Matt Zay, sr., Mercyhurst
D Ben Danford, sr., Canisius
D Matt Blomquist, so., Bentley
G Branden Komm, sr., Bentley
Chris:
F Andrew Gladiuk, so., Bentley
F Jon Puskar, sr., American International
F Matt Zay, sr., Mercyhurst
D Matt Blomquist, so., Bentley
D Kevin Ryan, sr., Niagara
G Branden Komm, sr., Bentley
All-AHA third team
Dan:
F Daniel O'Donoghue, sr., Mercyhurst
F Zac Lynch, so., Robert Morris
F Jon Puskar, sr., American International
D Kevin Ryan, sr., Niagara
D Adam McKenzie, sr., Air Force
G Matt Ginn, sr., Holy Cross
Chris:
F Kyle Gibbons, sr., Canisius
F Cole Gunnar, jr., Air Force
F Daniel O'Donoghue, sr., Mercyhurst
D Ben Danford, sr., Canisius
D Adam McKenzie, sr., Air Force
G Matt Grogan, sr., Connecticut
All-AHA honorable mention
Dan: David Norris (AIC), CJ Reuschlein (Army), Brett Switzer (Bentley), Matt Grogan (UConn), Adam Schmidt (Holy Cross), Drew George (Sacred Heart)
Chris: Chad Demers (Air Force), Doug Jessey (Canisius), Zac Lynch (Robert Morris), Ryan Misiak (Mercyhurst), Dan Schuler (RIT), Terry Shafer (Robert Morris)
All-AHA rookie team
Dan:
F David Norris, AIC
F Justin Danforth, Sacred Heart
F Max French, Bentley
D Vince Muto, Niagara
D Mitch Nylen, Sacred Heart
G Mike Rotolo, RIT
Honorable mention: Mike Barrett (Holy Cross), CJ Reuschlein (Army), Jeff Carroll (Sacred Heart), Robby Nichols (UConn), Brent Norris (UConn), TJ Sarcona (Niagara), Chris Truehl (Air Force)
Chris:
F David Norris, AIC
F CJ Reuschlein, Army
F TJ Sarcona, Niagara
D Vince Muto, Niagara
D Mitch Nylen, Sacred Heart
G Chris Truehl, Air Force
Honorable mention: Mike Barrett (Holy Cross), Jeff Carroll (Sacred Heart), Justin Danforth (Sacred Heart), Max French (Bentley), Robby Nichols (UConn), Brent Norris (UConn)
The final word
Perhaps the worst part of the Rochester weekend coverage is knowing the final curtain is coming on one of the most memorable seasons I've ever had. This being my first go-round with this wonderful site, I feel I should send a couple of thank-yous out to the people who made this possible.
First, to my partner in crime, Chris Lerch: I started this year very green, with too many questions and a bulldog mentality to just burn right through everything. Chris had immense patience with me this year, and his mentorship no doubt improved my quality as a writer and in my everyday professionalism. He's one of a kind, and I'm beyond extremely lucky to have been able to work with him. He introduced me to the various coaches, pitched ideas and absorbed pitches, walking me through an adjustment period. This couldn't work without his flexibility, honesty, and willingness.
To Todd Milewski, our editor: Thanks for being as good a host as any to the party. You, too, had infinite patience with me this year through the growth of this coverage, and I think sometimes there's already a halo with your name on it for every time you've extended a deadline.
One of my favorite recognitions comes in the ability to trade barbs and stories with the other AHA broadcasters. Seth Dussault and Eric Richardson at AIC, Nate Lull at Canisius, Will Moran at UConn and, of course, Scott Biggar, Ed Trefzger and Chris at RIT — we've created something of a broadcast fraternity, and it helps create better production along with solid content across the board.
This year, we inducted a new member to it – Steve Brouillard, my broadcast partner at Bentley, who brought me a whole new perspective of the game from a guy who willingly stopped pucks for years just for the fun of it.
Big thanks to Bob DeGregorio and Dave Rourke at the league offices for dealing with my occasionally annoying questions and conversations. And a special thanks to the other media outlets' journalists, with whom we share bonds and stories. Jeff Cox over at SB Nation was always a great help and big supporter; Mike McMahon over at College Hockey News and The Mack Report is truly one of a kind; and guys like Richie Murray are the definite keepers of the code when it comes to the niche brotherhood of college hockey.
Thanks to all the coaches for returning phone calls and talking before or after games. Special thanks to Ryan Soderquist at Bentley for teaching a former baseball player about hockey.
Lastly, two people I couldn't and probably wouldn't do this without. I've been in journalism since I was 13 years old, and without my brother Michael, I probably wouldn't be infected with the love of it the way I am. I grew up listening and reading him through his days at Brown, and he's always given me the toughest love possible. To call him a mentor is an understatement, but he's also one of the few people who took me seriously when I talked about always wanting to explore something else with hockey. Mike's still doing the radio broadcasts at Brown, and every time I work with him or listen to him is an education in how to do my job better and better. Sometimes I succeed, sometimes I don't, but I always learn something.
And, finally, my future wife, Michelle. As an undergraduate at Bentley, she never really went to the hockey games. But she knows that when she marries me, she gets everything along with it — Bentley, USCHO, college hockey and all those other things that takes me away for chunks of time each winter, and she loves it all as much as she can just because she wants to share that passion with me. Her patience is beyond that of rational, and in moments of frustration she seems to always have a word of wisdom that makes me feel better and calmer. I couldn't do any of this without her, and it's totally meaningless not having that person to share it with. Especially this year, through the growth, the trials, the tribulations and the laughs — it means nothing without you. But, seriously, we have to get married right in the middle of next season?
One more note: Thanks to everyone who read my stuff, who reached out to me this year with feedback, and who provided great support for what we were trying to accomplish. For those who don't know, I normally work in IT for a local Boston-area hospital (which is ironic because Chris is in the same industry), and after the events of last April at the Boston Marathon, I wondered aloud if I'd be able to take the same joy in sports as I did before that fateful day. Today, I not only take joy in those moments but also strengthen that feeling thanks to those who joined in the discussion of the teams, players and games. We'll see you very soon!