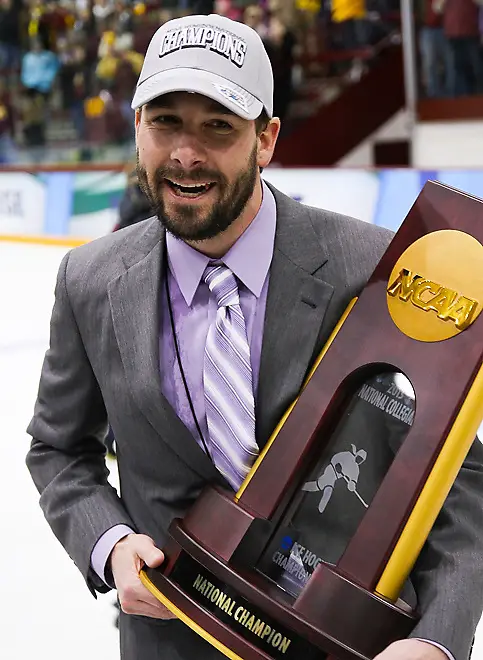 Candace: Well, it's down to four teams, and it pretty much played out to seed, but I have to say, Mercyhurst knocking off Cornell for the second straight year really took me off guard. Cornell had definitely been up and down this year, but Mercyhurst only got a tie out of two games it hosted against the Big Red. After Mercyhurst lost to RIT, I sort of had their season pegged as over. Maybe the Tigers beating them was a blessing in disguise, because it made the Lakers realize they have to work a full 60 minutes to have success.
What do you take away from the Mercyhurst triumph?
Arlan: Probably that a lot of these games can go either way. Around the time of the aftermath of that Mercyhurst series was when Cornell's record started to drift south. A 14-1-3 start ultimately ended 10-5-1. Certainly not bad, and I think the Big Red wound up about where many would have expected in September. The first USCHO Poll had the top 10 teams as: Minnesota, Boston College, Clarkson, Cornell, Boston University, Wisconsin, Mercyhurst, North Dakota, Harvard, and Northeastern. Given how erratic some teams were from week to week, the voters did well. With a swap of UND and Harvard, they'd have the NCAA field correct, and they gave BC and Cornell a bit too much credit at the expense of Wisconsin and Mercyhurst.
About the only game that Cornell had after the Mercyhurst series that I'd consider impressive was the shutout win over Clarkson in the ECAC final. Otherwise, the Big Red just seemed a little off, even in several of their victories.
I'm not sure that Mercyhurst needed to lose to RIT to have NCAA success. After the loss to Cornell and another in the next game to Robert Morris, the Lakers reeled off eight straight wins before playing three consecutive low-scoring games that included the tie with Lindenwood and the loss to RIT. At least when a team is taking care of its defensive end, it isn't too far removed from what is required in playoff hockey. The four winning teams on Saturday allowed five goals combined. A team with someone like Christine Bestland at the top of its lineup is always going to be a threat if it is sound defensively. Bestland strings together these "quiet" seasons with 50, 60, or 70 points, but she's not really a scorer. I see her as more of an all-purpose hockey player that eventually winds up with a bunch of points because she's involved all over the ice. But she definitely has the capability to step up her offensive game when needed, as she did with a three-point effort on Saturday.
Do you think the Lakers can make more headway at the Frozen Four than they did last season when BU scored early in every period, including the opening seconds of the game?
Candace: I think it's certainly possible. Mercyhurst does have some weapons, and if they can counter a team like Cornell, which has a lot of speed and good offense, then I see no reason that Lakers couldn't do the same to Clarkson.
That being said, I was particularly impressed that Clarkson was able to shut down Boston College's offense and counter its speed so effectively, especially since the Golden Knights were without defensive star Erin Ambrose. I don't know what her status is for the Frozen Four, but if she is back in the lineup, it gives Clarkson an extra edge and dimension that will be tough for Mercyhurst to fight off. You mentioned the Lakers' low-scoring games down the stretch, but a tie against Lindenwood is a bit different than going up against a tough Clarkson squad.
However, it shouldn't be forgotten that Cornell shutout the Golden Knights in the ECAC Hockey Championship, and Mercyhurst just beat Cornell. It's dangerous to equate the two, but if Clarkson can't contain Bestland, it could be in for a long night.
The other semifinal will pair two familiar foes in Wisconsin and Minnesota. What did we learn from those two squads' quarterfinal wins over Harvard and Boston University?
Arlan: The first goal was always going to be huge in Madison. The Badgers swung the odds in their favor by dominating the first period territorially, but they'd done the same in their previous game, a loss to UND. Against Harvard, Brittany Ammerman set up Blayre Turnbull for a quick shot before Emerance Maschmeyer could slide across, and Wisconsin had that all-important lead. The Badgers continued to have the better of play, and a kind bounce wound up on Katy Josephs' stick. Her shot was a bit of a change up that fooled Maschmeyer and doubled the lead. Mark Johnson was clearly frustrated that his team took its foot off the gas in the latter stages and Harvard got back into the game. The puck was bouncing crazily around the Badgers' goal, but it only wound up inside of it once, thanks both to luck and a circus save by Alex Rigsby. I saw her make a similar effort in the WCHA tourney two years ago when she was heading off the ice for an extra attacker versus Minnesota-Duluth, stopped, and dove back into the path of a shot and reached it with her stick extended. She can make some very athletic plays. Barring those few minutes, Wisconsin was the better team in that affair.
Conversely, the first goal meant little in BU at Minnesota, because the Terriers tied it seconds after falling behind. The Gophers' Baylee Gillanders was injured 10 minutes in and missed the rest of the first period. That could have been a huge development, because it would have left them with just two veterans on the blue line, but she was able to return after intermission. As the game progressed, the Gophers' depth started to tell more and more; about the time that Kelly Terry was finishing her hat trick in the third period, the Terriers' fuel gauge was approaching empty.
So now we get volume five of Badgers versus Gophers. The first three installments were close games that could have easily reached a different conclusion. The fourth game was more of a statement win by Minnesota. Was that a one-time deal with an amped-up Badgers squad hitting a bit of a wall in front of a huge Kohl Center crowd, or a signal of what's to follow? In most years, there comes a point in the WCHA schedule where the team at the top of the pecking order makes it clear that it can go to a place where the challenger can't reach. Some years it arrives in early January, and other years it happens in overtime of the WCHA final. The closest Wisconsin came to delivering such a message was in the second period of the teams' first meeting in October; it couldn't gain a lead, and it hasn't been able to do damage to Minnesota since then. The Badgers are capable of playing a great 60 minutes on Friday and winning, but that result will kind of come out of nowhere. But would we expect anything else from this topsy-turvy season?
Candace: I don't think so. It's really been a year where you can't count on anything. Yes, Minnesota has again rolled through most of its competition, but I feel like they've been challenged more this year. Wisconsin has rebounded from a somewhat disappointing year to make the Frozen Four. Clarkson stumbled badly in November, then righted the ship and is now in the Frozen Four. Boston College stumbled early, came back and won the Beanpot and Hockey East regular season crown, then lost in the Hockey East Championship and exited in the NCAA quarterfinals for the first time since 2009. Mercyhurst was in danger of not winning the CHA, then Robert Morris stumbled and the Lakers took home the crown, only to lose to RIT in the playoffs.
It's certainly been a weird year overall, and I really don't know what to expect in the Frozen Four. I'd give an edge to Minnesota and Clarkson, but I've been wrong a lot more this season, so who knows.
Before we start analyzing those outcomes, let's look at something out of the WCHA. Bemidji State coach Steve Sertich announced his retirement on Monday after eight years as the Beavers coach. Bemidji was inconsistent this year, but dangerous, and has definitely been a team in the past that could take it to the top squads in the WCHA. You've seen the Beavers play a lot, and have interviewed Sertich a fair bit; what are your thoughts on his retirement, and where Bemidji goes from here?
Arlan: Before the Sanford Center was built, I thought that Bemidji State had to be just about the toughest women's hockey coaching gig in the country. There's a lot of players coming out of Minnesota high schools, but most of them are around the Minneapolis area and not looking to relocate to a small city in the north woods. Sertich always had to find a way to do more with less, and I thought he did as well at that as anyone could expect. Once goalie Zuzana Tomcikova graduated and he ran out of Wheelhouse sisters to block half the shots opponents took, it became harder because the Beavers never possessed a prolific offense. His teams always worked hard and were respected by coaches around the league for playing a team-oriented style. His successor will be helped by the new facility, but on top of the three longtime powers in the league, the new coach will also have to deal with a nearby rival in North Dakota that wasn't much of a threat when Sertich started. It's one thing to attract enough talent to stay ahead of St. Cloud State and Minnesota State, but I'd have no idea how a Bemidji State can get into the top four in the WCHA without one of the upper division teams faltering.
I imagine that there will be one or two other jobs that will open up. The New Hampshire situation is still unresolved in terms of a permanent head coach, and most years a couple of other programs stuck near the bottom of their leagues become impatient with the lack of progress.
Just as Olympic years are unpredictable, so is the season that follows, when top talent returns to NCAA action. Each of the top three in Hockey East returns a star forward. So does Cornell in the ECAC, and Harvard returns a forward, two defensemen, and a coach, while Clarkson gets hit hard by graduation. Minnesota, UMD, and Wisconsin all get Olympians or players who were centralized, while other teams at least won't have to deal with players taking a month-long hiatus. The CHA will be least impacted in that respect, but it is still evolving as RIT, Lindenwood, and Penn State settle in as D-I programs.
So out of all that change, who do you like next season? My guess would be that you'd look to BC with Alex Carpenter back plus another crop of United States Under-18 freshmen, but the Eagles will need a new starter in net.
Candace: Before even Boston College, I look to a Minnesota team that will get 2013 Patty Kazmaier Award winner Amanda Kessel back. Kessel is no doubt one of the best forwards in the game right now, for any country, and I think her back in Minnesota with Olympic experience will make her even more lethal, assuming she is healthy. Having Brandt and Kessel together will cause headaches for every coach in the country. Minnesota is currently sitting at 37-1-1 on the year, and the team will only lose two top-scoring seniors in Kelly Terry and Sarah Davis. Those two are very good players yes, but Kessel alone is capable of putting up the point totals of those two combined; after all, she had more points alone last year than those two. Who knows also what players Brad Frost will have in the pipeline itching to have a chance to skate with Kessel and Brandt next year as freshmen?
Regarding Boston College, the return of Carpenter will help, no doubt. I would imagine Katie King Crowley has made it a mission to have at least one star freshman goaltender between the pipes next season. Boyles is a senior, and Megan Miller will be a senior next year, and she only played in five games this year, after starting 10 last year. I don't know if Crowley is anticipating that Miller will be the starter next year or not, but she will at least need someone to platoon in net.
There's also the fact that BC's arch-rival, BU, will get Team U.S.A. killer Marie-Philip Poulin back next year. The Terriers graduate Louise Warren and Kaleigh Fratkin, their second- and third-leading scorers, but Poulin with Sarah Lefort could be a scary force to be reckoned with, and current freshmen Maddie Elia and Samantha Sutherland have proved capable scorers, and will have one year under their belts next season.
Do you see other teams getting Olympians back next year being improved, and what do you think of my analysis of Minnesota with Kessel back?
Arlan: BU also gets a couple of injured players back; Kayla Tutino missed much of the year and defenseman Shannon Doyle missed all of it. As of now, goaltending looks to be the key position for the Terriers.
Wisconsin figures to be back near the top, because it will once again have the type of offense that we've come to expect in Madison. Between Annie Pankowski, a late cut from Team USA, other incoming freshmen with U-18 international experience, and improvement of the current season's rookies, I don't see the Badgers being shut out five times as they were in this campaign.
Harvard is the other team that should make a move upward with the returning Olympians and a strong recruiting class; its thin roster will be much deeper next year.
As for Minnesota, it will be fine offensively. The questions will be in preventing goals, as all four of its graduating seniors are either equally or more important for what they contribute defensively. Terry and Davis are both centers, so those will be the key holes to fill. The blue line should be in good shape because Lee Stecklein returns to replace Baylee Gillanders, and the Gophers add this year's Ms. Hockey in Minnesota.
If I was going to look for a couple of teams coming off of single-digit wins likely to improve next year, I'd look to Yale and Penn State. Both add recruiting classes that will upgrade their level of talent. There are usually a few transfers in and out of programs that make an impact, but I don't think any have to come to light yet. Beyond those teams that we've discussed, do you see anybody poised to make a drastic shift up or down due to roster changes?
Candace: There is one other. Northeastern gets Kendall Coyne back, and the Huskies will appreciate her speed and dynamic presence. They will need it, as they will lose three of their top four scorers to graduation. Northeastern will also need some other players to step up. I think they should be OK, but if they want to challenge BC and BU for the Hockey East crown, I think they might need a little more offense than just Coyne's prowess. Paige Savage did show great growth this season, and if she can continue to improve, she and Coyne might be able to keep the Huskies from suffering too much with Kelly Wallace, Katie MacSorley, and Brittany Esposito gone.
Before I ask your thoughts on how the Frozen Four plays out, I'd just like to state that it has been great doing this column with you again this year, and I hope our readers had as much fun reading it as we did discussing the topics relevant to the women's game. We'll start it up again in early October.
Having said that, how do you see the weekend shaking out?
Arlan: I agree that writing this column with you is a good time. I appreciate your knowledge and passion for the game. The core of the enjoyment comes from having a great topic to cover. The people involved in this sport aren't going to get rich for their efforts. Whether they play, coach, or serve as support staff, they're participating because they love the sport. While much of what they do goes underappreciated, I have sensed some positive changes in the last year, at least in my local area. Where once the attitude among men's hockey fans was akin to, "It's cute that the girls want to play, too, but it's boring, so I've never watched it," now more are willing to give the women's game a look, and when they do, they come away saying, "Wow, these women can really skate and play — both teams."
So what do I expect from the Frozen Four? In the first game, I don't think either team is that disappointed that they have to play the other. I'm sure Wisconsin welcomes another crack at Minnesota. They've been close, right there in the third period three times, but it's always been the other team that made a play to win it. The Badgers feel like it will be their turn at crunch time, or maybe they can get up early like North Dakota did in toppling Minnesota. Mark Johnson teams don't give up multi-goal leads very often. Minnesota's seniors may have had their rookie season end at Boston College, but they really had their heart ripped out the week before in the WCHA final. The Gophers had a 3-0 lead over Wisconsin and still were still up two in the closing minutes, only to have the team wearing red and white storm back and win in overtime, kind of like their own Olympic tragedy. They lost the teams' next meeting in October to UW, but they haven't lost to Wisconsin since then. I expect a 2-1 game, maybe 3-2 at the top end. When it is a close contest and somebody needs to put a puck in the net, Minnesota has more of those players that can.
Look for Mercyhurst to play a more competitive game than it did versus BU in 2013. Having experienced the stage, the Lakers will be ready. If I remove Ambrose and compare the Clarkson roster with that of Mercyhurst, the Golden Knights have more pop in their top line, while the Lakers have a slight edge in second-line scoring. Amanda Makela will be making her 50th start in goal, while Erica Howe has 135 starts already and has been one of the game's top goalies for a long time. Mercyhurst has a slight advantage in power-play success, while Clarkson has the better kill and goes to the penalty box less frequently. The statistics slightly favor the Golden Knights. Both KRACH and Robin Lock's WCHODR forecast like them as well. To my eyes, it appears to be another one-goal win for the higher seed.
We've had upsets in the NCAA tournament and at the Frozen Four over the years. In the final, the closest thing to an upset we've seen was Minnesota over Wisconsin two years ago, and the Gophers had won the head-to-head season series and the WCHA tournament, so it was only an upset by ranking and seed. I don't expect an upset in the final this year either.
Did I get any wrong, or do I have to wait until your picks are published to find out?
Candace: I'm picking Minnesota FTW, but I am not sure how the Mercyhurst-Clarkson game will play out yet. I may flip a coin to decide. At the moment, I'm leaning toward Clarkson being the team that advances and loses to Minnesota in the final, but who knows, I may change my mind. Of rouse, I have only been getting about 50 percent of the postseason picks right, so I'm probably not the best person to take betting advice from!