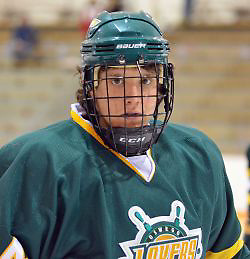 Hercules. Atlas. Samson.
All of them broad shouldered guys of legend – two mythical, one Biblical – who came through in the crunch.
You can add to that list the likes of Tyler Brickler and Matt Galati.
It's likely that without them, neither of the two bitter SUNYAC foes, Geneseo and Oswego, would be two wins away from a Frozen Four title.
Both of them – Brickler, the wily Genny junior, and Galati, the slick-sticked Laker freshman – have hauled their teams on their backs to within reach of the national championship.
And of course, if Friday's semifinal tilts go their respective ways, they could find themselves opposing each other in Saturday's title tilt in Lewiston, Maine.
Brickler, who transferred to Geneseo from Division I Massachusetts-Lowell, has been perhaps the nation's hottest scorer over the past month, with seven goals in the past five games.
It was Brickler's power-play goal in the NCAA first-rounder against Nichols that gave the Ice Knights the lead for good.
And it was his natural hat-trick, including two third-period goals, that gave Geneseo all the offense it needed in a 3-2 come-from behind quarterfinal win over Norwich.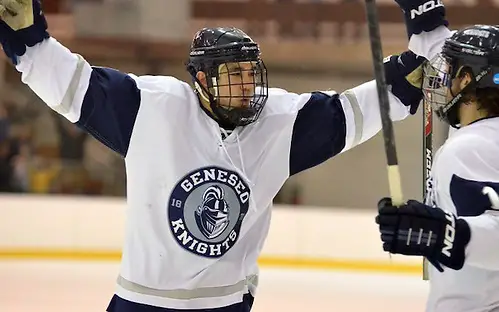 Is his best yet to come?
We may soon find out.
The same can be said for Galati, who is the headliner for Ed Gosek's stellar freshman class (all 19 of them).
He, too, is etching his name onto the membership list of the Big Game Club.
Remember Oswego's wild 7-6 win at Geneseo in the SUNYAC championship game?
Then you'll recall Galati's two clutch tallies, ones that made all the difference. Without them, the conference crown goes to Genny and Oswego goes home – without an at-large NCAA invitation and without a chance for a fifth consecutive Frozen Four excursion.
Toss in his goal in the 3-0 quarterfinal win at Babson and you have a legend in the making.
To be continued?