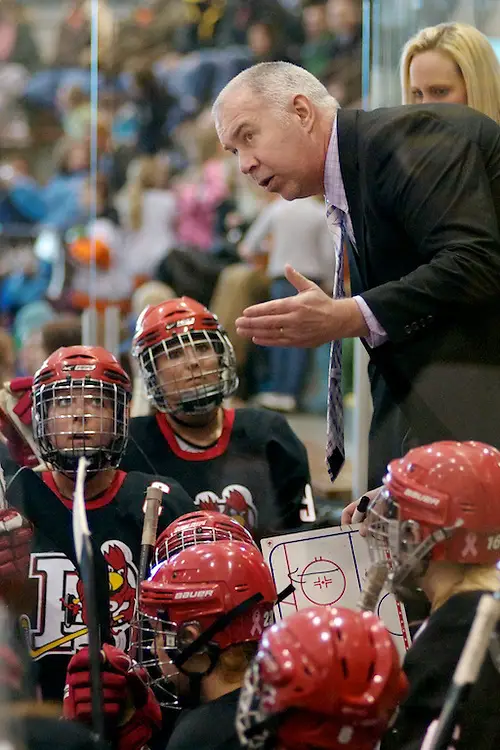 Kevin Houle has been the recipient of countless postseason accolades since his arrival at Plattsburgh in 2003-04. Six final four appearances and three national championship titles are high points of the success the Boston College graduate has generated in his career with the Cardinals. For Houle, a fifth-round pick of the Montreal Canadians in 1982, a torrid 28-1-1 record, followed by a title game on home ice, was the preferred scenario.
"From day one, we've been on a mission," Houle said. "To win it at home in front of our fans, it doesn't get any better than this."
As for his club's position in terms of historical significance, Houle said. "I think it's the best team that we've had. I've been told by other coaches throughout the season. It's a team, it really is. They've been a pleasure to coach, each and every day."
In addition to adroitly managing a highly talented squad, Houle kept his team on point the entire season; a difficult task, without doubt.
"Part of our success was staying on an even keel," he said. "Not too low, not too high."
Gillis, Bowes shine
Williams coach Meghan Gillis guided her team to its first winning season since 2009-10 in just her third season with the Ephs. Gillis, the fourth coach in the last five campaigns at the Western Massachusetts school, watched her charges improve to a 15-10-3 record and a top 10 spot in the polls in the latter part of the season.
Bill Bowes erased a decade of losing seasons at Castleton as his team ran off a program-best 16 wins. Before Bowes, now in his third season, landed in central Vermont, the Spartans combined for a woeful 36-135-7 record. As expected, a host of program firsts accompanied the Spartans' turnaround, as Bowes' club reached the ECAC East semifinals.