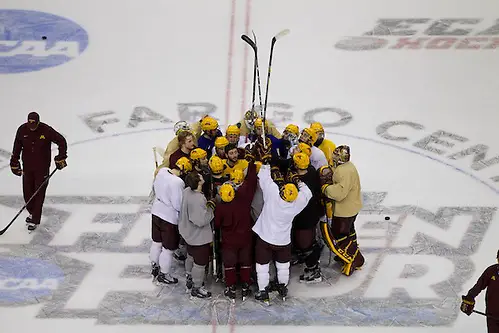 PHILADELPHIA — Four years separate Minnesota senior captain Nate Condon, born in 1990, and sophomore defenseman Brady Skjei, born in 1994, but that age difference may be a cultural gap that cannot be bridged.
"I always give Brady Skjei a hard time," said Condon. "He's my roommate on the road and he listens to One Direction all the time and I can't stand it."
One Direction is a band that hails from Great Britain, the kind of pop band typically known as a "boy band."
There are eight freshmen and six sophomores on this year's Minnesota team, a squad that looks different from the one that took the ice at the Frozen Four in Tampa two years ago. That provides an opportunity for upperclassmen like Condon to mentor younger players.
"We might be a little bit different because we have some younger guys that come straight out of high school, so they bring a really youthful experience to us," said Condon. "I had to play two years of juniors in order to make it to the next step for college and so I'm an older guy, but it's fun to hang around the younger guys."
The Golden Gophers' rookie class has netted 56 of the team's 137 goals, or just over 40 percent of Minnesota's scoring this season. Condon (9-15–24) plays on a line with freshmen Taylor Cammarata (9-16–25) and Justin Kloos (15-15–30).
"Being paired with Cammarata and Kloos all season," said Condon, "they're really talented offensively, they're really great players. I had to kind of show them the ropes at the beginning of the year, as far as defensive [play] and really how to be a college hockey player.
"It's been a little bit different for me this year as I kind of had to coach up some of the younger guys and their defensive habits. It's been rewarding to see them come into their own this season."