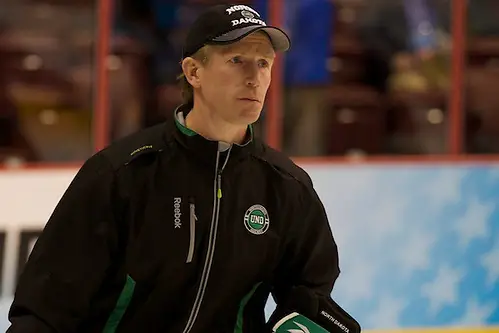 PHILADELPHIA — North Dakota has made quite the habit during coach Dave Hakstol's tenure of starting seasons slowly before turning things around through the second half.
It's been that way this season, too — UND went 9-7-2 in the 2013 half of the season before storming back to go 16-6-1 after the holiday break.
UND's NCAA tournament hopes this season went from just about nonexistent early on to promising to touch-and-go through the NCHC playoffs. Finally, it became the last team into the NCAAs after Wisconsin came from behind in the Big Ten playoff final to avoid an upset against Ohio State that would've seen UND's season end with its 5-0 NCHC playoff third-place game victory over Western Michigan on March 22 in Minneapolis.
IN the last 28 games, UND is 21-6-1. In that same time frame, only Union, a fellow participant at this year's Frozen Four, has piled up more wins (24).
This has been a much better second half for UND than it had last year, marking something of an aberration for the team in Hakstol's decade-long time as the bench boss at his alma mater.
UND's 2012-13 season marked the first time since the 2004-05 campaign where the team actually did better in the first half than it did in the second.
In the first half of last season, UND went 10-5-3 (.639) before Christmas and just 12-7-4 (.609) afterward. That was in the team's final season in the WCHA, a league that's not as strong top-to-bottom as UND's new league, the NCHC, proved itself to be in its inaugural season.
So, what's been the difference between what UND's done in the past few months compared to what happened in the second half of last season? Hakstol said it's largely been down to the collective mind-set in his team's dressing room.
"I'll attribute some of our success here just to the guys in our locker room really sticking with a mentality and a mind-set, sticking together and having a real good short-term focus," Hakstol said. "When we've had some bumps in the road, we've been able to put them behind us really quickly [and] learn from them.
"When we've had some small successes that we've had, we've been able to keep our feet on the ground and not get too far ahead of ourselves. I think we've got a real good understanding of what we are as a team, and I think that's a real strength of this team."