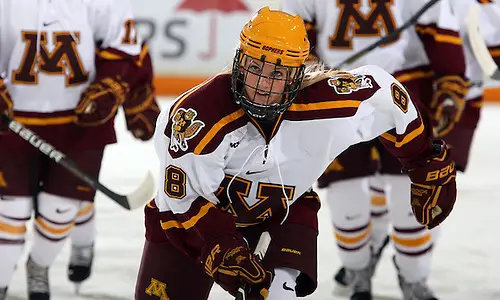 Minnesota announced today that forward Amanda Kessel will not return to the Gophers' lineup this season because of lingering concussion symptoms due to injuries sustained as a member of the U.S. Women's National Team.
"I've had an unforgettable experience at the University of Minnesota thus far, so I'm disappointed that I won't be able to return to the team this year," Kessel said in a statement. "It's obviously a difficult decision and one that I've taken time to come to terms with. As someone who has played through a lot of injuries, it wasn't until suffering a concussion that I fully understood the importance of being 100 percent healthy when I'm on the ice. Unfortunately, that isn't the case right now.
"My number one priority is my health, and I hope that I'll be able to return to the ice in the future. I want to thank my coaches, teammates and everyone at the university for their support."
Kessel has worked with doctors and specialists at the Carrick Brain Center in Atlanta to determine her course of action.
"We obviously wish we could have Amanda with us this year, but her health is everyone's top priority," Minnesota coach Brad Frost added. "She has come to the difficult conclusion to focus solely on her treatment at this time. We understand and support her decision and hope she fully recovers. She will always have a place in our locker room, and we will continue to support her."
Kessel missed the 2013-14 season while training with and competing for Team USA at the 2014 Winter Olympic Games in Sochi, Russia, where the U.S. won silver.
In her first three seasons with the Gophers, Kessel amassed 97 goals and 134 assists and ranks fourth all-time at the school with 231 career points. Kessel was named the 2013 Patty Kazmaier Memorial Award winner and led Minnesota to its fifth national title and a perfect 41-0-0 season as a junior in 2012-13.