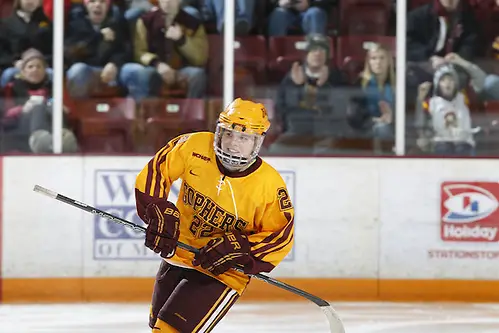 It is a season of change in the WCHA.
For the first time since the league's inaugural season of 1999-2000, it doesn't have the defending national champion. That doesn't necessarily indicate that its days as the country's top league are over, however, as half of the WCHA is ranked in USCHO's preseason poll, including the teams in the top two spots.
Off the ice, the conference has a new leader. Aaron Kemp takes over as commissioner, replacing the retiring Sara Martin, who was at the helm for the first 15 campaigns. Kemp comes to the WCHA from Mercyhurst, where he was the senior associate athletic director.
"We're continuing to build the WCHA brand by exploring new initiatives, which I believe will positively impact the league members and student athletes, both past and present," he said.
Kemp went on to provide examples, which included centralizing offices with the WCHA men's league in Edina, Minnesota.
"We are looking into sponsorship opportunities, entering the initial stages of developing corporate sponsorships we feel will support and enhance the league's fan and participant experiences," Kemp said. "We're looking into some broadcast initiatives. Some work remains to be done here, but we're exploring avenues to increase the WCHA's exposure, both through live game streaming and through network broadcast partners."
According to him, the WCHA is interested in growing.
"We're going to look at expansion," Kemp said. "I believe the sport of women's college hockey has a strong future, and while nothing is imminent, we will explore expansion opportunities as they become available at institutions that fit within our mission and our geographic footprint."
For the present, it will continue as an eight-team league, just as it has been since North Dakota joined a decade ago.
Two of those programs feature new head coaches this season. At Bemidji State, James Scanlan takes over for the retiring Steve Sertich, while Eric Rud has replaced Jeff Giesen at St. Cloud State.
There's been considerable turnover on the player rosters as well, most notably at Minnesota State with 13 freshmen. Minnesota-Duluth features 11 skaters who were not with the team at the end of last season.
The league's coaches didn't judge all of the flux as a reason to foresee radical changes from last year's final standings in their preseason poll. The only alterations they made as a collective were to bump UMD ahead of North Dakota into third place and move Minnesota State over Bemidji State into sixth.
How do I see it? Between the regular season and tournament, Minnesota has won five straight conference crowns, and such a string of success in the league is unprecedented. UMD only managed half of the league titles while fashioning its string of three NCAA crowns, and four in a row was the best previous Minnesota and Wisconsin teams could muster. The league is too balanced for the Gophers' run to continue much longer, so I'll pick the Badgers to finish on top this time.
The top four should be more closely bunched than they have been of late. UMD looks like its roster has been upgraded to the extent that the Bulldogs will be more competitive with the teams above them than over the last couple of seasons, when they were just a .500 team in the league, so I'll side with the coaches and say UMD moves back into the top three. That leaves Ohio State as a very solid fifth with an outside shot at finishing in the top half of the standings.
Between coaches and players, the other three teams have too much adjusting ahead to escape the bottom three slots, although any permutation of their order wouldn't be a surprise. So I'll call the WCHA regular season race as:
1)    Wisconsin
2)    Minnesota
3)    Minnesota-Duluth
4)    North Dakota
5)    Ohio State
6)    Bemidji State
7)    St. Cloud State
8)    Minnesota State
Wisconsin Badgers
USCHO prediction: First
Coaches' prediction: Second
Last season: Second (28-8-2, 21-5-2 WCHA)
The names
After a few classes that lacked the sizzle that folks in Madison have come to expect, Mark Johnson and his staff got things moving in the right direction last season.
"With some of the pieces we have returning, things look good from that standpoint," Johnson said. "It doesn't mean you're going to win a lot of hockey games, but we certainly have some pieces coming back, and that starts with our goaltender, Ann-Renée [Desbiens], who played 11 games last year and got her feet wet within the league and certainly played well and certainly is looking forward to playing this year as a sophomore."
Desbiens, who will be backed by Boston College transfer Megan Miller, established herself as the heir apparent to the now-graduated All-American Alex Rigsby, so the tradition of stingy Badgers in net looks destined to continue for another three years.
"Now if she plays every game, I don't know," Johnson said. "I can't predict that, but she's going to get most of the load as we look at the entire year right now."
Sarah Nurse, another member of the sophomore class, was the first Wisconsin forward in three years to crack the 20-point barrier as a rookie, and forward Sydney McKibbon and defenseman Mellissa Channell also got their college careers off to strong starts.
Forward Annie Pankowski was expected to be the centerpiece of last season's class, but her centralization with the United States national team delayed her Wisconsin debut by a year.
"For her, getting the opportunity to play with the national team last year, practice, compete with our best players over the course of the time she was with them, I think helps anybody," Johnson said. "When you can watch some of our best players train every day, work out not only on the ice but off the ice, watch how they conduct their lives, if you choose to be an elite athlete, you have to make some sacrifices. For Annie, being around those kids for a period of time last year will help in regards to how she's going to grow as a player. She's one of those players that I look at that if she can get off to a good start here and really gain some confidence in the early part of the season, she has a chance to have a special year."
Pankowski isn't the only well-regarded rookie in a class that includes forwards Emily Clark and Baylee Wellhausen, plus defensemen Maddie Rolfes and Lauren Williams. They are added to the group of returning players that includes Patty Kazmaier Award Top-10 finalist Brittany Ammerman, forward Blayre Turnbull coming off a breakout junior campaign, and two-way defenseman Courtney Burke.
"I think that if you can add depth, you certainly can have a handful of kids that have an ability to score goals and put points up over the course of the season, and that's going to help you," Johnson said. "Teams will adjust, players will have good nights, they'll have off nights, and the more kids you have that have the ability to score, it certainly bodes well for that particular team."
The numbers
Goal production increased slightly last year, up to three goals per game. Further improvement is needed to regain championship status. Three of Wisconsin's NCAA Championship teams averaged more than four goals per game, with the two most recent of those scoring more than five goals per game.
That production would be helped if the power play clicked more than once a weekend. Last season, Wisconsin scored 21 goals with the advantage, a four-goal improvement. That wasn't enough to keep the Badgers from being shut out five times after being blanked six times the year before.
After freshman and sophomore seasons that saw her record 14 and eight points respectively, Turnbull jumped to 40 points as a junior. Similar growth by others would offset the loss to graduation of Madison Packer, who tallied 104 points in her career.
At the other end of the ice, Rigsby set a new Wisconsin mark with 100 career wins, tied for second overall in NCAA history.
The prognosis
If Wisconsin has aspirations of winning the league, one area where improvement is mandatory is the head-to-head results versus Minnesota. After the Gophers dominated the first six years of the series, the Badgers seized control and reduced the deficit to just two games early in the 2011-12 season. Now the pendulum has swung the other way, and Minnesota has taken 11 straight meetings.
The addition of Pankowski, Clark, and Wellhausen to a group of forwards that gains a year of experience should ignite a few more offensive explosions and allow the Badgers to claim their first trophy since moving into LaBahn Arena.
Minnesota Golden Gophers
USCHO prediction: Second
Coaches' prediction: First
Last season: First (38-2-1, 26-1-1 WCHA)
The names
The biggest news to come out of the Minnesota program over the off season was the announcement that lingering concussion symptoms would prevent 2013 Patty Kazmaier Award winner Amanda Kessel from rejoining the Gophers.
"I knew it was a possibility," Brad Frost said. "Amanda and I had kept in contact all summer and were very honest with one another. I just knew that she wasn't doing real well. I had hoped that throughout the summer she would continue to improve and her symptoms would go away to the point where she could at least come back and do school and get treatment here, but in the end, we did what was best for her, as going to school was just too much for her with the symptoms that she has."
As much as it hurts to lose Kessel and her 100-point potential, the Gophers didn't have her last year either, and they still managed to do okay. A more immediate concern may be finding a couple of centers to replace graduates Sarah Davis and Kelly Terry, because among returnees, only Hannah Brandt saw extensive minutes in the middle.
"Right now, Kelly Pannek, I believe, will fill one of those spots, and we're trying a couple other players out at the third center spot," Frost said. "At this point, potentially Dani Cameranesi or Kate Schipper or even Megan Wolfe could fill that third spot."
With Pannek being a rookie and the others sophomores, it figures to be tough to replace the defensive savvy that the veterans brought to the position.
Beyond that puzzle, Minnesota looks to be in great shape.
"I think it's too early to say, but I've been impressed with all four of our freshmen," Frost said. "They're fitting in great. We're obviously expecting some big things again from Hannah Brandt and Rachael Bona. Dani Cameranesi had a tremendous year last year as well. But I think we've got some extremely strong D, we're great in the nets, and have some kids that can put the puck in the net."
Lee Stecklein returns from her stint with the United States Olympic Team to fill the hole on the blue line created by the graduation of Baylee Gillanders. The defensive corps is further bolstered by the addition of the reigning Ms. Hockey in the state of Minnesota, Sydney Baldwin. Until recently, the conventional thinking was that it took time for a high school player to adjust to the speed of the college game, but that didn't prevent Brandt and Cameranesi, the previous two Ms. Hockey winners, from going on to add WCHA Rookie of the Year to their laurels. The other two additions to the roster are freshmen forwards Cara Piazza and Nina Rodgers.
The numbers
After setting an NCAA record for power-play efficiency at 32.2 percent in 2013, the Gophers bettered it in March when they finished with a 32.7 percent conversion rate. Here again, Davis and Terry will need to be replaced, but the other members of the power play units return.
Six of the team's top nine forwards are back, and all recorded at least 29 points, with Brandt and Bona topping 60. Minnesota also generated a lot of offense from its blue line, led by senior Rachel Ramsey (43 points) and junior Milica McMillen (39 points).
Redshirt freshman Sidney Peters will provide depth in net behind junior Amanda Leveille, whose numbers heading into the Frozen Four were very similar to those turned in by Noora Räty on her way to NCAA titles. Unfortunately for Leveille and her teammates, the 5-4 loss to Clarkson ended a stretch of 90 games where Minnesota had allowed three goals or less.
The prognosis
"I think they're extremely hungry," Frost said. "They've tasted that defeat in the biggest moment of their careers. They certainly realized how vulnerable they were as we lost that last game, but I know that there is an extra hunger this year to try and get back to that game, and obviously with the Frozen Four being hosted right here at Ridder Arena, the goal is to make it back to that game."
When Minnesota claimed the NCAA title in 2012, there was little doubt that the team saved its best hockey for the postseason. The challenge for Leveille and her teammates is to figure out how to do that again, even if it means that the WCHA crown goes elsewhere.
Minnesota-Duluth Bulldogs
USCHO prediction: Third
Coaches' prediction: Third
Last season: Fourth (15-15-6, 11-11-6 WCHA)
The names
In the past when she has been unhappy with her team's play, Shannon Miller has removed the player names from their jerseys to remind them that the name on the front of the jersey is more important than the one on the back. She may not be able to do that early this season, at least until everyone on the team figures out who all of their teammates are.
"We've got 11 new faces that were not here last year," Miller said. "That's a large contingent on a team of 24. New energy, new goals, and we anticipate having a good season."
The last couple of seasons at Minnesota-Duluth weren't bad by many programs' standards, but the Bulldogs failed to reach 20 wins for the only two times in their history. Now much of the roster has turned over, although not all of the additions are rookies.
"[Forward] Brienna Gillanders is back in our lineup as a senior this year; she redshirted last year," Miller said. "[Defenseman] Brigette Lacquette did not make Team Canada, but she's back, and she's hungry, and she wants to prove herself."
UMD has added a pair of Hockey East forwards as transfers, junior Michela Cava from Connecticut and sophomore Karissa Kirkup via Maine. There are also seven freshmen beginning their NCAA careers.
"I think one young woman that people will notice early on will be Michelle Lowenhielm," Miller said. "She's from Sweden, and she was on their national team for a few years and on their Olympic team, and she's just a really good athlete. She's a really good player, and she's got a lot of confidence. It's early, I've only had them for not even a week yet, but you notice her out on the ice. She stepped up. She's not shying away as a freshman."
The reinforcements will offset the graduation of Jamie Kenyon, the team's second-leading scorer. As for the blue line, it looks to have been transformed from an area of concern a couple of years ago to the team's strength. While Lacquette missed out on the Olympic dream, the unit does boast two Olympians in senior Tea Villila of Finland and Swiss sophomore Lara Stalder, and it's been further bolstered by the incoming class.
"We've got some new defensemen like Jess Healey and Catherine Daoust, who played on Canada's U-18 team," Miller said. "They're smaller D, but they're good. They've got good vision, good feet, good hands. They're very smart players; you're going to notice them. Defensemen don't always get the spotlight as much as the forwards, obviously, but they sure help you when you're defending the rush and they sure help you get out of your zone on the breakout. They're key pieces of the puzzle. I think both freshmen will do a good job for us."
Junior Kayla Black has started 64 games in net in her two season in Duluth, and she figures to get the bulk of the work once more.
The numbers
UMD rose to the top of college hockey thanks in large part to the efforts of highly skilled forwards, but Jenna McParland's 33 points last year were the most by a Bulldog since Haley Irwin recorded 54 as a senior. Lacking players that can exceed a point per game, the team offense has failed to average three goals per game. Should a scoring star fail to emerge, an offense by committee would be helped by further improvement in a power play whose efficiency rose from 14 percent to 17.4.
At the other end of the ice, Black has been steady, posting a career save percentage of 0.919 in two very similar seasons. As yet, she hasn't demonstrated an ability to play at a Kim Martin level and win games by herself if need be. It would help her cause if her teammates could reduce the frequency of their trips to the penalty box, as the Bulldogs have ranked in the top five in penalty minutes per game in the last three seasons, each of which ended without an NCAA tournament bid.
The prognosis
The key for UMD will be how quickly all of the new pieces can be assembled into a team, because the schedule starts in September at Connecticut and quickly toughens with three ranked league opponents.
"I'd like to have three weeks with my team," Miller said. "One week is certainly not enough; I don't even think two weeks is enough. I think three weeks is reasonable. Then you can start with basics that you should be starting with and building blocks and add and progress and not try to push and rush things. When you only have one week, obviously, you can't get everything in."
If her team can survive that quick start, the Bulldogs have a good chance to resume their position in the WCHA's top three.
North Dakota
USCHO prediction: Fourth
Coaches' prediction: Fourth
Last season: Third (20-12-4, 14-10-4 WCHA)
The names
Heading into last season, the question was how would North Dakota fare in the wake of the graduation of Jocelyne and Monique Lamoureux, and for much of the season, UND did just fine. Thanks to the arrival of a talented freshman class and the maturation of the team's sophomores, it hung in and around the top five most of the way.
Then the Olympics arrived, forwards Michelle Karvinen and Susanna Tapani headed to Russia to compete for Finland, and defenseman Tanja Eisenschmid left to join Team Germany.
"That's the first time that we've really dealt with that," Brian Idalski said. "Missing players for upwards of a month, especially down the stretch run, was really interesting. I thought that was a lot of experience and trial by fire for a lot of our younger kids. We didn't handle it as well as we could have toward the end, but I didn't think we played poorly during that stretch. I just thought that some of our younger kids hit a wall and got a lot of experience, and to thrust them into that situation wasn't totally fair, but I knew they'd be better for it down the road."
North Dakota paid a price in the short term, and a 1-6-1 finish to the regular season cost Idalski's team a chance at a third straight at-large bid to the NCAA tournament. He hopes for a future dividend.
"A lot of players returning from the squad last year got a lot of experience through the Olympic break and we're looking forward to our freshman class becoming sophomores, taking a step up leadership wise," Idalski said. "I feel pretty good about where we are with our defensive corps and our goaltending situation."
The defense is anchored by Eisenschmid and a pair of rising stars in sophomores Gracen Hirschy and Halli Krzyzaniak, while the crease is the province of junior Shelby Amsley-Benzie and sophomore Lexie Shaw.
"We'll probably split both of them," Idalski said. "Both of them deserve to play; both of them had good summers. Lexi Shaw as a freshman walks in and wins games on the road at Wisconsin and Minnesota. That's no slouch either, so I'm pretty confident in both of those kids that can play in big games. We're going to try and keep them fresh, and whoever is the hot hand down the stretch is going to get the games."
Karvinen has graduated and Tapani opted to depart as well, leaving Josefine Jakobsen and Meghan Dufault as the only returning forwards to reach the 20-point mark.
"Up front, it's going to be interesting to see who steps up for us to put the puck in the net consistently," Idalski said. "Plenty of kids with experience have worked hard this summer and I think are ready for some of those roles."
The numbers
While Jakobsen has been a steady contributor in Grand Forks with 110 career points, she hasn't demonstrated the explosive capabilities of the Lamoureux sisters or Karvinen, all of whom produced 60, 70, or 80-point seasons. Junior Meghan Dufault has hinted at great things, but injuries dampened her sophomore season and her production dropped by 13 points. North Dakota's scoring overall fell to 96 goals last year after tallying 155 and 144 in the team's two NCAA tournament years.
That decline places an even greater importance on scoring defense, and the 2013-14 squad improved in that regard, decreasing its goals allowed from 2.26 to 2.06. A factor aiding that gain is UND went from one of the most penalized teams in the country to middle of the pack in penalty minutes.
The prognosis
No matter how the conference standings end up, the four teams that advance to the WCHA semifinals in Grand Forks will have a realistic chance of winning the tournament. North Dakota has demonstrated as much by knocking off Wisconsin in the semis in back-to-back years.
The problem for UND and the other WCHA teams that lose out on the league's automatic bid to the NCAAs is finding a way to overcome the math inherent in an intraconference-heavy schedule and reach the national tournament anyway.
"You have to do extremely well in your nonconference, not only for yourself but for the rest of your league," Idalski said. "Those games are huge. Our league has traditionally done extremely well nonconference, but it just means that every point is important within our league, even more so."
The CHA champion also gets an automatic bid for the first time, so only four at-large bids will be awarded, increasing the probability of upset winners from outside the top eight knocking teams ranked above them from the field.
"That's going to cause a lot of problems," Idalski said. "The day the WCHA gets one team into the national tournament is going to be a serious crime. It's already a crime not to have three of us in there."
Ohio State Buckeyes
USCHO prediction: Fifth
Coaches' prediction: Fifth
Last season: Fifth (15-17-5, 9-14-5 WCHA)
The names
Graduated seniors Chelsea Knapp and Lisa Steffes dominated the goalie position for Ohio State in recent years, so the first order of business for the Buckeyes will be settling on a starter in the crease.
"One way or another, I think our goaltending situation is going to be put into the limelight right away, because I think it will be one of the two freshmen that step up and have a chance to get some playing time and be able to figure out college hockey," Nate Handrahan said.
Those rookie goalies, Alex LaMere and Kassidy Sauve, join redshirt junior Stacy Danzak, who has less than a period of work on her collegiate resume.
"We don't have a lot of time from an evaluation perspective to figure out where we want to be," Handrahan said. "I think there's going to be some cream that rises to the top, so to speak. I'm fairly confident that we're going to be looking for a starter, but at the same time still having the opportunity for their competition. Kind of like NFL football: if you have two, you don't have one as far as quarterbacks go. I think from a goaltending perspective, it's important to find that starter that's going to be able to get it done, day in and day out."
Whoever emerges as the goaltender, her job will be made easier by the help from the defensemen in front of her.
"With returning so many kids from last year's squad and seeing some kids develop over the summertime, yeah, I would say that on the back end, we're pretty good," Handrahan said. "I think that they understand what we ask of them, understand how to play in the way that we need them to."
The centerpieces of that blue line contingent are seniors Kari and Sara Schmitt.
"I think it's obvious with the Schmitt twins that they do so many good things for us and are a big part of it," Handrahan said. "Looking for them to have a very solid senior year."
OSU also needs to plug a hole at the forward position created by the graduation of leading scorer Ally Tarr.
"Up front, I think Taylor Kuehl has done nice things over her career and will have some opportunities as well to do more of those going forward," the coach said.
With 61 career points, senior Kuehl is tied for the top among returnees with Sara Schmitt. There are others poised to contribute.
"I think [junior Julia] McKinnon had a down year last year," Handrahan said. "But she was able to put up some pretty good numbers as a freshman, as did [sophomore Claudia] Kepler last season, if they want to continue to stay on a trajectory to be able to produce. But I think one of the things that separates the WCHA from a lot of other leagues is our depth. I think that you need to continue to find that inside your line-up, and being able to field three and four lines a night that are going to be able to go out and contribute to having success."
"Offensively, I would say that we need players that are going to step up and execute when their time is right, when the opportunity is there for them to make a play. I don't know that I would necessarily say that we have a prolific, dynamic offensive player up front, and it will be the group that really helps us."
The numbers
Ohio State led the country in penalty minutes last year with an average of 14.7 minutes per game, and to do so again with inexperienced goaltending and an unproven offense is a recipe for disaster. Admittedly, many of those penalties were assessed at the conclusion of a loss to Bemidji State and that inflated the average, but that event seemed to mire the Buckeyes in a slump for the rest of the month. There were other instances where a lack of discipline contributed directly to a defeat.
OSU had some good results versus ranked teams, including three wins over North Dakota, a win over an eventual Frozen Four team in Mercyhurst, and a tie versus Minnesota, but it also struggled versus teams beneath it in the standings, splitting the head-to-head matchups with Minnesota State and losing the season series to Bemidji State. Greater consistency on a nightly basis will go a long way toward improving the fortunes in Columbus.
The prognosis
If the Buckeyes can get quality goaltending, the strength of the blue line, depth at the forward position, and size throughout the line-up should allow them to devote more energy to pressuring the teams above them than worrying about a challenge from below.
Bemidji State Beavers
USCHO prediction: Sixth
Coaches' prediction: Seventh
Last season: Sixth (11-21-4, 8-17-3 WCHA)
The names
If we are still getting accustomed to this year's edition of the Beavers, we're not alone.
"As far as Bemidji State University women's hockey, I guess everything is new," said coach James Scanlan. "It's new for the team. We have a unique situation getting on board so late, I really didn't get a chance to meet most of the team until they came up here for the start of the year."
Scanlan retains both of the team's assistant coaches from last season, Shane Veenker and former BSU player Amber Fryklund, but as he was previously the girls' hockey coach at East Grand Forks High School, there is some adjustment to the NCAA game.
"So far what I've seen is a great work ethic," Scanlan said. "The girls come to work every day. I've got to give a shout out to Steve Sertich for that; I think it's a direct result of him and what he brought to this program. Certainly, he recruited every one of these players."
Nineteen players from last year's roster are back, including sophomore and primary goaltender Brittni Mowat.
"Certainly Brittni with her experience gives her a bit of a leg up in terms of being the starter, but Erin Deters is a very good athlete," Scanlan said. "She redshirted last year. She certainly is working hard and deserves an opportunity. Playing two nonconference series back to back will give us an opportunity to give her some game experience, because she hasn't played now since her high school days."
Second-leading scorer Tess Dusik graduated, but a large contingent of veteran scorers returns.
"For all the players, they have a new set of eyes on them, so it's kind of a fresh start for them in terms of what their role could be," Scanlan said. "Early on, some of our upperclassmen really stepped forward. I think one in particular is Steph Anderson, a redshirt junior, that has really had a good fall camp in terms of workouts. The first three days, she's just been a leader in everything we're doing. Every drill she's working extremely hard. Kaitlyn Tougas is another one that has a lot of skill and is looking very solid so far."
Tougas was the team's leading scorer last season, and after just two years she leads the returnees in career points.
The Beavers graduated a couple of their top defensemen, but other veterans are back.
"Ivana Bilic on the blue line is certainly someone that we're going to be counting on," Scanlan said. "She's got tremendous skills, and with her skill set she can certainly be an all-league type player for us."
The numbers
Bemidji State didn't have a ton of offense last year, scoring just 64 times, but most of the threats are back, as only a dozen goals came from the team's seniors.
Mowat had a very solid debut, turning in a respectable .918 save percentage despite battling an illness in her inaugural campaign.
Under Sertich, Bemidji State's specialty teams were usually a strength, and it would aid the new regime if that continued.
The prognosis
While I picked BSU to hold on to the sixth spot, its edge over other teams is small and it could easily drop a spot or two.
One key will be getting off to a good start, something Bemidji did in sweeping Robert Morris on opening weekend.
"We'll just keep things basic," Scanlan said. "We know it's a process. We know we're going to be a much better hockey team in January, February, than we'll be right now, but every day is an opportunity to get better. That's the attitude we're taking. For us, it's just trying to instill a few systems. But as I explained to the team, if we show up and we work hard and play together, then we're going to have an opportunity to be successful."
St. Cloud State Huskies
USCHO prediction: Seventh
Coaches' prediction: Eighth
Last season: Eighth (4-27-5, 3-21-4 WCHA)
The names
Eric Rud, a former assistant to Scott Owens at Colorado College, is the new coach at St. Cloud State, and he has a pair of new assistants.
"I'd like to say how lucky our program got to bring on the two assistant coaches that decided to come on board with us with Jinelle Siergiej from Robert Morris last year, former Badger greats, Olympian, she's been tremendous with our girls so far — on ice, off ice, just real excited to bring her experience on board, and Steve Macdonald was at Duluth the last three years, has a lot of experience in our league," Rud said.
The staff inherits a team that is built from the net out.
"When you look positionally a little bit with our team, we're very fortunate, I think we have a strong situation between our nets," Rud said. "I really like the way the girls have looked so far in there. A lot of experience with a senior [Julie Friend], junior [Katie Fitzgerald], and sophomore back there, and really looking for that to be a strong piece of our team this year."
Senior Audrey Hanmer heads the returning defensemen.
"When you look at our defensive corps, we're young with two freshmen, three sophomores, a senior, and a junior, but so far, obviously early on, but they really seem to be mobile, smart, a group that we're real excited to work with and has a chance to really improve as the season goes on," Rud said. "So I think defensively to start, we have something to build on to hopefully get us going early in the season."
The problem for Rud and the Huskies remains the same as it was in recent years for previous coach Jeff Giesen.
"The big question mark for us is goal scoring," Rud said. "Who is going to step up and become the offensive threats? I think there's a lot of questions there and no answers yet, but so far, I've really liked our competitive spirit and the way the girls would attack everything we've done so far."
That sounds very similar to how SCSU performed offensively under Giesen. The players worked and gave it a good effort for 60 minutes, but the puck wouldn't go into the net for them. By the time a forward acquired a bit of a scoring touch, her eligibility was up, and the search for offense continued. So it is again as both Molli Mott and Julia Gilbert tallied double-digit goals and then graduated.
One possible source of new offense is junior Molly Illikainen, a transfer who recorded 48 points in her two seasons at Providence.
"I'm really excited about how she's looked so far," Rud said. "She's got great size and great presence, poise, on a team where we're a little small at some positions it seems. She brings a nice element there. Playing some small games doing some things out there where she showed that she has the ability to produce. So I think that was a nice pickup for our program having her come in."
The numbers
If this was a professional league, then St. Cloud State would likely have traded one of its goalies for some scoring punch.
Friend had a very respectable junior season with a nice .926 save percentage, but it is tough for a goaltender to record wins when her team gets her a single goal of support and on average adds a second goal every third time out. That added up to an 0-20-2 mark versus the top five teams in the league.
The prognosis
One gets the sense that the current crop of Huskies is tired of losing and anxious to have some success playing for a new staff, but whether or not they can make a push up the standings this season, the key for Rud will be how results trend in the years to come.
"I think for me, St. Cloud State is a place that I believe can produce a successful program," he said. "Our new renovation of our facility is absolutely beautiful, and a great place for young women to come and spend four years. There's so many great programs academically with our school that I'm really excited to get out, work, and bring some top-level athletes here and turn things around a little bit. As a coach, I think you're always looking for the next challenge, and this is a great one and a great opportunity for myself."
Minnesota State Mavericks
USCHO prediction: Eighth
Coaches' prediction: Sixth
Last season: Seventh (13-23-1, 7-20-1 WCHA)
The names
Coach Eric Means' staff returns intact; his roster does not.
"We have a very young hockey team this year. We have 13 freshmen on our roster. We graduated eight girls, and for a variety of reasons, had a couple of girls that had to leave the program, so we've got a lot of new faces in our line-up this year, but we do also return a few key players."
Unfortunately, that number doesn't include Minnesota State's starting goaltender, most of the top forwards, or the leading scorer from the blue line.
Junior Erin Krichiver looks to inherit the job in net.
"I've always been a coach that believes in playing the No. 1 [goaltender] as long as she's playing like a No. 1 in our league," Means said. "Even early on, Erin looks very good. She's in great shape. She's just got a little bit different swagger about her right now, knowing that this should be her job to lose, so I think she's really stepped up here over the individual workouts and the first few days of practice and has looked like a No. 1 goalie in our league. So I hope she's the girl that we can play 30 to 32 games a year like we have with Danielle Butters the past couple years."
Of the returning forwards, only one tallied double digits in points a year ago.
"When you look at our scoring chart from last year, it was senior-dominated outside of Kathleen Rogan," Means said. "I think Kathleen is obviously going to have to score for us, and then we're going to have to score by committee through everybody else. While we may not have All Americans, they've got to be able to chip in, whether it's on a nightly basis or a weekly basis that the scoring is getting spread around. Some of those freshmen are going to have to obviously contribute this year for us to score some more goals, which we need to."
Through the early days of practice, Means has spotted a couple of likely candidates.
"Nicole Schammel from Red Wing, she's one of those players while if you were to look at her off the ice, you would be, 'Really? She's a hockey player?' but the moment it drops and you do anything for real, she just does things that in my previous five years we haven't had anybody that sees the ice like her. She's just got hockey sense; she's oozing with hockey sense. She does things that are basically uncoachable. She's just got that knack. Elin Johansson, a Swedish girl, [is] completely different — a big girl, has got a great set of mitts. Played on their U-18 national team for three years. I think when it's all said and done, she's going to be very good."
Sandwiched in between is a blue line that has some rookies as well.
"The one thing I like about some of our freshmen defensemen, whether it's Victoria Lovdal or Emma Wittchow or Anna Keys, they're very good skaters," Means said. "That's the one thing I noticed right away, how much better our blue line skated the moment we got out there. And part of that is because [senior] Shelby [Moteyunas] is a leader now. [Senior] Elisabeth Hewett is in the best possible shape she's ever been in and looks phenomenal."
The numbers
The critical number is the 13 freshmen. That's a huge number for a program that has been around for a while, and it will require a bit of manipulation so that the cycle doesn't repeat in four years.
That inexperience is compounded by the fact that Krichiver has just over a dozen games worth of minutes in goal, and young teams typically need their goaltenders to bail them out often.
The prognosis
The problem with a huge amount of roster turnover is that it is like playing draw poker; the more cards you draw, the greater the uncertainty regarding the strength of the resulting hand.
The Mavericks could very well be upgrading their talent level with this recruiting class. The problem in the short term is that rookies have to deal with the double whammy of the learning curve at the start of the season and the onset of fatigue later on. For that reason, I look for MSU to finish last, but should the new regimes in St. Cloud and Bemidji falter, sixth place isn't far away.