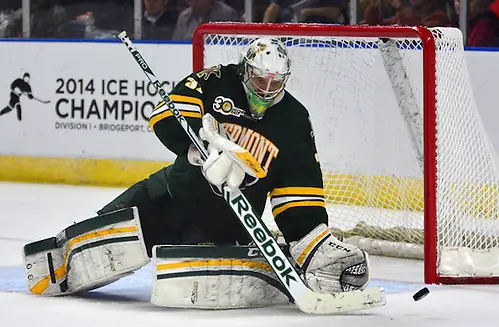 In some ways, it is difficult to quantify the Vermont Catamounts' 2013-14 season. The positive was a return to the NCAA tournament. The downside of that was a seventh-place finish in an admittedly difficult Hockey East.
There was plenty to like about last season's team. One year removed from losing a highly touted recruit in Zemgus Girgensons to the NHL, Vermont produced last year's rookie of the year in Super Mario, Mario Puskarich.
The team also shored up operations defensively, looked more mobile with the puck and had a solid year between the pipes.
When you realize the team lost just one incredibly significant player in Chris McCarthy, you would maybe believe the Catamounts should be near or at the top of the preseason poll.
That is hardly the case, however, and the only explanation can be the parity in Hockey East. Because the reality is that Vermont is probably as good as any team in the league if it puts together a consistent effort.
Both members of Vermont's talented goaltending duo return in Brody Hoffman and Mike Santaguida. Puskarich will have the talented Jake Fallon as well as offensive-minded blueliner Michael Paliotta to help produce offensively.
All of this produces a hopeful coach Kevin Sneddon.
"I think we took a modest step two years ago and last year was a big step for us," said Sneddon. "It was a good experience to go through but the guys were not satisfied."
One major factor this season will be the ability to mature of the talented freshman class from a year ago, which accounts for 10 players — the biggest class — in this year's lineup.
"This is a big year for them," Sneddon said of his sophomores. "We're really excited, though, with their training and what we've seen so far."
If there is one area you can point to where there has been significant improvement for the Catamounts, it's the blue line. A team of clunky, big defensemen two seasons ago, Vermont became more skilled and quicker on defense last season and, according to Sneddon, should continue to take a step forward this year.
"It's hockey nowadays," said Sneddon. "You have to have your defensemen involved offensively. Keeping the puck is important. When you have guys who are more chip-it-off-the-glass-and-out, it's hard to do things with that. I think we have more skill to be more smooth back there."
But how does Vermont take a major step forward? It's likely through consistency. Believing you can win each night is one thing, but actually doing so is another.
Although the goals are unwritten, Sneddon said, there is a desire to continue to get better.
"If you ask the guys, they want to get in the top four, get a bye [in Hockey East] and aspirations of getting back to the [NCAA] tournament," said Sneddon. "But you have to take it one step at a time."
About the Catamounts
2013-14 record: 20-15-3
2013-14 conference record: 10-10 (tie, seventh)
2014-15 predicted finish (coaches poll): Eighth
Key losses: F Chris McCarthy, D Nick Bruneteau, F Connor Brickley
Key returnees: F Mario Puskarich, F Jake Fallon, D Michael Paliotta, G Brody Hoffman, G Mike Santaguida
Why the Catamounts will finish higher than predicted in the coaches poll: This team took a major step forward a season ago, returning to the NCAA tournament for the first time since 2010. They return four of the top five scorers and both goaltenders, all with an extra year of experience under their belt.
Why the Catamounts will finish lower than the coaches poll: The parity among the top teams in Hockey East runs deep, and any lack of focus could drop a team like Vermont to ninth and into a road series for the first round of the playoffs.