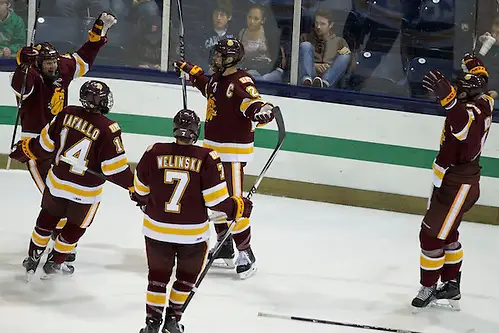 It certainly wasn't how coach Scott Sandelin and the Minnesota-Duluth Bulldogs wanted to start their season.
In a game against their in-state rival, Minnesota, in the Ice Breaker Tournament at Notre Dame, the Bulldogs found themselves down 1-0 after just 30 seconds. Five minutes later, while on a power play and looking to tie it, the Bulldogs gave up a short-handed goal to fall behind 2-0.
A Minnesota power-play goal early in the second put the Gophers up by three, and while the Bulldogs got one back on a power play at 13:21, it was barely three minutes later before Minnesota scored again to go up by three.
Then came the third period, and Andy Welinski scored just 25 seconds in and Dominic Toninato scored less than four minutes later to get the Bulldogs back within one. Although the rally fell short, they used the momentum to post a convincing 3-0 win over then-No. 12 Notre Dame on Sunday.
"I thought our guys played well for four, four and a half periods out of six," said Sandelin. "Obviously, the start was a little bit of bad puck luck, too, but resulted in them scoring in the first minute and put us on our heels.
"I thought we got better as the game went on, but we dug too deep a hole and couldn't get out of it. I thought our guys played with a lot more intensity and determination.
"When you are down by three goals, you have to play that way to give yourselves a chance. We did that, and I was pleased with that period, and I thought we carried that over to Sunday and played a pretty strong game for early in the year and got a win."
In a preseason interview, Sandelin stressed the need to improve on a power play that converted at a measly 15.76 percent last year. So far, the signs are promising.
Despite the short-handed goal in the first, the power play got a goal in the second period against Minnesota and got two goals Sunday against Notre Dame. Also, Toninato's third-period goal against Minnesota was on a four-on-four.
"From the power play's standpoint, it was good for the power play to get some goals and have a decent start," said Sandelin. "It's something that needs to keep improving. I thought our penalty kill, especially on Friday, those teams you can't give too many opportunities to, and I thought for the most part we did a decent job."
The departure of Aaron Crandall to graduation has left the Bulldogs with sophomore Matt McNeely, who played nine games last year, and freshman Kasimir Kaskisuo battling for the goalie position. Kaskisuo got the start against Minnesota, and Sandelin said he felt the rookie improved as the game went on.
He also said that McNeely got a lot of confidence from his 23-save shutout effort against Notre Dame.
"Like I said at the beginning of the year, we're happy with our goaltending, we're happy with those guys being back there," said Sandelin. "Matt's played the most out of all three of our guys, and it was good for his confidence to have that kind of start and it's good for our team.
"I think Kas battled back after giving up the first couple of goals and played pretty solidly, too. We'll see. If it ends up being a rotation for a while, that's how it will be, as long as those guys are playing up to their ability."
This weekend, the Bulldogs, who moved to No. 20 in the USCHO.com Division I Men's Poll, continue their tough schedule against ranked teams with a home-and-home series against No. 12 Minnesota State.
Sandelin said he hopes his team can build on its results last weekend to become a consistent, 60-minute club.
"Like any team, you need your best players playing consistent and being strong for you, and I thought Sunday they were much better," Sandelin said. "I think our whole team, we asked them to do a few things better. That's what it's all about right now. For me, it's hard in any game to play great for 60 minutes, but Sunday I thought for us team-wise was a good 60-minute game for early in the year."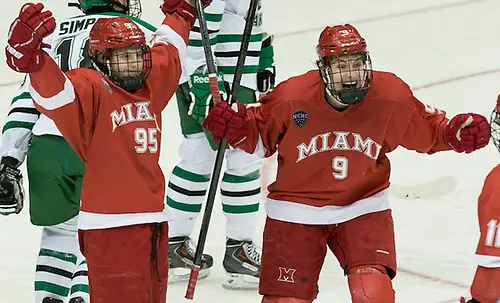 Miami looks to build on team concept
Coming into the season, the big question surrounding Miami was which team would be on the ice: the one that won only two games in the second half of the season last year, or the one that was one period away from winning the NCHC tournament and making the NCAAs at the end of the year?
In its first weekend of play, Miami started slowly, but rallied. The RedHawks lost 3-2 to Bowling Green on Friday, in part due to giving up two power-play goals. They won by an identical score on Sunday thanks in part to two goals by Sean Kuraly in the second period.
"Sean obviously had some goals on the scoreboard, so that was good," said Miami coach Enrico Blasi. "I thought we got better as a team throughout the weekend. As a coach and it being early in the season, that's what we want to see. There's still lots to work on in all three zones, and lots for every player to work on."
On Sunday, starting netminder Ryan McKay was knocked out of the game after a collision with a Bowling Green player. Jay Williams played solid in relief, giving up two goals and making 23 stops in 54 minutes of play.
McKay is being evaluated to see whether he'll be able to play this weekend in a home-and-home series with Ohio State.
"He's skating [Tuesday], so we'll evaluate him from day to day," Blasi said of McKay.
One area on the score sheet that looks like Miami could improve on is the penalty kill, which gave up three goals on 11 chances on the weekend, but Blasi sees some strengths in that unit.
"It's an important part of the game, and I thought we did a pretty good job on Sunday of killing penalties," said Blasi. "It's just one of those things where we have some new guys doing some stuff that they aren't accustomed to. It's a matter of getting some reps in."
Perhaps what was most impressive about Miami's production on the weekend was that most of the goals were at even strength, and that the goals weren't coming from Miami's big forwards.
Austin Czarnik had only one point on the weekend and Riley Barber got one goal and one assist. Czarnik finished in the top 10 nationally last year in scoring, and Barber was in the top 20.
The return of both (Czarnik is a senior, Barber a junior) is one reason some people expect Miami to be in the hunt for the NCHC crown.
"I think we have some good depth up front," Blasi said in talking about Czarnik, Barber, Kuraly and Blake Coleman. "Anthony Louis is another one, and Justin Greenberg. We've got some guys that can make plays, but the way we structured our team is team first and play a good team game and good team concepts all over the ice.
"Hopefully, our defense and our offense start clicking all over the ice at the same time and we can put 60 minutes together. I don't think it matters to those guys who is getting the points as long as we're winning games."
On the blue line, the RedHawks are getting lots of minutes from a couple of freshmen, Louie Belpedio and Scott Dornbrock, as well as a few others. Belpedio earned NCHC rookie of the week honors for his play against Bowling Green, including getting the first goal in Sunday's win.
"Obviously, he's a freshman so we've got to be careful how we throw around his game because he's still learning," said Blasi. "He has tremendous ability with the puck and tremendous skating ability. We've got good depth on our defense with Matthew Caito, Scott Dornbrock, Louie, and we've got guys like Ben Paulides and Chris Joyaux that have played a lot of minutes for us. It's going to be by committee back there. It's not anybody that's going to take it and run with it. We're all going to play the same way. Like I said, it's a team concept, and go from there."
Having opened with Bowling Green, Miami will be facing off with another former CCHA rival this weekend. Blasi expects the home-and-home series against Ohio State to be exciting.
"It's always been a big rivalry for us," said Blasi. "Ohio State and Miami over the years have been some great games, so it's no different this weekend. We're looking forward to it."
Players of the week
Offensive player of the week — Dominic Toninato, Minnesota-Duluth: Toninato posted four points on the weekend and a plus-3 rating, helping the Bulldogs finish third in the Ice Breaker Tournament. In Friday's 4-3 loss to top-ranked Minnesota, he had a plus-2 rating, scoring two goals to help the Bulldogs rally from a 3-0 and 4-1 deficit. Against Notre Dame on Sunday, he had a goal and assisted on the game-winner. Toninato had a hand in four of UMD's six goals on the weekend.
Defensive player of the week — Peter Stoykewych, Colorado College: Stoykewych posted a plus-3 rating and had two points in CC's weekend sweep of Alabama-Huntsville, including scoring the game-winner with a slap shot from the blue line in Saturday's 4-3 win. In Friday's 3-2 win, he had a plus-1 rating and blocked two shots. After Alabama-Huntsville rallied to tie the game with three goals in the second period on Saturday, Stoykewych scored the game-winner with 5:26 left in the third.
Rookie of the week — Louie Belpedio, Miami: Belpedio was part of Miami's top defensive unit in its split with Bowling Green over the weekend, helping Miami go 8-for-11 on the penalty kill on the weekend. He also scored Miami's first goal in Sunday's 3-2 win, blocked three shots and posted a plus-1 rating.
Goaltender of the week — Matt McNeely, Minnesota-Duluth: Against host and No. 12 Notre Dame in Sunday's third-place game in the Ice Breaker Tournament, McNeely stopped all 23 shots and helped kill six Notre Dame power-play chances to post the second shutout of his collegiate career. He also had an assist on Minnesota-Duluth's second goal, his first collegiate point.