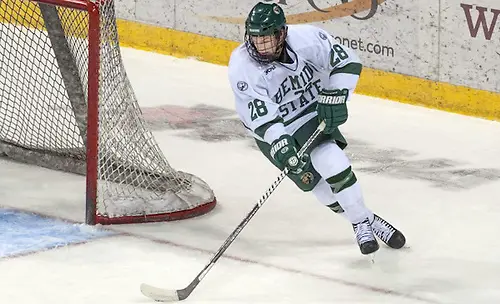 The shocking thing about Bemidji State's 5-1 victory over then-No. 2 North Dakota last Friday night wasn't necessarily the score line.
OK, that's not entirely accurate.
Sure, the Beavers' battering of UND — their first win in Grand Forks since 1970 — turned heads around the country during an upset-filled weekend. But it wasn't only because of who won. It was how said team won: convincingly.
BSU didn't just get a few lucky bounces to fall past the UND goaltenders. They flat-out dominated a North Dakota team that lost little from its 2014 Frozen Four run.
"That's pretty much the same team as last year aside from Rocco Grimaldi," Beavers coach Tom Serratore said. "I thought the guys responded well. That's something you build on."
UND won Saturday night's rematch in Bemidji 2-1 but by no means schooled the Beavers.
It's only one weekend, but both results have Serratore encouraged for the upcoming season.
"I thought, really, we played 120 minutes of hockey," he said. "Our battle level was high. Our effort was outstanding. … I was happy with how we performed. You hope that carries over to the next weekend and you want to build on that."
The win at the Ralph was the high point of an outstanding weekend for the WCHA in nonconference play — an area where the league generally struggled a year ago.
Bowling Green beat No. 11 Miami 3-2 in Bowling Green then nearly pulled off the upset in Oxford two days later.
Alaska and Alaska-Anchorage each beat then-No. 10 Wisconsin in the Kendall Hockey Classic.
No. 12 Minnesota State split with Omaha on the road and Ferris State was idle but jumped from No. 9 to No. 4 due to all the losses in front of them (and by virtue of the fact that the Bulldogs got a big win over fellow top-10 team Michigan in the opening weekend).
The WCHA is 8-7 in nonconference action and even though it's still early those eight wins will help the conference in the PairWise Rankings come tournament time. New WCHA commissioner Bill Robertson has said it's his goal to put three or more teams in the NCAA tournament. The only way to do that is to win nonconference games.
As for the Beavers, last week's results against UND mean a lot for a team that went 10-21-7 a year ago and failed to win a nonconference game.
The Beavers know it's still early and it's hard to read into one early-season game, but at the same time, not many teams can go into Ralph Engelstad Arena and run UND out of its own building the way Bemidji did on Friday.
Serratore hopes that bit of confidence carries over to the rest of its early schedule — one that includes Minnesota, Alaska and Minnesota State.
"I thought our guys responded well," Serratore said. "North Dakota responded very well. I was enthused about that. It's something you hope you can build on as a coaching staff. It's great for the guys' confidence."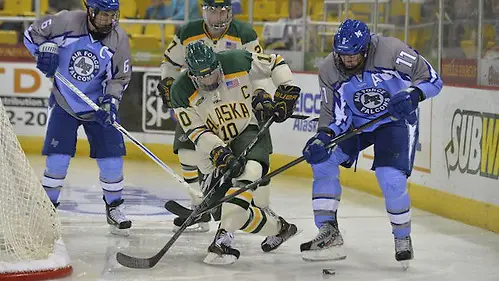 Suspension sends message
Alaska-Anchorage coach Matt Thomas was surprised that senior Brett Cameron received a one-game suspension by the WCHA this week but not completely shocked.
Cameron will miss Friday's game against Penn State for the hit on Wisconsin freshman defenseman Tim Davison on Saturday. He received a major penalty and game misconduct (not a game disqualification) for the hit, which injured Davison.
Replays showed that the hit appeared to be a clean, shoulder-to-shoulder check. However, Davison did not see it coming, and his helmet came off as he fell to the ice.
"One of the big points of emphasis with contact to the head is hitting an unsuspecting player," Thomas told the Alaska Dispatch News. "I don't think [the hit] fits that category 100 percent, but I get where they're coming from. That's the way hockey is going."
Ferguson joins Century Club
Alaska coach Dallas Ferguson picked up his 100th career victory on Saturday when the Nanooks defeated Maine and won the Kendall Hockey Classic in Anchorage.
The seventh-year coach's record stands at 100-96-32.
"To be honest, I wasn't aware that the win was my 100th until the team presented me with the game puck," Ferguson said. "But I love coaching, and I love the University of Alaska, so to reach this milestone is an incredible honor."
Ferguson's win total ranks fourth among WCHA coaches, behind Ferris State's Bob Daniels (380), Northern Michigan's Walt Kyle (223) and Bemidji State's Tom Serratore (212).
After that, it's Bowling Green's Chris Bergeron (58), Minnesota State's Mike Hastings (51), Michigan Tech's Mel Pearson (45), Anchorage's Matt Thomas (20) and Huntsville's Mike Corbett (2). Lake Superior State's Damon Whitten is in his first season and is 0-4 so far.
Ice chips
• Alaska-Anchorage forward Tad Kozun and Minnesota State forward Brad McClure were two of five freshmen nationally who scored two goals last weekend.
• Ferris State, which is ranked No. 4 in the country, has been in the USCHO.com Division I Men's Poll top 10 for 22 consecutive weeks.
• WCHA teams continue to ease into league play. The only conference series this weekend has Bowling Green going to Alabama-Huntsville.
• Northern Michigan is the only WCHA team yet to play a game. The Wildcats open the season this weekend with a nominal "home" series against Wisconsin at the Resch Center in Green Bay, Wis.
• Lake Superior State is 0-4 but it'll be the first WCHA team to appear on national television when the Lakers take on Notre Dame and former LSSU coach Jeff Jackson this weekend in South Bend, Ind. Both games of the series will be televised by NBC Sports Network.
Players of the week
WCHA awards this week went to Bemidji State sophomore forward Brendan Harms (offensive), Alaska sophomore goalie Davis Jones (defensive) and Alaska-Anchorage freshman forward Tad Kozun (rookie).