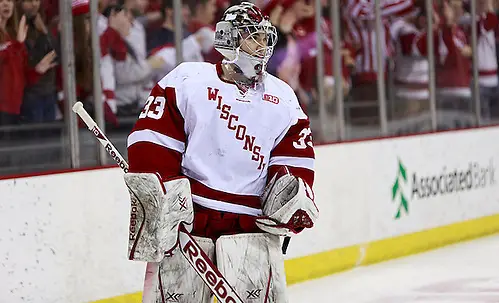 Wisconsin's season is two weekends old.
The Badgers have played four games and their large group of freshmen hasn't even hit the ice for their first game at the Kohl Center.
It's too early to make any judgments on the team's performance, right?
The problem is that Wisconsin hasn't found its way into the win column in its first four contests, putting the young team behind the eight ball early in the season.
As one might have guessed with a young team, depositing the puck behind opponents' goaltenders has been a problem for the Badgers through four games. Wisconsin has been outscored 11-3 so far this season and has been shut out twice.
Wisconsin's 0.75 goals per game is last in the league. Its power play is 0-for-18 and its penalty kill has killed only eight of 11 opportunities.
"We didn't do a good job of puck retrieval," coach Mike Eaves said of the team's power play after Wisconsin's fourth loss, against Northern Michigan last Saturday in Green Bay, Wis. "That's something that we're going to work on. That goes for five on five and power play as well."
Joel Rumpel, who has been rock solid throughout his Badgers career, is 0-3 with an .884 save percentage and 2.72 GAA.
Wisconsin's early season struggles started the weekend before last at the nation's last frontier. The Badgers mustered only 14 shots on goal and wasted a 30-save performance by Landon Peterson in their opening-night loss to Alaska. The next night Wisconsin managed to outshoot Alaska-Anchorage but wound up on the short end of a 4-2 game.
Last weekend Wisconsin found itself back in its home state, but not its home arena. The Badgers and Northern Michigan played a "we'll meet you halfway" series at Green Bay's Resch Center.
The Badgers again were outshot (28-18) and shut out in Friday's contest with the Wildcats.
"We didn't block a shot of the first goal and we had poor coverage on the second one," Eaves said after the game. "Even on the first power play, we were just jittery. In the second period we settled down like we told the kids that we would."
Eaves said the difference in Friday's game was that Northern Michigan won the vast majority of the 50-50 battles, or "moments of truth," as he called them.
"There was too many moments of truth where we weren't on the winning side of those truths," he said. "That's something that we could be better and we need to be better at."
On Saturday, Northern Michigan was the team with 18 shots. However, Wisconsin converted on only one of its 25 shots, Rumpel gave up two goals and Northern Michigan also scored two empty-net goals.
"If we didn't have bad luck we'd have no luck right now," Eaves said after Saturday's loss. "When you're around this game long enough, you know you're going to go through periods like this. We just find ourselves in the middle of it right now and the only way we're going to get out of it is to work until the ship turns a little bit."
When asked if his role with the team was more that of a psychologist or coach, Eaves had this to say:
"Boy, I'd say it's about 50-50. We have a lot of young guys that are looking for answers. We've kind of had a four-game look at what we got; we didn't know at all what we had at all and now we have a little bit of an idea.
"Now we say, 'Now we're going to work. We've got two weeks with a scrimmage in-between. If you guys thought we worked before, we're going to ramp it up.'"
Wisconsin's next game will be Nov. 7 against North Dakota. Eaves said he loves the fact that he gets two weeks to work with the team, and that he thinks the young players will benefit, too.
"If you're struggling the best thing you can do as an athlete is go back to work," he said. "Your head coach is telling you, 'Guess what we get to do, we're going to go back to work.' And if you thought that the definition of hard when you got here was there, we're going to redefine that."
The young players haven't contributed much, but the upperclassmen are struggling, too.
"I really like what they've done off the ice. They've done a tremendous job; they've embraced these kids," Eaves said. "Now the other side of leadership is for them to be able to do it on the ice to lead the way. That's been tough because they haven't been able to produce."
So Wisconsin's 0-4. Is the sky falling? Should Badgers fans start looking forward to next year?
Sometimes the best way to predict the future is to look at the past.
Before this year, Wisconsin had started off 0-4 three times in program history.
The first two times were during the 1921-22 and 1932-33 seasons. Things didn't get better from there; The Badgers finished 0-8 during the former season and 0-9 during the latter.
The 2008-09 season is a better example to look at, considering the Model T wasn't the best-selling car during that season. Wisconsin started that campaign by going 0-6-1 out of the gate. The Badgers ended that season with a 20-16-4 record.
So while they may be down this year, after four games, they certainly aren't out.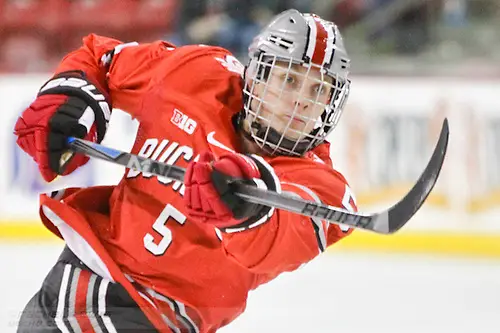 Rest of the Big Ten struggles early, too
Wisconsin's start may be the highlight, or lowlight, of the Big Ten's nonconference season so far, but the Badgers aren't the only team that has struggled so far this year.
Minnesota has found success in its limited action and is 2-0, while Michigan State and Penn State are at .500 at 1-1 and 1-1-2, respectively. Michigan is 1-2 and Ohio State is 1-3.
Nonconference games were a big talking point at the Big Ten's media day because a strong nonconference performance by all six teams could mean more Big Ten teams in the NCAA tournament at the end of the season.
The nonconference schedule doesn't get any easier. Michigan and Michigan State each play one game against Boston University and Massachusetts-Lowell this weekend. The Wolverines also have a nonconference game left against Boston College and potentially one against Ferris State.
The Spartans have three contests against Ferris State, two against New Hampshire and one against Boston College.
Minnesota has games against St. Cloud State, Minnesota-Duluth, Notre Dame, Boston College, Northeastern and Minnesota State left on the schedule. Wisconsin has North Dakota, Denver, Ferris State and Boston left.
Ohio State is already through the meaty part of its nonconference schedule but still has games with Omaha and potentially Notre Dame. Penn State has a series with Lowell remaining and also plays in a couple more in-season tournaments.
For the most part, Big Ten play starts in late November with the majority of the conference series being played after the holidays.
Three stars of the week
First star — Michigan State forward Matt Berry: Berry had four goals and two assists in the Spartans' series split with Massachusetts. This is the second career Big Ten weekly award for Berry.
Second star — Ohio State goaltender Christian Frey: Frey had 60 saves during the Buckeyes' 2-1 loss to Miami last Saturday night. It was the most saves by an Ohio State netminder since 2000 and was six saves shy of the school record that was set in 1964. This is the third career Big Ten weekly award for Frey.
Third star — Michigan goaltender Steve Racine: Racine had 31 saves in Michigan's 2-1 victory over New Hampshire last Saturday. The win salvaged a series split for the Wolverines. The victory was the 20th of Racine's career and netted him his first Big Ten weekly award.
B1G in the poll
Two teams represent the Big Ten in this week's USCHO.com Division I Men's Poll:
No. 1 Minnesota (Last week No. 1)
No. 14 Michigan (LW 10)
After a one-week stint in the top 20, Ohio State received only 14 points and was the 10th team out of the poll. Wisconsin's two-week drop from the preseason No. 10 team was completed this week, as the Badgers didn't receive any votes.
My ballot
For everyone to analyze and scrutinize.
1. Minnesota
2. North Dakota
3. Providence
4. Union
5. Colgate
6. Boston College
7. St. Cloud State
8. Miami
9. Massachusetts-Lowell
10. Ferris State
11. Quinnipiac
12. Boston University
13. Minnesota State
14. Michigan
15. Denver
16. Cornell
17. Minnesota-Duluth
18. Alaska
19. Nebraska-Omaha
20. Alaska-Anchorage
This week's games
Bemidji State at Minnesota (Friday and Saturday, Mariucci Arena)
Michigan at Massachusetts-Lowell (Friday, Tsongas Center)
Michigan at Boston University (Saturday, Agganis Arena)
Michigan State at Boston University (Friday, Agganis Arena)
Michigan State at Massachusetts-Lowell (Saturday, Tsongas Center)
Holy Cross at Penn State (Friday and Sunday, Pegula Ice Arena)