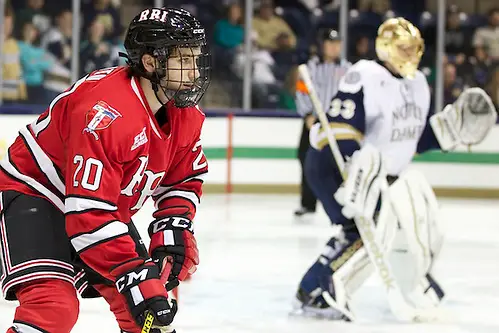 Second in a three-part series.
With an expanded market for nonconference games after the conference realignment of 2013, there's a tug-of-war emerging in coaching circles.
Until recently, there was no disadvantage to having a majority of games at home. Last year, as a measure to counteract this, the NCAA changed its Ratings Percentage Index formula, placing greater emphasis on road wins.
But many programs with large arenas and ever-demanding season ticket holders face pressure not only to win, but to also sell season tickets.
Home, sweet home
"We like to try to get 20 home games," Notre Dame coach Jeff Jackson said. "Conference-wise we know we'll have a certain number, but we want to fill out our schedule to get 20 home games if we can."
Notre Dame's gorgeous Compton Family Ice Arena is enticing on its own for an opposing team to visit and consistently draws rave reviews from opponents. But it came with a price tag and a need to fill seats.
"Because now with our building, and the fact that we're selling out all our games, it is a revenue thing, too," Jackson said. "Especially with our expenses playing in Hockey East."
To entice the type of teams that can sell tickets, financial guarantees are in play. While it isn't employed to the same degree that basketball and football programs do, writing a check can be a major part of the equation for building an inventory of home games.
The policy of having a set number of home games, perhaps more than half of the schedule, speaks to the simmering discussion about the use of that philosophy in the long run.
"I think it's an issue," Rensselaer coach Seth Appert said. "Back when the WCHA had six teams in [the NCAA tournament], there was an extraordinary imbalance between home and road games. The only way that it's going to be solved or rectified is to put proper weight for seeding. … I think that's why the NCAA put added that selection criteria back in."
And with so many more games to fill, writing a check — perhaps in some instances above and beyond travel expenses — becomes a necessary proposition for bigger schools who need to fill their remaining home dates.
"I feel like guarantees are going up," Appert said. "Big Ten teams and big teams in Western venues are actually having to pay more to get teams to travel."
That can only be a good thing for smaller programs, who use the guarantees to help cover other expenses during the year. And although it seems to be one-sided, think about this: It's an opportunity to visit a new market, talk to some recruits and maybe even appear on TV.
That's the draw for Dave Burkholder's Niagara Purple Eagles this year.
"We're a small Catholic university and one of the games is on national TV — that's a big deal for us," Burkholder said. "There are [always] BCS schools who play the majority of games on their home rinks. It's good for college hockey that everyone travels, and you can showcase more teams."
But some coaches elect to impose their own limits — if their athletic department budgets won't do it first. For Michigan State, financial guarantees are becoming a smaller part of the equation.
"We don't spent a lot of money on guarantees," coach Tom Anastos said. "If people are paying a lot to attract teams to come, we just haven't been a part of that."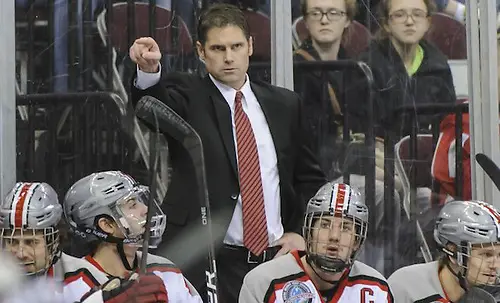 Ohio State coach Steve Rohlik is adamant about disusing guarantees altogether.
"We have zero guarantees right now," Rohlik said. "We run with the philosophy of if you come to our place, we'll go to your place. … We feel that it's the right way."
And despite the predictions of doom and gloom, Big Ten teams across the board seem to be taking that to heart. Only one team in the league will play a majority of its nonconference games at home this season: Wisconsin (eight of 14).
Reciprocity
Until recently, there was no disadvantage for scheduling a majority of games at home — in effect, it gave larger programs with deep pockets free reign to hand out guarantees to any team willing to take the offer. Post-realignment, more nonconference games to fill translates to more home games, too.
Teams that don't have a war chest for financial guarantees or the cachet that might attract a big-name program to town face a particularly acute challenge. Hence an emerging feeling among coaches that reciprocity is an important, if not necessary tool to wield when brokering schedule agreements.
There are, of course, different paths a team can take when building a schedule. One way for programs (especially smaller ones) to combat guarantees and an imbalance of home games is by demanding reciprocity.
Rohlik bluntly, yet elegantly makes the point that it doesn't matter whether that one extra home game gets scheduled. Woe is the team that has to make one extra bus trip when it's trying to build an NCAA tournament resume.
"It's pretty simple in the end," Rohlik said. "Schedule games and win games. The rest will take care of itself."
His Buckeyes team last weekend traveled to Oxford, Ohio, to play Miami on the second night of a home-and-home series. RedHawks coach Enrico Blasi framed the argument for reciprocity as taking care of the broader college hockey community.
"There's so much that benefits your program and your team from going on the road," Blasi said. "I hope we don't lose sight of trying to help each other out. Hockey is such a small sport and we really need to take care of each other, like other programs have helped us in the past."
Ever since taking the reins of the RedHawks program in 1999, Blasi has approached teams with the opportunity to first host a game, then visit Oxford the following year. This year, his team is lucky enough to play two in-state home-and-home series (Miami split with Bowling Green on Oct. 10 and 12).
Providence coach Nate Leaman, who had a reciprocal series with Miami over the last two seasons, framed it as giving a challenge to your team.
"It's healthy for all of us to play one another," said Leaman, who noted that one of his favorite places to play over the last few years was Army. Leaman has established a regular series with the Black Knights.
And that's not to say reciprocity can't take into account the needs for teams who need to fill more home games on their schedule.
"It doesn't have to be a perfect return scenario, like two-for-two," Appert said. "For instance, with Michigan, we're going there for two [games], and they're coming back for one [game]. We're willing to be creative for that, but I think teams should return and play in our building as well."
To achieve that takes relationship-building — whether by email, text message, chatting at the national convention in Naples, Fla. (or over golf while in Naples), communication is paramount.
"It's something we've visited as a body at the national convention, and there's merit to it," Burkholder said. "We're trying to grow our sport — we're in the entertainment business. Getting more teams to travel is a good thing."
In Tuesday's part 3 of the Open Dates series: Assessing how teams build their brands and execute a particular philosophy in building their schedules.