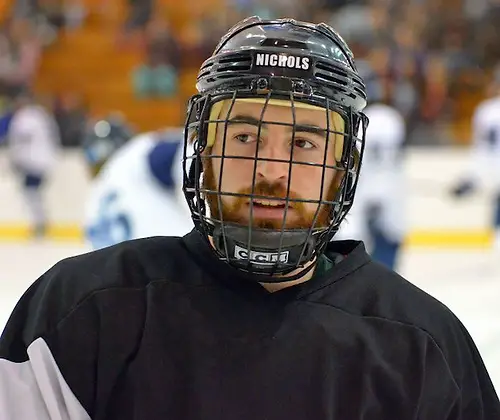 Still young, still hungry, and until proven otherwise, the best of the bunch in the ECAC Northeast.
Such as it is for Nichols, which won both the regular-season and conference tournament titles last year on the way to their second-ever NCAA appearance.
The Bison did so with a cast of talented novices – including sniping sophomores Sean Fleming and Tyler Beasley – who grew up in a hurry as the Bison's fortunes gained a head of steam.
And even a loss in the NCAA quarterfinals to SUNYAC champion Geneseo couldn't sully the accomplishment.
"After a great season last year, our expectations are high," said third-year Nichols coach Kevin Swallow. "We want to win another championship. Period.
"For us, it truly is a championship or bust. We have the personnel to get the job done, we just need to get every single guy on board and buying into what we are doing."
Nichols, whose only other league titles and NCAA appearance came in 2009, may be well positioned to repeat.
The lone scoring loss to graduation was forward Greg Strootman, who chipped in nine goals and 10 assists to a squad that generated 3.65 goals per game, tied for tops (with Johnson and Wales) in the league.
That means that the likes of Fleming (13-21-34), Beasley (13-30-33) and senior Brett Jackson (9-6-15) will all be back to lead the Nichols attack, while junior goalie Alex Larson (2.77, .922) takes care of business in the back end.
That, said Swallow, should give the Bison a fighting chance of fending off other contenders.
"We are going to have a target on our backs and a lot of teams are nipping at our heals," he said. "The league is going to be very tight, I honestly think there are a handful of teams that have legitimate chance at winning the league this year. Looking at a lot of the rosters around the league, I think everyone is going to be better. Ivthink a lot of the teams in our league can compete with just about anyone in thevEast."
While the Bison may be the clear-cut favorite to repeat on top, the rest of the pack presents a more muddied picture.
Salve Regina, Curry, and J & W, are all hopeful of making gains within the conference.
"I think every team in our league probably has the same goals," said Johnson and Wales coach Eric Noack. "Home ice in the playoffs, a first-round bye, to win the ECAC tournament and go to the NCAAs. For us, we want to be consistently hard to play against and stay out of the box."
Salve Regina coach Andy Boschetto echoed the feeling.
"I think that the league again is up for grabs and will come down to who is playing the best hockey in February and March," said Boschetto. "You cannot take nights off because as proven in the past, anyone can beat anyone. With that said, Nichols is the team to beat until someone knocks them off after having a great year last year, they are the champs."
Becker
Last Year's Record: 3-18-3 (overall), 2-9-3 (ECACNE)
Coach: Steve Hoar, 17th yr., 9th at Becker (216-180-26, 69-105-15)
Key Returning Players: F Nick McKee, So., F Tyler Auricchio, Jr., D Frank Musick, Jr., G Greg Hussey, Jr.
Key newcomers: F Corey Sherman, Syracuse EHL, F James Wallace, Philadelphia EHL, F Mac Howey, New Jersey USPHL.
Key departures: G Shaun Millerick.
Noteworthy: Millerick played just six games, but was lauded by Hoar for his leadership.
Curry
Last Year's Record: 11-14-2, 6-8-0
Coach: T.J. Manastersky, 3rd yr. (22-25-6)
Key Returning Players: G Derek Mohney, Sr., F Jordan Reed, Sr., D Chris Mason, Sr., F Tyler Vankleef, So.
Key newcomers: F Robert Cammalleri, Pickering OJHL, F Adam DiBrina, Aurora OJHL, F Shane Tracy, Valley EHL.
Key departures: F Mike Lopez
Noteworthy: Mohney put up sparkling, 2.16, .932 numbers last season.
Johnson and Wales
Last Year's Record: 18-8-1, 7-6-1
Coach: Eric Noack, 12th yr. (116-156-16)
Key Returning Players: G Joey Ballmer, So., F Josh Obregon, Jr., F Cody Sarmiento, Jr. F Stefan Brucato, So., D Mike Mazzotta, So., D Matt Lanzillotti, So. (4-9-13).
Key newcomers: D Luke Veitch, New Jersey USPHL , F Alan Boozer, Boston EHL .
Key departures: F Eddy Patterson, F Justin Decowski.
Noteworthy: Seahawks return their top six scorers.
Nichols
Last Year's Record: 18-7-3, 9-3-2
Coach: Kevin Swallow, 3rd yr. (34-16-4)
Key Returning Players: G Alex Larson, Jr., F Tyler Beasley, Jr., F Sean Fleming, Jr., D Kyle Shapiro, Sr.
Key newcomers: F Scott Cuthrell, Soo NAHL , D Mike Parnell, Fairbanks NAHL.
Key departures: F Greg Strootman, D Josh DeLoach.
Noteworthy: Nichols made the NCAAs for the second time in school history, falling in the first round to Geneseo.
Salve Regina
Last Year's Record: 11-15-0, 9-5-0

Coach: Andrew Boschetto, 5th yr. (29-65-5)
Key Returning Players: F Peter Gintoli, F Marc Biggs, Jr., D Lucas Sousa, Jr., G Jake Williams, Sr, G David Ciokadze, Jr.
Key newcomers: F Ty Gradwell, Bay State USPHL, F Zane Popilock, Philadelpia USPHL, D Brandon Yee, Boston EHL.
Key departures: D Chad Hollenshade, F William Gomolinski.
Noteworthy: Chiokadze led all conference goalies in save percentage (.945) and GAA (1.79)
Suffolk
Last Year's Record: 9-15-1, 6-7-1
Coach: Chris Glionna, 11th yr. (76-149-21)
Key Returning Players: F Tim Sprague, Sr., F Simon Leahy, So., F Tim Benedetto, Sr., G Brandon Smolarek, Jr..
Key newcomers: Jack Jenkins, Northern Cyclones EHL, Danyil Medvedev, Springfield USPHL, Justin Selep, Northwood Prep, Brett Lawson, St. Mark's NEPSAC.
Key departures: D Jon Stauffer, F Charlie McGinnis, F Carmen Mastrangelo.
Noteworthy: Leahy was the ECACNE Rookie of the Year.
Wentworth
Last Year's Record: 12-13-2, 9-5-0.
Coach: Jay Pecora, 1st yr. (NR)
Key Returning Players: F Mike Domsodi, Jr. , F Sean Mclaughlin, Sr., D Beau Burgau, Sr., G Alex Peck, Sr..
Key newcomers: F Brian Farkas, Weyburn SJHL, D Christian Black, South Shore USPHL.
Key departures: F Andrew Yarber, D Lawton McCracken.
Noteworthy: Job No. 1, according to Pecora, is "for the players to buy into a new system."
Western New England
Last Year's Record: 10-14-1, 4-9-1.
Coach: Greg Heffernan, 6th yr. (46-79-4)
Key Returning Players: F Brandon Stroud, Sr., F Joe Budnick, Sr., G Tim Carr, Sr.
Key newcomers: F David DiSchiavi, Oakville OJHL, D Will Norris, Northern Cyclones EHL, G Scott Brown, Cleveland Barons.
Key departures: F Brian Prost, F John Kelly, F Cam Napolitan, F Alan Martin
Noteworthy: Martin led the conference in power-play goals (4).