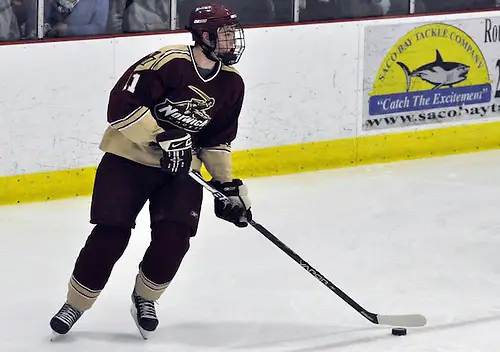 Babson and Norwich. Norwich and Babson.
It's been that way in the ECAC East for just about forever, or so it seems.
Between them, the two powers have captured a whopping 13 of the last 15 conference tournament titles, with Norwich going on to win the national title three times (2000, 2003, 2010).
What's more, the Cadets have won or shared the regular-season crown in each of the last 16 seasons, including last year, when they finished tied for first with, yep, you guessed it, Babson.
Norwich won both regular-season meetings – one goal victories, both – but the Beavers went on to take a 2-1 win in the ECACE tourney final.
Both earned trips to the NCAAs, but neither advanced to the Frozen Four, which for Norwich, snapped a string of four straight FroFour appearances.
So, are we in for more of the same this year?
Could be.
"We are looking for a solid season all around from goalie to defense to forwards," said veteran bench boss Mike McShane, the architect of all that Norwich success. "We will compete for a league championship, and see how our young players develop."
The Cadets did lose all three of last year's top point-getters – Travis Janke, Shane Gorman, and Chris Duszynski – to graduation.
However, a strong supporting class of underclassmen – including puck-moving defenseman Ryan Whitell – returns a year wiser and stronger, and will likely mix well with another of McShane's strong recruting classes.
"We are mostly a freshman-sophomore team, with a lot of guys competing for spots throughout the year," McShane said. "See the jump that the freshman from last year will make as sophomore this year and how they will look to improve and contribute."
The sentiment emanating from Babson is much the same.
"We (hope) to play to our potential," said Beavers' coach Jamie Rice, "and integrate our newcomers into our program and help them grow and develop. We hope to be a difficult team to play against."
Most nettlesome for opponents is the challenge of getting pucks past junior goalie Jamie Murray, no small task indeed.
Murray ranked second in the nation in save percentage (.948), fourth in goals against (1.50 gpg), and was a major reason why Babson was the third most difficult team in the country to score on.
Even so, don't expect the rest of the league to roll over and let the "Big Two" fight it out at the top.
Massachusetts-Boston, third-place finishers a year ago, could pose the biggest problem for both titans, especially as the league gets stronger from top to bottom.
"The league is getting tougher and tougher each year," said Castleton coach Steve Moffat. "With two teams making it to the NCAA tournament last year, and UMass-Boston with only six losses all year, I feel that says a lot about the strength of the league. Every night is a battle."
Babson

Last Year's Record: 22-5-2 (overall), 13-3-2 (ECACE)
Coach: Jamie Rice, 11th yr. (159-96-24)
Key Returning Players: F Mike Driscoll, Sr., F Andrew Bonazza, Sr., D Joe DiPietro, Sr., G Jamie Murray, Jr., D Mike Vollmin, Jr., F Max Franklin, Jr., F Mike Phillips, So.
Key newcomers: F Charlie Ackerman, South Shore USPHL, F Bobby Hall, Kimball Union Prep.
Key departures: D Ryan Heavey, D Matt Furey, D Shayne Anderson, D Ben Kravitz, F Troy Starrett, F Nik Tasipoulos.
Noteworthy: Established in 1965, the Beavers won their second league championship last year. The first was in 1990.
Castleton
Last Year's Record: 13-11-3, 8-7-3
Coach: Steve Moffat, 2nd yr. (13-11-3)
Key Returning Players: D Brian Greene, Sr., G Thomas Shelley, Sr., F Ryan Frost, Jr.
Key newcomers: G Ryan Mulder, Nepean CCHL, G Brody Wagner, Abitibi NOJHL, F Braedan Moffatt, Kanata CCHL, D Ryan O'Malley, Philadelphia EHL.
Key departures: F Ross Herzog, F Colin Murray, D Ryan Delorme, G Erick Cinotti.
Noteworthy: The youthful Castleton roster boasts 20 freshmen and sophomores.
Massachusetts-Boston
Last Year's Record: 17-6-4, 9-5-4
Coach: Peter Belisle, 9th yr. (100-96-16)
Key Returning Players: F Peter MacIntyre, Jr., F Nathan Milam, Sr., F Frankie DeAugustine, Jr., G Zach Andrews, Jr., D Tyler Bishop, So.
Key newcomers: F Stephen Buco, UMass-Lowell, F Josh Haverstrom, Wichita Falls NAHL, F Shayne Younglaus, U. New England ECACE.
Key departures: F Travis Daniel, F Michael Kuhn.
Noteworthy: UMB features four transfers from D-I programs, including Buco, a senior.
New England College
Last Year's Record: 14-10-1, 10-8-0

Coach: Tom Carroll, 13th yr. (174-124-25)
Key Returning Players: F Cheyne Matheson,Jr., F Garrett Brazzier, Jr., F Kyle Manlow, Jr., G Sebastian Andersson, Sr., D Sho Kawachi, Jr.
Key newcomers: NA
Key departures: F Samuli Turunen, F Matt Abbott, D Freddie Bystrom, F Jesse Ostring, F Ben MacLaughlin.
Noteworthy: Manlow's six power play goals tied him for the lead league.
Norwich
Last Year's Record: 20-7-3, 13-3-2
Coach: Mike McShane, 34th yr., 20th at Norwich (653-328-61, 409-110-30)
Key Returning Players: D Bryce Currier, Sr., D Alec Thieda, Sr., D Corey Hale, Sr..
Key newcomers: G Braeden Ostepchuk, Selkirk MJHL, G Ty Reichenbach, American Intl. AHA, F Kevin Salvucci, Bay State USPHL Prem., D Alec Brandrup, Melville SJHL, F Justin Charbonneau, Ottawa CCHL, F Mitch Byrne, Ft. McMurray AJHL, D Andrew Sullivan, Tilton USHS, D Connor Evangelista, New England AEHL, F Peyton Baldillez, New Hampshire EHL.
Key departures: F Travis Janke, F Shane Gorman, F Chris Duszynski, G Chris Czarnota.
Noteworthy: Norwich will have to replace its entire top line – Janke, Gorman, and Duszynski – which combined last year for 43 goals and 98 points.
St. Anselm
Last Year's Record: 10-12-4, 6-8-4
Coach: Ed Seney, 27th yr., 13th at St. Anselm (336-313-48, 17-126-28)
Key Returning Players: F Johnny Daniels, Sr., F Brian Sullivan, Jr., D Matt Buckley, Sr., D Peter Sikalis, So..
Key newcomers: F Nick Gorski, Phillips Andover Prep., F C.J. Blaszka, Walpole EHL.
Key departures: F Joe Tebano, D Greg Merrill, F Kevin Vanous, G Nick Dries.
Noteworthy: With a strong year, Seney will reach the 350 wins milestone. Seney previously coached at Potsdam.
St. Michael's
Last Year's Record: 7-17-3, 3-12-3
Coach: Damian DiGulian, 3rd yr., (15-34-3)
Key Returning Players: F Kevin Atiphor, F A.J. Pieprzak, D Danny Davis, G Dave Donzanti
Key newcomers: F Sam Finkelstein, Rice Mem. Prep., F Eric Salzillo, Boston EHL.
Key departures: D Kevin Lampron, F Ryan Arsenault, F Tim McAuliffe
Noteworthy: The Purple Knights will return each of their top 10 scorers from last year.
Skidmore
Last Year's Record: 7-12-7, 3-9-6
Coach: Neil Sinclair, 11th yr., 10th at Skidmore (112-126-26, 90-121-024)
Key Returning Players: F Marc Cibelli, So., F Anthony Bird, So., F David Limoges, Sr., F Ondrej Krajnak, Jr..
Key newcomers: D Jack Sloan, Springfield NAHL, F Connor Pelkey, Rio Grande NAHL.
Key departures: D Brad Schuler , F Vlad Gavrik, F Aaron Beck.
Noteworthy: Schuler has moved on to the pros, skating for Hunstville of the SPHL.
Southern Maine
Last Year's Record: 6-15-5, 5-11-2
Coach: Jeff Beaney 28th yr. (259-371-50)
Key Returning Players: D Cole Klippenstein, So., F Todd Bannerman, So., F Sam Guimond, Sr.
Key newcomers: F Trevor Hunt, Williston St. NJCAA, G Kyle Shapiro, Walpole, F Dario Torres, Williston St. NJCAA, D Danny Carter, South Muskoka GMHL, F Brett Norman, Ontario WSHL.
Key departures: F Ryan Seward, G Dylan Wells, F Kelby Lorenz.
Noteworthy: The Huskies will have to replace top scorers Seward and Lorenz, both of whom departed with eligibility remaining.
University of New England
Last Year's Record: 10-15-1, 7-11-0
Coach: Brad Holt, 6th yr. (29-92-5)
Key Returning Players: F Jared Melman, Sr., F Zeth Zielinski, Sr., F Trevor Fleurent, So. , G Colby Drost.
Key newcomers: D Kyle Williams, D Ian Rodden, Middlesex USPHL.
Key departures: F Zach Lokey
Noteworthy: Melman led the league in goals last season with 13.