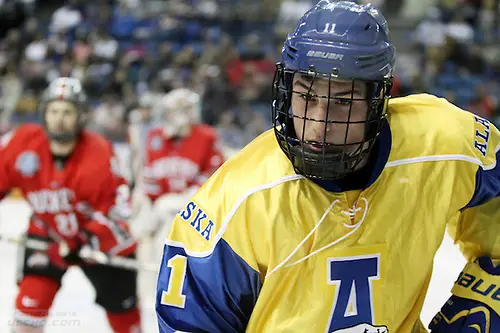 Each week during the season we look at the big events and big games around Division I men's college hockey in Tuesday Morning Quarterback.
Todd: There's plenty to talk about in college hockey after the last week brought a postseason ban for Alaska and a Cornell-Quinnipiac coaching confrontation, but let's start with talk of a 60th Division I men's program.
In a series of tweets last Friday, Let's Play Hockey reported that AHL Chicago Wolves owner Don Levin was in talks with Arizona State about being the lead donor of a push to start a varsity program at the Tempe school. The school and Levin, whose son plays on the Sun Devils' club team, denied the report to ASU blog House of Sparky.
There has been plenty of talk about further expansion since Penn State made the jump to varsity status two seasons ago. Do you think Arizona State could be the next one in, and would it be a smart move?
Jim: I think anything can happen but I personally doubt this will and, if so, whether it makes sense. While I totally support expansion, I think it needs to be carefully planned. You can't take the NHL approach and expand simply to expand. Arizona is a significant trip for any team in the nation, something that threatened the future of Alabama-Huntsville in not-so-recent days.
At the same time, the market has hardly been kind to the NHL in its time there. Attendance hasn't always been strong and corporate support has followed. It does seem the Coyotes are on better footing now but that club received serious relocation consideration. Does that market need college hockey?
College hockey needs to first grow in markets that support the sport — major cities with successful NHL teams. If we had 80 or so successful programs, then I think a one-off approach in experimental markets makes sense.
Am I just too negative about warm-market hockey?
Todd: I don't know if it's about the weather, but it's hard not to think about U.S. International and Northern Arizona when we start talking about Arizona State. Those schools were part of the Great West Hockey Conference with Alaska and Alaska-Anchorage in the 1985-86 season. Soon, U.S. International (a San Diego school) and Northern Arizona were out of the varsity hockey business.
I don't doubt that things would be different at Arizona State, a school with a far deeper athletic program. And playing in an area of the country removed from other college hockey programs can work — see the Alaska schools. But it could be a tough sell for the long term.
We've heard talk about the University of Rhode Island and the University of Buffalo as possible Division I programs, but it really comes down to money, doesn't it?
Jim: It does, and that is what keeps me from writing off Arizona State. If it has the potential to receive money similar to what Terry Pegula gave to Penn State, almost everything is possible. But the investment to begin a program is in the millions and most schools don't simply have that type of money at their disposal.
Todd: Speaking of money, a series of NCAA violations involving player eligibility will cost Alaska-Fairbanks $30,000. Even more significantly, the punishment handed down last week by the NCAA included a postseason ban for this season.
I get that it's unfair to punish athletes for the offenses committed by administrators before their time at the school. But I struggle to come up with what would be a good punishment in that case. Your thoughts?
Jim: I have the same feelings. Today's student-athletes did nothing wrong but will pay for the actions of others. Still, you can't allow a program that significantly breaks the rules to profit from a potential postseason appearance. This has been the NCAA's way of handling things for many years for violating schools.
My only alternative way of dealing with this also hurts current student-athletes, and that is stiffer fines. At the end of the day, the people who break the rules will never pay unless they are banned from working in college athletics. It is always a trickle-down punishment.
Todd: We can't wrap up this week without mentioning what happened at the end of Saturday's Cornell-Quinnipiac game. Angered by Bobcats coach Rand Pecknold claiming one of the Cornell players embellished a hit from behind, Big Red coach Mike Schafer had some harsh words for Pecknold in the postgame handshakes, and it carried over to Schafer's meeting with the media.
Schafer drew a one-game suspension from ECAC Hockey for his vulgar language critical of Pecknold. Right call by the league?
Jim: I think the league definitely had to act. Once the comments went viral and were picked up by The Hockey News, it has become a bit of a spectacle. What shocked me most was the apology by Schafer and Cornell's athletic director in this release from the school:
Mike Schafer, the Jay R. Bloom '77 Head Coach of Men's Hockey at Cornell University, has issued the following statement following ECAC Hockey's announcement that he has been suspended for the team's next game.

"I'd like apologize for using profane language in my postgame comments on Saturday evening following our contest against Quinnipiac. My language was unnecessary, and I did not represent Cornell and our hockey program in a first-class manner.

"Cole Bardreau, who had previously suffered a serious neck injury, was run into the boards from behind in the game," Schafer added. "Cole's status continues to be evaluated, but the hit on Saturday may force him to miss future games. I was angry that there was no recognition of the seriousness of the play and let my emotions get the best of me after the contest. The safety of student-athletes is paramount to me. I have apologized to Quinnipiac head coach Rand Pecknold for my comments."

"I respect Coach Schafer's passion and respect for the health of his student-athletes," said Andy Noel, the Meakem*Smith Director of Athletics and Physical Education. "He used inappropriate words to describe how he was understandably upset at the situation. The Cornell Department of Athletics and Physical Education understands ECAC Hockey's decision to suspend Coach Schafer for this isolated incident."
That may be the most unapologetic apology I have read. But I think much of this shows some of the personality conflicts among ECAC coaches. Last year, we had Seth Appert and Rick Bennett fighting on ice and this year they worked a Dunkin' Donuts drive thru together. Maybe next season Pecknold and Schafer can sell pizza at the takeout window at Frank Pepe's in New Haven?
Thumbs up
To the sellout crowd last Wednesday at Hartford's XL Center for Connecticut's Hockey East home debut against Boston College. More of those — and more performances like the Huskies posted in the win over the Eagles and a tie at Boston University on Saturday — could mean some big things ahead for UConn.
[youtube_sc url=https://www.youtube.com/watch?v=weSSv89IgEA]
Thumbs down
To Ferris State's offensive production. The Bulldogs have allowed 11 goals over their last seven games, which really should net more than two victories. But they've scored only four goals in those seven contests. Ouch.
Coming up
There are three series between ranked teams on this week's schedule:
• No. 1 Minnesota plays a home-and-home series against No. 13 Minnesota-Duluth.
• No. 2 North Dakota hosts No. 7 Miami.
• No. 10 Vermont plays at No. 16 Providence.