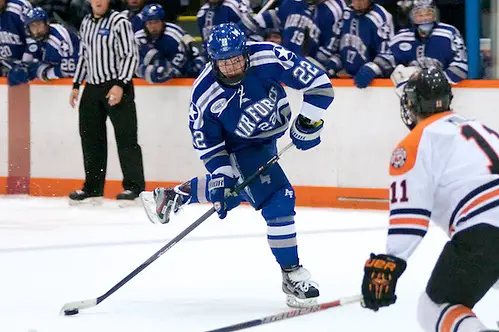 It's probably the wrong time of the season to talk about all the "close shaves" we've had in Atlantic Hockey, but last week's results and the current state of the standings demand it.
For the past several years, many college hockey teams have celebrated "Movember," which encourages participants to raise money for charity by collecting sponsorships to cultivate mustaches of all varieties. Canisius, Mercyhurst and Rochester Institute of Technology, for example, are raising money.
But there's no denying the close shaves we've seen on the scoreboard and the standings.
As I pointed out in my weekend wrap-up, an amazing seven of the eight conference games played last weekend went to overtime. Air Force, Army, Bentley and RIT came out with three points each, while Canisius, Holy Cross, Mercyhurst and Robert Morris had to settle for a single point each.
Saturday's 2-1 overtime loss to Air Force knocked RMU from the ranks of the unbeaten.
Two points currently separate third place from eighth place in the standings. You could say a barely a whisker separates those squads.
A look in the mirror
It's been an up-and-down season for the Air Force Falcons so far. They've been on both sides of late comebacks and overtime wins. Five of their last six games have gone into overtime. They've looked good enough to skate with nationally ranked teams but have lost at home to programs with losing records.
Coming off a poor showing at Cadet Ice Arena that saw Frank Serratore's team manage only a tie and loss to previously winless Alabama-Huntsville, the Falcons turned things around last weekend at first place Robert Morris, taking three of four points from the Colonials.
The strong showing gives Air Force some momentum going into this weekend's games with local rivals Colorado College and Denver.
"Those are games we circle," said Serratore. "The Army games and these two [against CC and Denver] are the ones the fans have an extra interest."
Serratore said against Robert Morris, his team was able to correct mistakes made against Alabama-Huntsville.
"Huntsville is not a bad team," he said. "But our enemy is in the mirror. Our D-zone coverage was terrible. We've been turning the puck over at our blue line. Puck management has been a problem."
But against Robert Morris, the Falcons were able to maintain possession as well as the lead.
"Robert Morris, which is an explosive team, a good defensive team, never had the lead," Serratore said about the series, in which the Falcons tied the Colonials 3-3 and defeated them 2-1 in overtime.
Senior Scott Holm got the game-winner on Saturday, his fifth goal of the season. He and linemates Cole Gunner (15 points) and Chad Demers (10 points) lead the way, along with sophomore A.J. Reid (four goals).
Freshman defenseman Phil Boje often joins those four on the Falcons' top power play line as the only blueliner, and he has cashed in three times this season, including a goal against Robert Morris on Friday.
"He's the type of defenseman who's going to have more goals than assists," said Serratore. "He's good defensively, too, but he can shoot the puck."
Air Force is out of conference this weekend with those games against Denver (at Denver) and Colorado College (at home). Then it's four consecutive league series on the road as well as the Catamount Cup tournament at Vermont.
Serratore said he wants to make sure his team establishes some consistency moving forward.
"It's a commitment to playing smart hockey," he said. "We can't take a night off. Not ever. It used to be that the top four teams [in Atlantic Hockey] were a step above. Then it was the top eight. Now it's everybody."
Double zeros
Army rookie goaltender Cole Bruns has an unusual distinction: He picked up his first collegiate shutout before getting his first collegiate win.
Bruns stopped all 27 shots he faced against Holy Cross on Saturday, but his counterpart, Crusaders' goalie Matt Ginn, also pitched a shutout. The result? A 0-0 tie.
It was the sixth career shutout for Ginn, a senior, tying him for first all-time in the Division I era at Holy Cross.
Bruns' record stands at 0-2-1.
Power outage
HarborCenter, Canisius' new home, literally shines. The lighting in the arena is some of the best I have seen anywhere.
But there's been something of a power outage there, at least so far. Teams playing there (Canisius, Ohio State and RIT) are 1-for-31 on the power play. Golden Griffins defenseman Chris Rumble's goal on Friday against RIT is the only man-advantage goal scored there so far.
That may change in January when Bentley comes to Buffalo. The Falcons are clicking at an impressive 36.4 percent (14-for-44) so far, tops in the nation by six percentage points over second-best Quinnipiac.
It's been a while
Besides snapping Robert Morris' nine-game unbeaten streak, Air Force's overtime win on Saturday broke a stretch of 27 consecutive overtimes without a loss for the Colonials, dating to Nov. 20, 2010.
Robert Morris was 8-0-19 in overtime since then.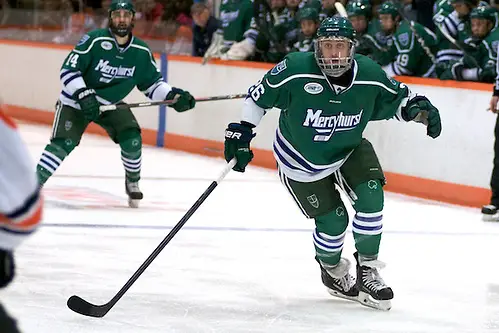 Centurions
Mercyhurst's Ryan Misiak scored his 100th career point on Saturday, becoming the 18th player to accomplish the feat at the school and the second this season. Matthew Zay reached the milestone on Oct. 11.
Classmates Daniel Bahntge (96 career points) and Chris Bodo (82) are close.
Air Force senior Chad Demers sits at 99 career points. Bentley's Brett Switzer (91), Steve Weinstein (90), and Andrew Gladiuk (82) also are in line to become members of the Century Club.
Weekly awards
I'm going with the same honorees as the league, because, like me, they couldn't make up their minds due to several strong performances. I threw in a third goalie.
Players of the week — Andrew Gladiuk, Bentley, and Matt Garbowsky, RIT: Gladiuk had a hat trick, including the game-winner in overtime, to lead the Falcons to a 5-4 win over Mercyhurst on Saturday. Gladiuk had a goal and an assist on Friday as well, giving him six points on the weekend.
Garbowsky scored all three RIT goals in a 3-3 tie at Canisius on Friday and added a goal and an assist in Saturday's 3-0 win.
Goalies of the week — Andrew Bodnarchuk, Sacred Heart; Jordan Ruby, RIT; and Chris Truehl, Air Force: Ruby and Bodnarchuk were the league's choices, both pitching shutouts last weekend. Bodnarchuk made 29 saves in a 2-0 win for the Pioneers over Connecticut, and Ruby stopped 19 shots in a 3-0 win against Canisius.
Truehl made a total of 77 saves last weekend to help the Falcons to three points at Robert Morris, including a 44-save effort in Saturday's 2-1 overtime win.
Rookie of the week — Cole Bruns, Army: Bruns recorded his first career shutout in a 0-0 tie against Holy Cross on Saturday.
Tying the knot
It seems appropriate that with all the ties on the ice last weekend, my fellow AHA correspondent Dan Rubin tied the knot. Congratulations to Dan and Michelle, and wishes for many happy years to come.