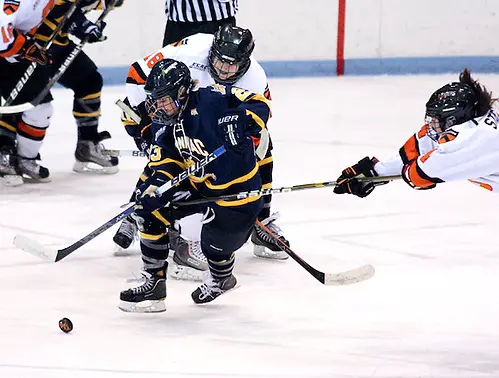 Candace: There's a lot to talk about after our first full week of action after the Four Nations, but to me what stands out is in Minnesota, where Bemidji State followed up a shootout win and win over Minnesota by sweeping North Dakota. The Beavers now stand at 7-4-1 on the year and are four points behind fourth-place Ohio State with two games in hand in the WCHA, and are tied with North Dakota in points but have two games in hand. The Beavers started the season 4-0, but then followed that up with two losses to Ohio State, which is where I thought they might have fallen back to Earth. Instead, they lost a pair of one-goal games to Wisconsin and used that play to have success against Minnesota and North Dakota. I voted for Bemidji this week in the USCHO.com poll for the first time, and I'm beginning to wonder if the Beavers might not be a threat to make the NCAA tournament down the road. Certainly if they can keep up this play, they might be. This weekend, they are off again, then the following weekend they'll host Minnesota-Duluth, another team they need to do well against. Are you beginning to look at Bemidji as a tournament team?
Arlan: The WCHA has only had two teams in the last two NCAA fields, and early indications are that we're heading in that direction again. The middle tier tends to inflict enough damage that when added to the defeats at the hands of the top teams, the third WCHA team has too many losses to qualify. Certainly that cost North Dakota last year, and I think that the league is stronger overall this year. The one exception is a green Minnesota State squad that has been hurt by injuries to its veterans. Flirting with fourth place isn't going to be enough to boost a team into the national tournament picture. A WCHA team needs to finish no worse than third, and a solid third at that, to think about getting an at-large bid to the NCAAs. UMD will have a great opportunity to help itself in the PairWise picture when it hosts Cornell for a series this weekend. The Big Red showed signs of life against Brown and Yale, and in their next few games they'll also meet Mercyhurst and Clarkson. If UMD can sweep Cornell and also Bemidji State and Ohio State, it would go into the break with 14 wins and be on pace to finish with the type of record that can survive the scrutiny of the selection committee.
Back to the Beavers, they've only advanced out of the first round of the WCHA tournament one time, that back in 2010, so life is simpler if they just keep about coach Jim Scanlan's plan of getting better every day. The only remaining nonconference games they have are at Lindenwood, not giving them an opportunity to put much of a dent in another contender's hopes. Their schedule is also different from that of many teams. They are heading into their third bye week of the season, and second in three weeks, but then they play three league series in December. Jan. 2 finds the Beavers right back at work at Lindenwood, so they don't get much of a holiday break. The first half often wears a team down, and young players in particular benefit from a longer break to recuperate.
Brittni Mowat is playing as well as any goalie in the conference, as was Erin Deters before she was injured. They are fronted by a team that is devoid of stars, but is a nice collection of hard-working hockey players. They are willing to pay the price to block shots and defend all over the ice, so they are dangerous when they can capitalize on a couple of mistakes or bounces. BSU's top line carried much of the load in the first game versus UND, but then the second and third lines came through in game two. I've been voting for Bemidji State since watching them play in Minneapolis, but the burden of proof will be considerable to maintain that ranking and parlay the strong start into a postseason run.
What about the other side of that sweep? Can North Dakota recover from its 4-7-1 start, or has it buried itself behind the eight ball?
Candace: I think North Dakota is likely out of the NCAA tournament already, barring an improbable run in the WCHA tournament. UND has too many losses to rise high enough in the PairWise. They've lost to Vermont, Minnesota-Duluth, Wisconsin, Minnesota (twice), and now were swept by Bemidji. They aren't getting great scoring from some players they depend on, particularly Josefine Jakobsen, who is not having a good senior year, averaging only .416 points per game so far. Shelby Amsley-Benzie played well in net initially, but she's given up three goals in each of her last four outings. I don't know if she's being hung out to dry by the defense, and admittedly three of those games were against Minnesota and Wisconsin, two high-powered offenses, but North Dakota doesn't look to have enough places to make up ground. Their only remaining out-of-conference games are against RIT and Syracuse, which aren't going to boost them in the PairWise too much.
Moving on, one team that really didn't have a good weekend was Harvard. The Crimson had been highly touted at the start of the year, and were ranked third at one point without having played a game. After opening with wins over Union and Rensselaer, the Crimson went on the road for their first test of the season, and I'd say failed, tying Clarkson and losing to St. Lawrence. The latter is particularly troubling, because Harvard is supposed to be sound defensively, yet the Crimson gave up five goals on 21 shots to a St. Lawrence team that had been having difficulty scoring.
Might we have overestimated the Crimson?
Arlan: I don't think that optimism in Harvard is misplaced. Admittedly, I thought that it was going to have an easier time of things in the ECAC than now appears to be the case. Clarkson has rebuilt quicker than I expected, and Quinnipiac is as impressive defensively as Boston College is offensively. The Bobcats yield very few shots on goal, and senior goaltender Chelsea Laden is stopping 97 percent of those few shots that are allowed. It's too bad that they only play BC once in January, because that figures to be some hockey that is well worth watching.
We saw that Cornell took a while to start to figure things out, and the Crimson are going through much the same adjustment. Because Katey Stone was gone last year, this is her first season coaching the 13 freshmen and sophomores on her roster, so it will likely take time for her to sort out all the pieces that she has at her disposal and how best to use them. I watched the end of both North Country games on Saturday — I'd have watched more if I'd realized sooner that both Clarkson and St. Lawrence offered free video — and I was impressed by all four teams. They were both high-tempo games with good flow. Harvard over the last couple of seasons plus goes as Emerance Maschmeyer goes. When she is on, she's sensational and Harvard is tough to beat. When she's not on, much of the air seems to escape the balloon. I don't consider yielding a goal on nearly one shot in four, as was the case versus SLU, to be particularly encouraging. When I look at the talent on the top three lines and consider the defensive corps, Sarah Edney and Michelle Picard in particular, Harvard is going to win a lot of games. Over the years, Harvard has frequently deployed a lethal power play. This past weekend, Clarkson and St. Lawrence committed one penalty combined versus the Crimson. The saying goes that the best way to stop a good power play is to stay out of the box, and the Golden Knights and Saints certainly took that to heart. This weekend was a bit of a wakeup call for the Crimson, so it will be interesting to see how they respond as they face Boston University and Boston College over the next couple of weeks.
Another team that had a rough North Country trip was Dartmouth, a team that was ranked No. 10 heading into the weekend. I felt that was a bit generous, given the Big Green didn't reach double figures in wins a season ago, and they had feasted on weaker teams and the wildly inconsistent St. Lawrence. Dartmouth's new-found offense disappeared as it scored once in Canton and was blanked in Potsdam, but it did look much improved from what I remembered from last year. Junior Laura Stacey in particular looks to have grown into a big-time threat. We discussed them a couple of weeks back, but with a few more results now available to ponder, what do you think the future holds for the Big Green?
Candace: I'm a little unsure. You had called them ninth in your season preview, which would have them out of the ECAC playoffs, and I think that pick is inaccurate at this point. Certainly they should finish higher than Colgate and I think make the ECAC playoffs.
The ECAC looks really volatile right now. Quinnipiac has been the most consistent team, and it looks like Clarkson is getting it into gear. How do we compare Dartmouth to Harvard, or Cornell, which has had a lot difficulty early, or Yale, which has been up and down, or the hot-cold St. Lawrence, which has wins over Harvard and Clarkson and a tie with Boston College, but losses to Dartmouth and Brown? Princeton has looked pretty good early too, and even Brown warrants a mention with its recent play.
To me, it seems like almost anybody could win the ECAC at this point, aside from Union, Colgate, and Rensselaer, and while I feel pretty confident in picking the eight teams that would make the playoffs, how they will finish is anybody's guess. Brown is the wild card I think, in that the Bears have demonstrated some scoring touch recently that they've lacked in previous years. Then again, the Bears just lost to Colgate in OT Saturday, so their consistency isn't there yet.
Hockey East also seems pretty volatile right now, except for Boston College, which is piling up goals in bunches. Alex Carpenter and Haley Skarupa are terrorizing opposing goalies; both are averaging over two points a game, the only players at this point at that number.
Below the high-flying Eagles is Boston University, and the Terriers have shown a little vulnerability. A goal by Maddie Elia with 30 seconds left gave them a win over Connecticut this past Friday. The Terriers lost to Northeastern 6-3 while Marie-Philip Poulin was out, but then again, BC beat Northeastern 6-1 when the Eagles were without five players, including Carpenter and Skarupa. After BU, every team has shown a lot of up and down, and I think I could predict the Hockey East order even less than the ECAC. Northeastern just split with previously winless Providence, Vermont barely squeaked by Syracuse, and Maine got swept by Brown in its last outing.
Do you expect any of the other HE squads to start to be more consistent?
Arlan: I might expect it, but that doesn't mean it will happen. For as long as we've been doing this column, Hockey East has been the land of equal opportunity, where any team can rise up and play a solid game one day and back it up with a clunker the next. BC used to join in, maybe just because that's the way things were done in that circuit. Now the Eagles are just too fast for all of the other Hockey East teams I've seen them play, so it would take some creativity for BC to find a way to lose. Even if they took a period off and got behind by three goals, unlikely as that sounds, I think 40 minutes would be plenty for a rally once they get the turbines a humming.
I wouldn't use Northeastern as a gauge for trying to compare the other two Boston squads. The Huskies this year have been as up and down as anyone. When Kendall Coyne produces, they do okay. If she doesn't, the doldrums tend to extend to everyone else. Coyne was gone when BC defeated Northeastern by five, so while that result reflects favorably on BC, it doesn't tell me much about Northeastern.
Several of the Hockey East teams have had consistency issues in net. I think that's been part of the problem for the Terriers as they try to replace Kerrin Sperry and save percentages hover around .900. It's been a major stumbling block for Providence ever since Genevieve Lacasse graduated, and ironically, it took 42 saves by Allie Morse on 43 Northeastern shots for the Friars to finally get in the win column. Vermont is trying to get its young replacements for Roxanne Douville into a groove, and thus wound up in 6-5 and 5-4 shootouts with a Syracuse club that usually isn't that prolific offensively.
Then there are teams like New Hampshire, Maine, Providence, and Connecticut that don't have much in the way of offensive clout. So teams struggle to score, goaltending varies from one game to the next, which leads to unpredictability in results. The one obvious exception is Boston College, which scores at will and usually possesses the puck, so it is less susceptible to unkind bounces or shaky goaltending.
One thing that can be said for Brian Durocher's teams is that they are playing their best hockey at the end of the year. Vermont also showed signs of that last season in Jim Plumer's second season. Northeastern has also closed well the last three years. So perhaps one or more of those clubs will mount a challenge to BC before all is said and done, but they sure have some ground to make up at this point. I think it is the Eagles running away with the league, and BU finishing second on the strength of offensive depth. With newcomers like Victoria Bach scoring steadily, the Terriers' offensive production will be hard for the non-BC members of the league to match if the defense can tighten up a couple of notches.
The race for third goes to Vermont or Northeastern, depending on which does a better job of keeping its level of play somewhat steady. Best guess is Maine, Connecticut, UNH, and Providence in that order. To me, that looks more predictable than the ECAC, where even the top spot is more of a mystery and half the teams just started playing in the last month. Or compare that to the CHA, where teams finishing second through sixth are basically just a wild guess. Or is your issue with Hockey East that teams finish in a big clump, so a point or two can make a two or three-place difference in the standings?
Candace: It's more of the latter. Last year, there were four teams that had 27 points or more, and four that had 13 or fewer. I don't think there will be quite that level of stratification this year, but if your point about closing strong holds true, that could easily emerge. So far, Maine has beaten both Boston University and Northeastern, Connecticut has tied Maine and played BU close, Providence has beaten Northeastern, and New Hampshire has beaten Vermont, though that last result admittedly happened when the Catamounts were without the services of Amanda Pelkey. If we keep seeing one up and one down the rest of the year, I think the results might be a lot closer than last year and previous years.
You mentioned the CHA, and Penn State took another step last weekend by splitting with RIT in Rochester. Who would have thought that after one month, Lindenwood would be in second and Robert Morris would be in the basement? This weekend's CHA action presents some interesting possibilities, as RIT travels to Mercyhurst, Penn State hosts Lindenwood, and Robert Morris hosts Syracuse. You are right that it seems a wild guess to see where the CHA is headed; can you shed any light on it?
Arlan: Only of a rather dim wattage. Penn State is the perfect poster child for the CHA; other than when it swept Colgate, it has had one good result and one not as good every weekend. The big difference between the Nittany Lions this year from the past is that they have tightened up defensively and goals allowed are down by nearly a goal a game. After allowing eight goals opening night, Penn State has only allowed as many as four goals twice, once into an empty net, and the other game was a win. Its own scoring is up by more than half a goal on average, so PSU is in range more often than it used to be. It doesn't have as many difference-makers as some opponents, but there are enough such that it has already improved on last year's win total. Penn State is gradually morphing into an RIT-type team; the two have identical records both in the CHA and overall.
The Tigers are likely a bit further along the path, but it is a similar script: keep a game close and try to steal it late if need be. They use a bit more of an offense-by-committee approach than does Penn State, with a little more scoring depth but nobody averaging a point a game. Ali Binnington has played over 70 percent of the minutes in goal, and is in the top three in both goals-against average and save percentage, so she'll be key in how high RIT can rise.
Both of those teams tend to be more steady, known qualities, while Lindenwood is a bit of a work in progress under new coach Scott Spencer. The Lions rely on Nicole Hensley a lot, and my concern would be that she'll wear down facing nearly 40 shots a game. Junior transfer Shara Jasper has added some pop that they lacked last year. I still look for a sixth place finish for Lindenwood, but Spencer's changes could start to bear fruit in later weeks.
I see Robert Morris and Syracuse as being the two wild cards in the race. Both likely have more offensive potential than the previous three teams, but those offenses don't always click. Of CHA teams, RMU ranks last in scoring average, and has also been inconsistent defensively. The result is a very disappointing start to the season. Will Brittany Howard get healthy at some point and help fuel the attack after only appearing in two games thus far? That likely will be crucial in whether or not the Colonials can turn things around. Meanwhile, Syracuse ranks near the bottom defensively. It outshoots its opponents on average, but too high a percentage of shots wind up in the Orange net.
That leaves Mercyhurst without an obvious challenger. Four years ago, it had a potent attack but wasn't always interested in defending. Now the roster has turned over and is more in keeping with the program's defense-first roots. It scores less than three goals a game, but still has the best offense in the league, and one of the best defenses in the country. As a senior, Amanda Makela ranks near the top in all of the goaltending categories. That bodes well for winning the season title, although it may be more vulnerable to an upset in a one-and-done format come playoff time. And there you have it — my seven-week analysis of the CHA.
You mentioned Princeton earlier. After dropping their first game, the Tigers are unbeaten over their next seven. Will they be able to keep it up as their 2014 schedule concludes with a brutal stretch?
Candace: If the Tigers finish the first half on a 3-4 run, I think they'd have to be ecstatic, considering that two of those seven games are against Minnesota, one is against Quinnipiac, one is against Clarkson, and one is against Harvard. The only nonranked teams on their first-half stretch are St. Lawrence and Dartmouth, which are no slouches either. Princeton could easily finish on a seven-game losing streak and it wouldn't be a surprise. So far to date, aside from the win against Cornell, which really was a huge surprise, the Tigers have beaten teams they're supposed to, but have hardly done it in inspiring fashion. Their last four games have been OT contests, during which they've gone 3-0-1 against RIT (win and tie), Union, and Rensselaer.
Now the Tigers will start playing squads that have much better offenses and defenses, and it could be a challenge for them. Kelsey Koelzer has emerged as a scoring threat in her sophomore year, leading the team in scoring with 1.25 points per game, and Molly Contini continues to contribute as well. At the other end, Kimberly Newell has played well in net so far, but RIT, Union, and Rensselaer are hardly offensive powerhouses, so we'll have to see how Newell does against St. Lawrence and Clarkson this weekend to get a better read on Princeton.
I think this weekend will also reveal a lot about a couple of other teams. Harvard faces Boston University in a potentially big clash on Friday night. Also, you mentioned Quinnipiac's stingy defense earlier, and this weekend, the Bobcats, who are undefeated and have a tie with Penn State as their only blemish, will take on No. 5 Clarkson and St. Lawrence. Aside from the win against what really looked like an awful Cornell team a few weeks ago, Quinnipiac hasn't faced anybody who they shouldn't have beaten. Do you see the Bobcats meeting the challenge this weekend, or do they show their first cracks?
Arlan: Clarkson in particular has been a tough matchup for Quinnipiac. The Bobcats came up with a huge quarterfinal series win in three games in 2012, but they are still only 2-7-1 in that head-to-head matchup over the last three years, including falling 6-0 in the ECAC semifinal in March. They've fared better with St. Lawrence, holding a 5-4-2 edge during that same time frame, and they swept the quarterfinal in the previous meeting. Because they've met in the postseason so often of late, I think that ups the intensity of the rivalry and it makes the teams' current records less meaningful. Opponents have had trouble skating with Quinnipiac so far, but the Saints were able to hang with BC and Harvard, so I don't think it will be an issue. Clarkson does a lot of the same things as Quinnipiac; in the past, it's done them a bit better with a stronger roster. The competition should be tighter this time.
The schedule to date will likely work against the Bobcats this weekend. Cornell was missing Brianne Jenner and Jillian Saulnier, so they haven't played opponents of the quality that Clarkson and St. Lawrence have. They've just been able to swallow up any offensive rushes by most foes, and I don't expect defending to be quite that simple this weekend. Quinnipiac hasn't seen offenses that have been able to challenge it as much as this weekend; the first game versus Clarkson will be a higher hurdle from that aspect, as it adjusts to a faster game. At the other end, the top line of Nicole Kosta between Erica Udén Johansson and Shiann Darkangelo caught fire over the weekend with six points in each game, with half of those points coming from Udén Johansson. Prior to that, none of them had more than five points on the season, so it's key that they stay hot. The Bobcats generally play well at home, so that should provide a lift. My best guess is that Quinnipiac gets one win and either a loss or tie in the other game.
There's not a lot of nonconference action this weekend, but there are some big games, with Harvard at BU and Cornell in Duluth for two games. Do you think the wins over Brown and Yale indicate that the worst is over the Big Red, or are there still flaws that UMD will be able to expose?
Candace: Cornell beating Brown isn't really that much of a surprise, given the talent level of the Big Red. I was impressed by how easily Cornell handled Yale, which I thought would mount more of a challenge than losing 6-2, so perhaps Cornell just needed a few games under its belt before starting to play well. A couple of weeks ago, you pointed to 2009, when Cornell opened its season by getting swept by Mercyhurst, but then beat the Lakers in the Frozen Four before losing in the championship. Jenner and Saulnier are both top players, and Emily Fulton is playing very well also, leading the team in scoring. Cornell has also gotten solid contributions offensively from Erin O'Connor and Taylor Woods.
The question mark is in net, where Paula Voorheis has gotten off to a rough start. Her GAA is 4.08, and her save percentage is only .857. Those numbers are pretty poor, and perhaps Voorheis is still adjusting to her role as the starter after being a capable backup to Lauren Slebodnick last year as a freshman.
Minnesota-Duluth presents a stiff challenge for the Big Red, especially in Duluth. Sophomore Ashleigh Brykaliuk has emerged as a good scorer, leading the Bulldogs, and Jenna McParland and Zoe Hickel are playing very well also. In net, the Bulldogs have Kayla Black, who is very solid.
The Bulldogs are riding a six-game win streak, and have looked much stronger since getting blown out by Wisconsin the second weekend of the season. The series with Cornell might be one of the best ones of the weekend to watch, and I expect a split is likely.